'I Won't Cry Anymore'
Keisha St. Joan tells it like it is
Volume CX, No. 12
December, 2010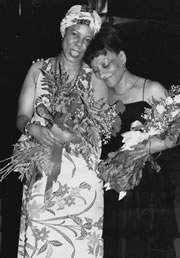 Keisha St. Joan (left) and her accompanist and friend, Bertha Hope, after a classical recital in Oklahoma in the late 1980's.
Photo courtesy Keisha St. Joan
There is more to Keisha St. Joan than meets the eye. A seasoned jazz vocalist and a fixture on the New York City scene for decades, she is, at first glance, a garrulous, warm, expansive presence with an easy laugh and an eye, and an ear, for the absurd.
But a closer look reveals a depth of character that is at once expressed in her soulfulness on the bandstand, and in her unyielding commitment to truth and dignity in her daily life.
That might sound like a highfalutin' introduction, but, characteristically, Keisha's ability to disarm her audiences with charm, wit (and vocal intensity) tends to obscure her more complex qualities.
For example, in one moment you may catch her telling a risqué story about her years working with performers like Lionel Hampton, Doc Cheatham and Big Joe Williams – but she can also be deadly serious.
When discussing Local 802's Justice for Jazz Artists campaign, for which she has publicly campaigned at the risk of her own career, she doesn't mince words:
"I have found," says St. Joan, "that life is not about fear."
She was born Joan Broadbelt on 119th Street in Harlem in 1939, and raised by her father, Samuel. He worked as a porter and a chef on the Pennsylvania Railroad.
She learned about fear and isolation early on, when her mother, a Blackfoot Indian, walked out.
Keisha's mother later passed away. By then an aunt had stepped in to help raise her.
"My father's sister loved classical music," remembers Keisha. "She worked as a domestic for a rich white family, and they used to give us their old opera records. So my world was filled with beautiful sounds very early on. That helped, but I cried a lot as a little girl."
Opera became a fixation, and St. Joan remembers listening to 78's of the greats like Marion Anderson and Enrico Caruso when she was barely out of diapers.
In 1944, when she was 5, she recalls being questioned by her aunt's employer, who took her one his knee: "'Little girl,' he said to me, 'when you grow up, are you going to work at the 5 and 10¢ store?'"
Keisha smiles as she remembers this exchange. At the time, the 5 and 10¢ stores had just opened up to blacks.
"'Oh, no!' I said to him. 'When I grow up, I'm going to be an opera singer.' And from that time on, the 78's started arriving more frequently. And I listened to this music. Even at that age, I knew that I liked music, and that's when I determined I was going to perform. Because I heard the voices, and they seemed pleasing to me."
But those records weren't her only influence.
The family attended St. Cyprian Episcopal, on West 63rd Street, and they eventually settled in the Fitz Houses, a housing project in San Juan Hill that was eventually to be torn down to make way for Lincoln Center in the 1960's.
"Thelonious Monk lived in the Fitz Houses, up the block from our apartment. I used to hear him playing piano through his open window. Growing up, I didn't know what kind of music it was. I never knew about jazz as a child."
Her aunt, she says, also loved to listen to the Grand Ole Opry on the radio.
Keisha took it all in.
By age 9, she was enrolled at the Victoria School of Music and Art on 125th street.
"I was going to start my singing lessons," Keisha remembers, "and they said, 'Oh, no! You're too young!' So I started tap dancing, and they used to put me on the radio with their shows. We performed our annual concerts at Town Hall."
Finally, she received her first singing lessons. Her teacher at the Victoria School was Dr. Howard Mann.
"He taught me everything," says Keisha. "I turned out to be good enough that when the soloist at St. Cyprian became ill, I took her place. I was 12 at the time."
By the time she was 17, St. Joan was singing professionally with the Harlem Opera Group, then led by Ink Spot Charles Ward.
She appeared in "La Boheme," and "Carmen," and sang the role of Marguerite in "Faust."
Within a year she had moved out of the family apartment and relocated to Philadelphia where she landed a government job.
"I moved into the house of a man who loved jazz," she remembers. "He and his wife, they were crazy for music. His name was Reggie Lovett. He would play records all day. I'd already been turned on to Miles and Dave Brubeck, and even Stan Kenton. But Reggie would call me, and say, 'Joan, listen to this.'
"I started listening to Irene Reed, Nancy Wilson, and Carmen McRae. I was in heaven. And next door to Reggie was this guy called Charlie Woodson, and Charlie had a trio. So one day, this Charlie Woodson cat says to me 'Why don't you join our group?' And I said 'I can't sing jazz.' He says 'Yes, you can.' And at that time I was basically a coloratura. My voice was about as high as the jingle on an old style rotary phone. I was up around G above high C."
"So Charlie, he made a bet with me. He said, 'If I take you to a club, and you sing a tune, and they hire you, will you start singing jazz?' I said sure. He took me to a spot in Camden, New Jersey called the High Hat. And the place was jumping. And I sang 'Autumn Leaves.' And they hired me. That group, for the record, was called Three Guys and Doll.
"I was the doll," quips Keisha.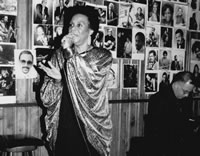 Keisha St. Joan at Defemio's Restaurant in Yonkers in the late 1990's. For 30 years, Al Defemio's place was the center of the jazz scene in Westchester.
Photo: Bill Powell
Keisha St. Joan is, among other things, a survivor. And someone who believes in speaking truth to power.
She was once fired from Windows on the World, the famous restaurant on top of the north tower of the World Trade Center.
She believes it was because she complained about the way her fellow performers, one of whom was the trumpeter Doc Cheatham, were being treated on the bandstand.
She is characteristically unruffled when she thinks back to that event:
"They handed me my walking papers," she says with a glint in her eye. "And you know who cared? It wasn't me. Doc Cheatham deserved better than he got from those people. I needed the gig, but not that bad."
The journey to such high profile engagements was circuitous.
Keisha had moved back to New York City from Philadelphia in 1968, and had settled into another government post, this time with the Drug Enforcement Administration.
"That was my day job," says St. Joan, "There were 13 agents, plus my group leader. I was their secretary. I was handling all their business. Plus, I would make undercover telephone calls. Sometimes, I would even search the people that came in to the office.
"But one day in 1975, I woke up and I went in to the office. And I walked in and I said 'You all have two weeks, and I'm out of here.' They wanted to make me an agent. I would have been one of the first black female agents. But I told them, 'Thank you, no.'"
She finally felt she was ready, at age 36, to begin a full-time career in music.
She now had no regular income, but she'd been singing on the side.
"Around that time, I was living on 51st and 9th. And on Broadway and 50th, there's an outdoor plaza where you go downstairs to the subway. They used to give jazz programs on that spot, and I went there to listen to this concert, and I saw this strange little man. He and I started talking. I told him I was a singer. His name was Babs Gonzales."
Gonzales was a famous hipster vocalist, who made a slew of records in the 1940's and 1950's. He performed with Charlie Parker, among others.
"Babs, he took me to Pastor John Garcia Gensel at St. Peter's, the jazz church," remembers St. Joan. "And Pastor Gensel introduced me to Cobi Narita of the Big Apple Jazz Women and the Universal Jazz Coalition, and that's how I got to work with folks like Joe Newman, Al Grey, Frank Wess, Bertha Hope, and Carline Ray."
Gensel was good to Keisha, and brought her in to perform for a number of events.
She was a regular at Jazz Vespers, and often featured at the church's annual All Night Soul celebration.
During these years, she also began to appear at Small's Paradise in Harlem, and worked there and in other venues singing with groups such as Frank Foster's Living Color and Loud Minority big bands, and with the bands of David "Fathead" Newman and Charli Persip.
She also began a regular engagement with the pianist Maurice Waller, son of Fats.
By the late 1970's, Keisha had begun to tire of the "girl singer" role, and longed to front her own bands. She began to assemble a handpicked group of musicians.
Over the years these groups were to include the pianists Stan Hope and Eric Reed, the bassists Ollie Richardson and Peck Morrison, trumpeter Richard Williams, and the great, unsung hard bop drummer Walter Perkins, known to his friends and fans as "Baby Sweets."
"I loved Walter Perkins; he was a marvelous human being," remembers Keisha. "We were once on a little tour up in Canada, and I had Walter and Ron Burton on piano, and Peck was on bass, and the money was funny. It was in a place called Jonquiere. The club was so huge – it held hundreds of people. The place was so packed that the people were seated on the very edge of the stage all around.
"And before the gig, the owners tried to change up the money. And I said 'Look, let me tell you something: if you don't straighten this out, I'll be on the first thing smoking going back to New York.' Walter was ready to back me, but the others, they didn't know what to say. They needed the gig. We all did.
"I forgot how much it was below zero. Cold? Like 40-something below. The audience was beautiful; they didn't want to see us leave.
"And then the owner looked at Walter and the fellows and, finally, they said, 'Well, we're with her.' And they straightened everything out, and we had such a beautiful stay."
Keisha loves performing, and like most singers, has an affinity for certain lyrics.
"One of my favorites is 'I Won't Cry Anymore,' by Al Frisch and Fred Wise," says Keisha. "There's one part that goes, 'Though you're the one love that my arms are longing for, this is goodbye, this is goodbye, and I won't cry anymore.'
"Talk about boiling it down!" she adds. "There's something very beautiful about that lyric, but it's also a tough thing to say to somebody. Or to yourself."
She pauses for reflection.
"From the time I was a child, I've been battling. I'm now 71, and I'm still battling. But the battle is easy for me now. I've found that tough love works in my life. Because if you're right, you're right, and then the battle is easy."