'If I Were a Musician'
Volume 118, No. 10
October, 2018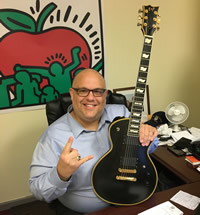 Our elected officials sound off about their musical tastes, the music in their district…and what instrument they wish they played!
JUSTIN BRANNAN
Elected to his first term in 2017, Justin Brannan serves as City Councilmember for District 43, encompassing the neighborhoods of Bay Ridge, Dyker Heights, Bensonhurst and Bath Beach. Before getting into government work at the Department of Governmental Affairs at the Department of Education, where he oversaw the expansion of universal pre-K, Justin was a professional musician, releasing several albums with his band and touring in over 50 countries and five continents.
What is your favorite type of music? That's really hard, because there are so many types of music I love. Siouxsie and the Banshees, the Cure, the Pixies – all great. But rather than pick a favorite, I can tell you a little bit of what I'm listening to right now: bands like Zola Jesus, Bob Moses, Washed Out. I'm finding that there is a ton of great new music being played today, which is incredibly important and a good sign for the art form. The music I've recently been drawn to is very 80s-derivative. Stuff that could've been put out back then. I've noticed that when I was younger, I hated to hear music that I felt was derivative ("Come on, man, Pete Townshend has been doing the windmill since before you were born"), but today I appreciate all of it much more.
Who is your favorite artist or musician of all time? Can't answer that. I just don't know.
If you could do dinner or drinks with any musician, living or dead, who would it be? I guess it would have to be Bob Dylan. He challenged the status quo and those around, playing folk music on an electric guitar. I'd want to know what he was thinking about the world around him. I'd want to dive into how his experience changed and determined what he sang about, where he went, and how he sounded.
You are a musician. Tell us about music in your life at a young age. Music was a part of my life from a very young age. My father was a record salesman and was constantly playing music and going to performances, and I found myself waking up every morning listening to artists like Hall and Oates and Captain Beefheart. As I got older, I decided that I didn't want to just listen, I wanted to play. I went to the store and bought my first guitar when I was about 10. I remember buying one that had a speaker in it, thinking that was really economical. Well, instead of getting a teacher, I just decided I'd figure it out and just started banging on the thing. I'd watch and listen to others playing and eventually I started figuring it out.
It's funny, I remember buying a Black Flag damaged cassette and it blew my mind. They were talking about stuff that was going on in my life at that time. But on the cassette, there was no photo of what the band looked like, so in my mind I thought they were superheroes. Then I bought a Napalm Death album on cassette and it did have a photo on it. I was shocked! They were kids, they looked like me! That was a moment that really stuck with me. I remember being in sixth grade and thinking, "I don't know how to read music, I'm never going to be in a band." It was really inspiring for me to see what a band looked like and to identify with it. I decided to start my own band where it would be okay if I couldn't read music. My first performance was here in Bay Ridge at 14 years old.
Describe the role that music plays in your district. Music is an essential part of our communities and our identity. Art gives you hope and communicates messages. It's not an add-on or a luxury. It's part of a holistic and healthy society. Thinking of it as something unnecessary is dangerous, not only in education, but because the arts should be part of everything. The arts teach and encourage creativity and engagement. My story is a great example. I'm a councilmember, representing a community I love, and I don't use the calculus I studied in school nearly as much as I use the music I played.
I take that experience and those values into the work I do as a councilmember. I came into the underground music scene and was struck by how organic and community oriented so much of it felt. The musician up on stage could be the man or woman standing next to you at the bagel store. I realized that the musicians and the audience felt like one community. Today, I'm a councilmember, but I'm also a member of this community no different from anyone else. When people walk into my office, or when I see people on the street, or when I'm at City Hall, I want people to understand that I'm one of them. Music teaches that, and teaches that there isn't only one way to do things.