Intimate Notes: A Conversation With Marian McPartland
Women's History Month Interview
Volume CVI, No. 3
March, 2006
Think of women in jazz and one of the first names that comes to mind is pianist Marian McPartland. So it's a no-brainer that we sought out McPartland for this tribute to Women's History Month.
According to Wikipedia, McPartland was born in 1918 near Slough, Buckinghamshire (England). She was a musical prodigy from the time she could sit at the piano, about the age of three. She studied classical music, and, in addition to piano, has mastered the violin.
She pursued classical studies at the Guildhall School of Music in London. While enrolled there in 1938, McPartland left to join the Claviers, a four-piano vaudeville act, performing under the stage name Marian Page. The group toured throughout Europe during World War II, entertaining Allied troops.
While touring with U.S.O. shows in Belgium, she met and began to play with a Chicago cornetist named Jimmy McPartland in 1943. The two were married and performed at their own wedding at a military base in Germany.
After the war, the couple moved to Chicago. Then, in 1949, they moved to Manhattan. With Jimmy's help and encouragement, McPartland started her own trio in 1952 and began a long residency at a famous New York City jazz nightclub, the Hickory House, from 1952 to 1960.
She began her own record label, Halcyon Records, and gradually began recording her own compositions, along with solo and ensemble works by others. Famous compositions include "There'll Be Other Times," "Twilight World," and "In the Days of Our Love."
In 1978, she began hosting her own radio program on National Public Radio, "Piano Jazz," which, after more than 25 years, is the longest running cultural program on NPR.
McPartland is committed to music education and was inducted into the International Association of Jazz Education Hall of Fame in 1986. She has received honorary degrees from Bates College, Bowling Green State University, Hamilton College, Union College and the University of South Carolina.
She has been a Local 802 member since 1952 and is an honor member.
Composer, pianist and music educator Matt Weiers interviewed McPartland for Allegro, straight on the heels of his exclusive interview with Geri Allen last month.
Matt Weiers: How did you get started in music?
Marian McPartland: It probably started with my mother. She had her book of Chopin nocturnes and she would sit down at this upright and play for her own amusement while my father was reading the newspaper. I don't remember him ever saying anything, but when I was two or three, I remember thinking, "That might be something fun to do." And when she finished one day, I got up on the bench and tried to play something. Evidently, I succeeded because she said something typically British like, "That was very nice, dear." I don't remember ever not playing from that day on – I always played. In my kindergarten, they had a piano which I played and the teachers would get me to play the tunes that the kids were working on. All of a sudden, I found that I knew a lot of tunes. That's it, I didn't do any formal studying of music until I was nineteen. My parents didn't seem to think there was anything special about it. I just played when I felt like it, which was all the time as a matter of fact. Maybe if they had had a saxophone there I would have played it, but the piano was there. My mother wanted me to take violin lessons. In retrospect, I think that's so funny. She said, "You have violin fingers." Of course that has nothing to do with how someone plays the violin, but I did as I was told and they took me out to buy a violin. I really wasn't that interested, but I loved the teacher, who was a wonderful woman. I kept begging her to give me piano lessons. Unfortunately, she became ill and died. My next violin teacher was about twenty and pretty inexperienced, and I guess I wasn't too well behaved, but anyway, I finally gave up on the violin and dashed back to the piano, and there was no more talk of the violin.
MW: Since you learned by ear so successfully, would you recommend that method for music students?
MM: I tell you, having done that myself, I think that's the way to go, but I think if I had piano lessons, I would have also learned to read well also. I did learn to read treble clef notes from my violin lessons. I just played by ear, I listened to the BBC, I had friends at school who played, and I had a girlfriend who played duets with me. That was the only good thing that I did at school because I was a helpless student, terrible at math. My father happened to be very brilliant at math. He thought I was a dunce. He kept trying to help me with my homework. Meanwhile, I would go back to the piano because that's what I did with all my spare time. I know thousands of tunes that I've never seen the music to, from hearing somebody else play them or from the BBC.
MW: Do you think that this way of learning by ear has influenced the way that you play tunes in various keys and modulate during a tune?
MM: Probably. I can play in any key. But I can't transpose from written music. If I were a good reader, I would be able to do that, but I read music very slowly and painfully. My idea of a good reader is Dick Hyman. He can play flypaper and make it sound good. But when I was a teenager, I remember my mother saying with a tart tone, "You'd better start thinking about what you're going to do for a living because we can't keep you." She really wasn't very kind when speaking about things like that, and I was wondering what she meant. Later, I found out that my father was talking with a teacher of mine and saying "What shall we do with her?" like I was some kind of maniac. I don't know how I appeared to other people. But the teacher said, "She should be studying music," and told him that I had some talent. He said, "Oh, you think she's that good?" So they sent me to the Guildhall School of Music and I didn't even finish high school. I didn't get my diploma or whatever we got in those days. So I tried out for the music school and I was sure that I wouldn't pass the audition, that I was no good. That was my attitude toward myself. But anyway, they thought I should be a student there, so I took singing and sight singing and again, the hated violin. But the violin lessons didn't last long, because the man who taught me made me stand on a chair and I think the idea of that was so that he could look up my dress. I only know that I didn't like him and I told my folks that I didn't want to take anymore violin classes.
I studied some Beethoven and Bach and composing, and thought that maybe I would become a concert pianist. Meanwhile, I was really more into jazz than classical music. Every day I took a train ride into London to the Guildhall school and then came home and practiced. My father was nonplussed. He said, "All she does is practice and go to bed. That's all she does in life." I was probably 16 or 17.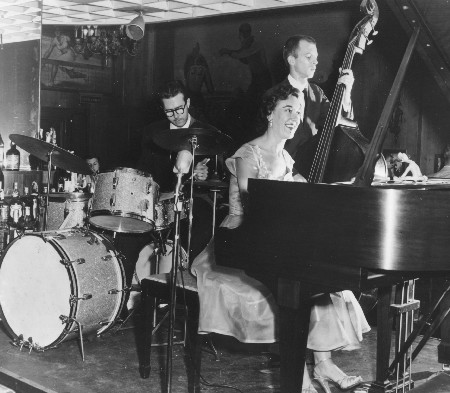 Marian McPartland with drummer Joe Morello and 802's own Bill Crow on bass, at the Hickory House in 1956.
MW: Do you prefer playing in nightclubs or concert halls?
MM: It doesn't matter, really. The only thing I wouldn't want is to play a place that's too big. I'm no Keith Jarrett. I wouldn't want to try to fill up a place with thousands of people or something like that. I take it as it comes. I don't play in so many nightclubs now, but I do play at a lot of universities. I was just in Denver playing in a concert hall and it was very enjoyable. Later this year I'm playing at Lincoln Center at this new room they opened, which is like a classy nightclub. It has a beautiful view out the windows of the New York scenery. I have had the best of both worlds, I've played Carnegie Hall and in England I've played at Albert Hall and clubs here and there. I wouldn't want someone to tell me that I couldn't work anymore, but as far as club or concert hall, it doesn't matter, really, as long as it's not a dive, but I've played a few of those earlier on, too. When I started out, I probably played in every smoky joint there was.
MW: What have you noticed about the difference in audience reaction to your music at home and abroad?
MM: I haven't played that much in England. I considered myself a beginner when I was still there. They do something over there that they don't do here. They call it a "concert party." It's a mixture of people, like they would have a singer, a dancer, maybe a juggler, a mixed group. And I would be the piano player. I did a lot of dates like that. And then when World War II came, I was one of the first people to be booked in that kind of a format. Other than that, I was going to become a member of the woman's army, to get called up. The alternative was to be an entertainer. I knew how to be that, so I jumped into the English version of U.S.O. which was E.N.S.O., Entertainment National Service Organization – they would call it something big and long like that. I played for the singers, the dancers, for everybody and then somebody said it was much better to play with U.S.O Camp Shows, to meet all these nice Americans (I had met a few of them already). Anyway, I was with the first group that went to France after the invasion. They had this big invasion and I was in one of the first groups to go over there. We had everything MacArthur had except guns. We went over in boats, we went up on the beach. They had these cute little G.I. pianos which were small. Luckily, I didn't have to play the accordion.
MW: Are you talking about the beaches of Normandy?
MM: Absolutely.
MW: You mean the soldiers went first and the entertainers followed?
MM: That's right. We would be in some kind of vehicle, a weapons carrier and we would follow the troops as they were making their way towards Belgium. We would stop off where there were troops waiting, sometimes a thousand people. They would put up a stage, or we would play on a flatbed truck or a deserted concert hall or school auditorium. The Germans fled the area as we advanced. We did this all the way to a town called Eupen, Belgium. And that's where I met Jimmy McPartland. He was a G.I., manning a gun. When somebody found out who he was – he was a well-known trumpet player from Chicago – they pulled strings to get him out of combat so that he could play with our group. That's how we got together. There was a rest area, and he would play at night in this hotel and I would play the piano, and then in the daytime, we would pile into this weapons carrier and play on the front lines. We would get sniped at, it was really quite dangerous. It was also great fun and something I really enjoyed. There was a singer, dancer, a comedian, a girl who juggled razor blades. I think her name was Dottie Reckless. That always makes me laugh. I forget what kind of music she had, but she also would swallow these razor blades and bring them up again. We played for General Eisenhower in Versailles. I remember Jimmy once went to someone's house and "requisitioned" a piano. They were allowed to do that. I was thrilled by that, to have this beautiful grand piano. Then around Christmas, 1945, they were afraid that the Germans were going to bomb Eupen so they sent us back about thirty miles to another town so we did shows there.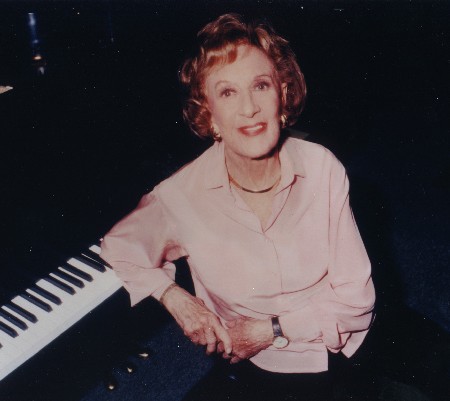 MW: How did you get started with your radio show, "Piano Jazz"?
MM: Early on, I had a show on a radio station in New York and I would play records. I finally did started interviewing people on the show. I had Benny Goodman and Herbie Hancock, a whole bunch of good people. So when "Piano Jazz" started, I thought I would be pretty good at it. Somebody from South Carolina called me up. I would be replacing the show that Alec Wilder had. He had a show for about a year and gave it up. People down there asked if I would like to do a show. I thought, "Why not – this could be something good for a little while." So I tried to find guests who could play solo, but who could also play duets with me, on the two pianos. It is important that a person be able to play along and accompany, as if they were accompanying a singer. We've had Tony Bennett on the show, I accompanied him. We've had a lot of singers.
MW: If you could have someone as a guest on "Piano Jazz" who you never had, who would that be?
MM: There are lots of people I would love to have, like Quincy Jones. I would like to have Keith Jarrett on, whose playing I love. In fact, I've asked him, and I hope he comes.
MW: What about Duke Ellington?
MM: Oh, I would have loved that. We did have a date lined up for Count Basie, but he got sick and cancelled. Same thing with Earl Hines. But I don't think Earl wanted to improvise duets. He really liked to have everything nailed down. I remember being on the road with Earl Hines, in South America, with Teddy Wilson. Earl worked up an arrangement of the Burt Bacharach tune, "Close to You." He worked at it and worked at it, every night. We all wanted to do duets instead of just playing alone, but he never wanted to play duets with anybody. But we didn't start "Piano Jazz" until 1978 and many greats had passed. My first guest was Mary Lou Williams. She was pretty tough.
MW: I remember when you had Bill Evans on and it was marvelous.
MM: I loved having him on, we got along very well and played well together. I think he was surprised at the way I played, he paid me a lot of compliments.
MW: How do you feel about the health of the jazz scene today?
MM: I think it's doing great. I can only go by the kind of mail I get from so many young people. The studio in South Carolina receives e-mails from listeners and the questions they ask are so interesting. Some of my guests on the show have been quite young. Maybe you've heard of the young pianist Eldar Djangirov who came over from Russia. He's 18 or so. A friend of mine introduced me to him when he was about twelve. We had him on the show then and just recently again. He moved to Kansas City and just signed with Sony. Then we also had a 16-year-old named Aaron Parks who went on to play with Terence Blanchard. There's another one named Taylor Eigsti who's about 19 and signed with Concord. He's got all the attributes, he can read, play by ear, he knows all the tunes, he's got great ideas, he can improvise. I notice you didn't ask me my age, which is 88. I think my publicist should do something on that, with the 88 keys. People sometimes ask me when I will retire, but people enjoy my playing and want to come out and hear it, so why should I stop? I don't want to move to Florida, live in a Winnebago and play shuffleboard!