'It's All Serious to Me'
Peter Schickele is P.D.Q. Bach - and it all adds up
Volume 115, No. 10
October, 2015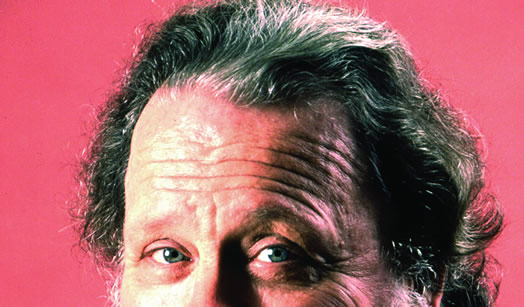 Composer, musician, author, satirist – Peter Schickele is internationally recognized as one of the most versatile artists in the field of music. A member of Local 802 since 1964, his commissions are numerous and varied, ranging from works for the National Symphony and the Minnesota Opera to compositions for distinguished instrumentalists and singers. Mr. Schickele's Symphony No. 1 ("Songlines") was premiered by the National Symphony under Leonard Slatkin, and has since been played by the New York Philharmonic, the Cleveland Orchestra, the St. Louis Symphony and other orchestras around the country.
Schickele's works for children include the score for the Disney film "Fantasia 2000" and the film of Maurice Sendak's children's classic "Where the Wild Things Are," along with another Sendak classic "In the Night Kitchen," which Schickele also narrated.
Schickele was one of the composer/lyricists for "Oh, Calcutta," and has arranged for Joan Baez, Buffy Sainte-Marie and other folk singers.
In his well-known other role as perpetrator of the works of P.D.Q. Bach, Schickele is acknowledged as one of the great satirists of the 20th century. Vanguard has released 11 albums of the fabled genius's works; six have been released by Telarc. Random House has published eleven editions of "The Definitive Biography of P.D.Q. Bach," and Theodore Presser has printed innumerable scores. VideoArts International produced a DVD of P.D.Q. Bach's only full-length opera, "The Abduction of Figaro."
Peter Schickele was born in Ames, Iowa, and brought up in Washington, D.C. and Fargo, North Dakota. Schickele and his wife, the poet Susan Sindall, reside in New York City and have a second home in upstate New York. His son, Mathew, works at New World Records and writes concert music and songs for the band M Shanghai, in which he also sings and plays guitar. His daughter, Karla, founded and runs the Willie Mae Rock Camp for Girls; she also writes songs and plays in Ida and her own band, k.
Local 802's Bob Pawlo recently caught up with Peter Schickele to talk about his early musical life, his composition training, and the serious art of being funny.
Bob Pawlo: How did your musical journey begin?
Peter Schickele: It began rather late as composers go. Composers are usually playing piano – if not composing – by the time they are 8 or 10 and I didn't get going until I was about 13. I was a Spike Jones fan. (For you younger readers, Spike Jones was a comedy bandleader in the 1940s and 50s who wrote parodies of popular songs and also spoofs of classical works like "Carmen" and the Nutcracker Suite.) I was always theatrically oriented and it was really the comedy that first got me. I put together a little band called Jerky Jems and His Balmy Brothers, which was an imitation of Spike Jones. As I worked with that band, I found that the musical part of it was as interesting to me as the comedy part.
Bob Pawlo: Was that in Fargo?
Peter Schickele: Yes. I had a very wonderful musical time in Fargo. One of my friends was a bass player named Orville Nellermoe. (They really have names like that up there in North Dakota!) He was very nice to my brother and me. We would get up early in the morning before school and hear the morning show on WDAY – that was when they still had live music on the radio. He was a bass player, and he taught me some visual tricks, like two fingers up means D major and three fingers down is E flat major. He also gave me my first introduction to ear training. He would play notes and I would guess what they were. I don't have perfect pitch at all, but I would guess the notes based on where his fingers were on the strings. And the better I got at guessing the key, the higher up he played on the strings. As far as my own instrument, my mother played clarinet in college and I started playing her old clarinet. When I was sent to a very good clarinetist in Fargo to study, he listened to me for a minute and said, "Peter, you've got so many bad habits on the clarinet that you should start a new instrument," and he suggested the bassoon. For a while, I was Fargo's only bassoonist and then one of my friends in high school became the other one and we became the bassoon section in the Fargo community orchestra.
Bob Pawlo: Were your parents musicians?
Peter Schickele: No, but they both loved music and my mother played some piano in addition to clarinet. But they were not real musicians. My mother was the kind of person who arrives in Fargo and finds out that the orchestra is short on string basses so she takes up string bass. That's the kind of person she was, but she was not at all a professional player. But music was in the family. Besides bassoon, I studed piano and some harmony. In my teenage years, I wrote charts for this dippy little band I had. It consisted of two clarinets, one violin and a tom-tom – that was it. While I was writing humorous charts for that group, I was also writing arrangements for folk songs that were completely straightforward. That set the pattern for the rest of my life, which was writing both the humorous pieces and the serious ones. There was always a humorous side to me in the background. My mother once said that I've been entertaining people since I was 18 months old. (I told once that to somebody in the P.D.Q. Bach orchestra and he said, "18 months? What took you so long?") I think entertainers who say they do it for educational and high-blown reasons are lying. I think that entertainers just want to make people laugh and that certainly was true with me.
Bob Pawlo: How did you study music more seriously?
Peter Schickele: I went to Swarthmore College. I was the only music major at Swarthmore, but the humanities I got to study there also helped me later to create a historical background and cultural context for P.D.Q. Bach. I knew I wanted to be a composer by the end of my first year. Music composition was the only "applied art" that you could get credit for. You couldn't get credit for writing a novel or choreographing a dance, but you could get credit for writing a symphony. By my third year at Swarthmore, the composer and educator Vincent Persichetti came and looked at some of my music. His first comment was, "What are you doing here? Why aren't you at a college where they really take music seriously?" Swarthmore was founded by Quakers, who were really not hot on music – it was too frivolous. In spite of that, I finished out my time at Swarthmore, but I knew after that I needed to go someplace serious for music. So I went to Juilliard for my graduate degree, which is where Vince Persichetti had gone to teach. I studied with him there, and we really got along. I've always felt that teachers and students need to match each other somehow. Persichetti and I really matched each other. If you're studying with a teacher who puts his finger on your score, right on the favorite part you wrote, and says, "This has to be fixed!" – then to me, there's not a good match. Persichetti would always put his finger on a place where I knew I was trying to get away with something, a weak spot. So there was a synergy and we got along well.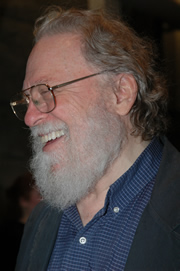 Bob Pawlo: What skills and concepts did he teach?
Peter Schickele: He didn't have one school that he stressed. He was a brilliant musician and could improvise in any style. He had perfect pitch, which was daunting in a way. I guess he never encouraged me toward any sort of style, but he let me study any style that I was interested in. On the other hand, another teacher of mine was the composer Roy Harris, who I studed with during one of the summers at Swarthmore. Now he did have a system that was strict. He had a bunch of rules, like you could have parallel fifths but not parallel octaves, which he thought was a waste of a voice. Also, he said major chords should be written in root position or second inversion, because those are the sonorous ones. That's what Harris was about, sonority. With minor chords you could use root position or first inversion, because those are the sonorous ones in minor. He would give me two notes – say, an A and a B-flat – and have me harmonize those two notes in as many ways as I could using his rules. That was very strict training. And my feeling is that if you follow a system strictly, you learn something, no matter what the system is. I've never written an entire 12-tone piece in my life – I just can't stay interested – but I'm certain that if I had, I would have learned something, because I think you learn no matter what the rules are.
Bob Pawlo: When you graduated from Juilliard, you had these incredible skills you had acquired with great teachers. What did you do next?
Peter Schickele: I won a Ford Foundation grant to write music for high school ensembles. I was assigned to three high schools in Los Angeles that were particularly good musically. I had no teaching responsibilities at all; I just wrote pieces. I would look for strong musicians in these bands and write pieces based around their strengths. After that, I did some teaching at Juilliard and Swarthmore. Then, in 1965, I gave my first public P.D.Q. Bach concert, which was at Town Hall.
Bob Pawlo: That was a watershed moment for you. What sparked the whole P.D.Q. Bach idea?
Peter Schickele: It developed through talks with friends, and also my brother came up with some of the stuff. For instance, P.D.Q. Bach had three creative periods in his life, the "Initial Plunge," the "Soused Period" and "Contrition." My brother made those up, just fooling around with friends and relatives.
Bob Pawlo: The first P.D.Q. Bach concert was a big success. How gratifying was it to have the audience appreciate it?
Peter Schickele: It was great, and of course New York was a great place to start that. And it was also a great time to start it. I often look back and think if I were trying to start P.D.Q. Bach now, I think it would be much harder. At the time, it was the heyday of the LP record. Now the LP record had liner notes, and you could get a good musical education just from reading liner notes. People were really into classical music. Musicians were recording the entire Haydn string quartets and things like that, so it was a prime time to do takeoffs and parodies on classical music.
Bob Pawlo: And from there it just took off?
Peter Schickele: Yes. I quit teaching in 1965 because I wanted to be free to tour with P.D.Q. Bach. It took me several years to figure out how to make money – literally any money at all. I used to go out for a couple of weeks and come back with less money than I left with. But around this time, I was also writing for Joan Baez. That was very good. We had a tacit agreement, which was that she wouldn't tell me how to arrange her songs. We'd pick a song, we'd go over it, we'd decide whether she was going to play guitar and stuff like that, but she wouldn't tell me how to arrange it, and I would arrange it completely on my own. If she didn't like it – which happened a couple of times – I would either do it again or we would just drop that number. And so I just had a lot of leeway and that turned out to be the best way for me to work. I worked with other singers, some of whom tried to tell me how to arrange the piece and it just didn't work as well for me. But P.D.Q. Bach was great for me. I enjoyed it tremendously. I liked touring. At first we had a 22-piece chamber orchestra and later I was appearing as a guest soloist with my own P.D.Q. Bach symphony. I was pretty much my own boss.
Bob Pawlo: What was one of your more memorable performances?
Peter Schickele: A P.D.Q. Bach concert always started with me being late and running in from the back of the hall in one way or another. Once I was making an entrance from outside. The door that was supposed to be opened was locked. And there was my stage manager Bill Walters telling the audience how I hadn't arrived yet. And there I was outside trying to get in.
Bob Pawlo: In high school, our band director told us about your music, and he said that the more you learn about music, literature and history, the more you will appreciate P.D.Q. Bach. Do you find that in the last 20 or 30 years, Americans are not as aware of history or classical music and as a result it's more difficult to reach audiences?
Peter Schickele: It may be true, but I find that my audiences are still very enthusiastic. I don't know if it's just the general feeling that they're playing off of, or if they really get each specific thing, but at the concerts I've done this year, virtually every one of them has ended with a standing ovation, so I can't complain.
Bob Pawlo: Do you have trouble keeping Peter Schickele and P.D.Q. Bach separate?
Peter Schickele: No, because I have a very Catholic sense of humor – and a sense of serious, too. In other words, it's all serious to me. It's all serious in the sense that when you're doing humor, you have to do it well to make it good. And when you're doing serious stuff, you have to do it well to make it good. I jot down music in my sketchbooks and I'm not sure whether it's going to end up being P.D.Q. Bach or Peter Schickele. It's really not a problem for me. I take both of them seriously. Recently I've been doing more Peter Schickele than P.D.Q. Bach. I had a sonata for percussion that was premiered in June in Woodstock. I also wrote a clarinet quintet for David Shifrin that he commissioned; it was premiered at Chamber Music Northwest out in Portland in July.
Bob Pawlo: What do you say to young composers starting out?
Peter Schickele: My best advice is simply to make sure you hear everything you write. You don't really know what it sounds like until you hear it. Of course that's easier now than it used to be because of technology. But just keep it real and by that I mean hear what it really sounds like.
Bob Pawlo: Anything in closing you want to say to Local 802 members and union members around the world?
Peter Schickele: Be glad you've got the union working for you. These are tough times for unions and I hope they can hang in there and keep helping all of us.