Tribute page for Jack Gale (1936-2022)
Volume 122, No. 5
May, 2022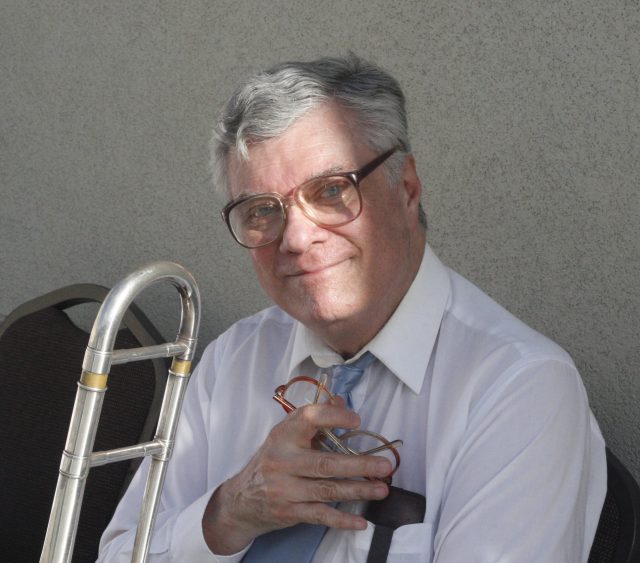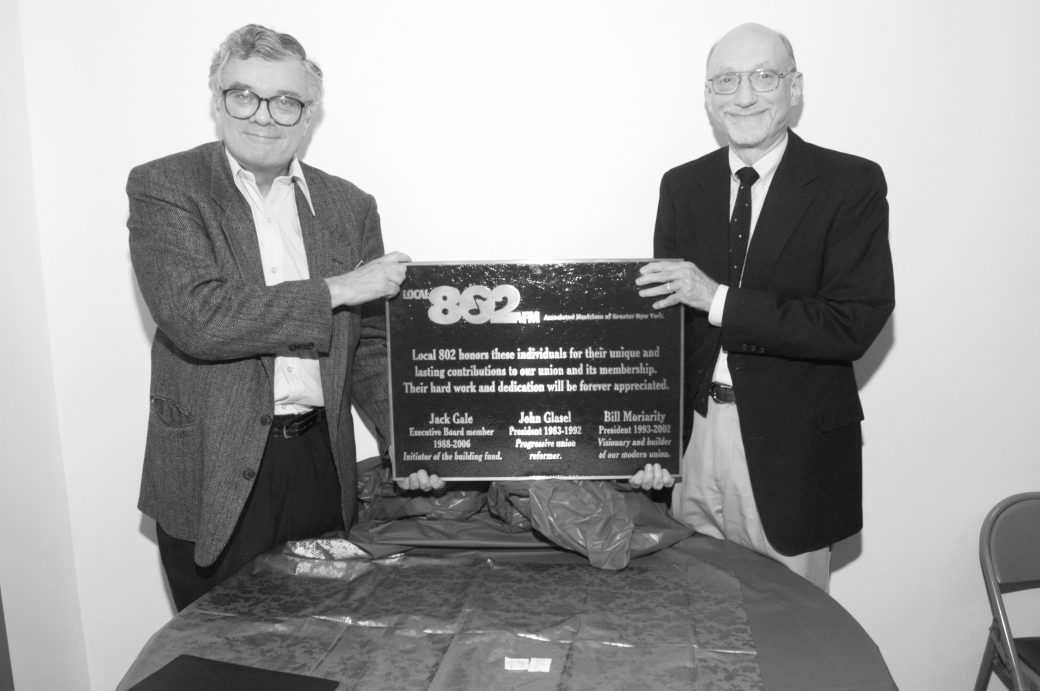 We lost one of the bright lights of Local 802 on March 16, 2022, when Jack Gale (pictured above left, standing with former Local 802 President Bill Moriarity) passed away at the age of 85 after being a member of Local 802 since 1961. The plaque in the photo was dedicated and installed in the Local 802 building in 2007 and says: "Local 802 honors these individuals for their unique and lasting contributions to our union and its membership. Their hard work and dedication will be forever appreciated." Jack was honored for his long service as an Executive Board member as well as being the initiator of the Building Fund, which is how the union bought its building at 322 West 48th Street. Please enjoy these tributes to Jack below.
A memorial celebration is planned on June 25 at 11 a.m. at Local 802 (322 West 48th Street) in the Club Room, which is adorned with the plaque honoring Jack pictured above. Donations made to Local 802's Musicians Emergency Relief Fund are appreciated (click here to donate now).
This page will be continually updated. E-mail your own reminiscences of Jack Gale to Allegro@Local802afm.org to be added to this page. Also see additional special tributes and photos at the very bottom of this page.


TRIBUTE FROM CATHERINE GALE
John Calvin "Jack" Gale, was a trombonist, arranger and composer in New York City for over 50 years. He earned his living on Broadway, in recording studios, big bands, brass quintets, and on Garrison Keillor's "American Radio Company of the Air." He prided himself on being able to play many styles of music convincingly, and worked in virtually all areas of the New York music business, including jazz, classical, popular and a personal favorite: Dixieland. In addition to music Jack Gale was known as a warm, humorous, person who loved Chinese food and the challenges of parking in NYC. Gale died at an assisted living facility in Ithaca on March 16, 2022. He was 85.
Born in Wichita, to amateur musicians, Gale heard the song "Cry of The Wild Goose" by Frankie Laine on the radio and was inspired to take up the trombone. He began to study composition at Wichita State where he also wrote arrangements for and played with the local band "The Continentals." He left Wichita to travel with bandleaders Jimmy "Dancing Shoes" Palmer and then Buddy Morrow.
Being drafted into the Army in 1959 proved to be fortuitous, as his musical skills allowed him to attend the Naval School of Music in Annapolis, and later be stationed at the Brooklyn Army Terminal where he played in the band. While in the Army, Gale used his spare time to meet musicians in NYC and started playing gigs. He also met his future wife Julie Gale, nee Kellas, who lived in the apartment next door on Avenue B in Manhattan.
While in the army, Jack married Julie. They later moved to a small apartment on 95th street. He soon landed a trombone chair for "Let It Ride," the first of what would become at least 46 Broadway pit orchestra jobs. In the 1960's, before and between Broadway musicals, he performed in the trombone sections of Maynard Ferguson and Woody Herman's touring bands.
Through the 1960's and 1970's, Gale's New York performing opportunities broadened. He played in hundreds of recording sessions for commercials, film scores and in studio orchestras backing singers Tony Bennett, Nat King Cole, Barbra Streisand, Peggy Lee, Julie London, and many others. He also toured with Benny Goodman's sextet and trombonist Kai Winding. He was also involved in several concert series of classic jazz produced by the Smithsonian Institution.
Jack and Julie Gale lived together in NYC for several years before moving to Harrington Park, New Jersey, where the couple's only child, daughter Catherine Gale, was born. Gale passed his passion for music onto Catherine, a jazz vocalist and educator.
Gale and several colleagues formed the Manhattan Brass Quintet, playing school concerts in the "Young Audiences" program in NYC. The members of the quintet varied over the 12 years he played with it, but often included Gale's brother trumpeter David Gale, Gary Johnson, Bill Stanley and Jay Silva. Gale used the group as impetus to arrange and compose hundreds of new works for brass quintet, many of which are published and still in print. His brass arrangements and compositions brought him renown among brass players worldwide. Several pieces have become essential repertoire to this day, including a suite of songs from Leonard Bernstein's "West Side Story" originally written for the Empire Brass, authorized by Maestro Bernstein himself for publication.
Gale was the regular trombonist and occasional arranger for Rob Fisher's "Coffee Club Orchestra" on the Garrison Keillor radio show when it moved to NYC in the early 1990's. With that ensemble, he also played the "Encores" theatre series at City Center.
Jack Gale taught many private students, as well as trombone and jazz combos at the Manhattan School of Music in the jazz/commercial program for over thirty years. He developed a series of jazz etudes to help his students understand the jazz idiom which he published and also adapted as duets and quartets.
Through his entire career, Gale was an active member of the AFM, first as a member of Local 297 (Wichita) and then Local 802. In the 1980s, Jack helped to form the MEMBERS Party, (Make Every Musician Benefit from Efficient Responsible Service), which won office in 1982, starting a new era for the local. He served on many boards and committees within Local 802. He introduced a bylaw establishing a building fund which made it possible for the NYC musicians union to purchase the building it owns to this day. He also served as president of the New York chapter of the Recording Musicians Association.
Jack's last full-time job in a Broadway orchestra was the 2003-2004 production of "Wonderful Town," although he continued to freelance, arrange and teach until recent years.
He is survived by his wife, Julie (Kellas) Gale; daughter and son-in-law, Catherine Gale and Mike Titlebaum of Ithaca; grandchildren, Hannah, Zoe and Max; and his brother and sister-in-law, David and Dawn Gale of Cresskill, New Jersey.
A memorial celebration is planned on June 25 at 11 a.m. at Local 802 (322 West 48th Street) in the Club Room, which is adorned with the plaque honoring Jack pictured at the top of this page. Donations made to Local 802's Musicians Emergency Relief Fund are appreciated (click here to donate now).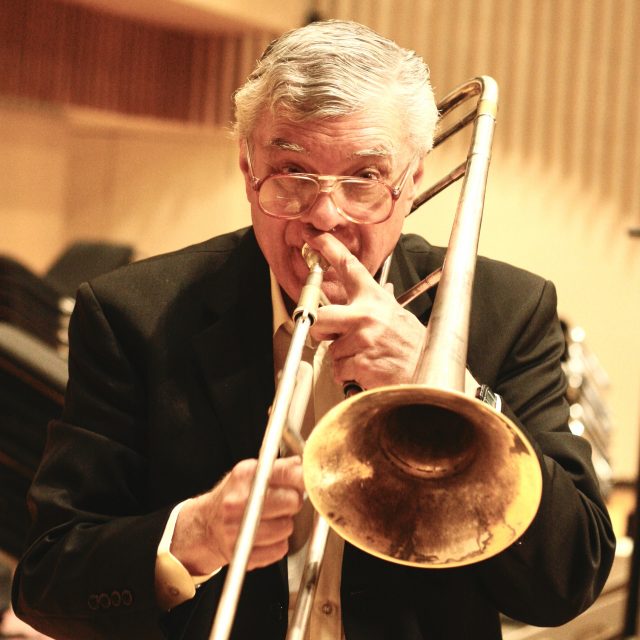 ---
MORE REMINISCENCES OF JACK GALE (in alphabetical order)
John Arbo: "I met Jack at 'Miss Saigon' and took an immediate tremendous liking to him. I carpooled with him in his 1970s Dodge Dart for years, went to Hop Kee many times, learned more about the value of participation in Local 802 (though I was already inclined in that direction), learned the secrets of parking in midtown and how to beat tickets, and adored his jovial, quirky ways. My other now-gone good friend and 'Saigon' pitmate, Sal Spicola, was on Woody's band in the 70s, Jack in the 60s, and I in the 80s. We would compare Woody road stories and shared anecdotes and cassettes (!) of the versions of 'Caldonia' that each of our incarnations of the band played, always (of course) at unbelievably fast tempos. One time after a show at 'Saigon,' I went into the band room to get my coat. Jack and couple of others were there, including Lynne Cohen. She was just sitting on the couch. I asked, 'Why are you just sitting there?' She said, 'I'm waiting for my old man.' I said, 'Constantine?' (Constantine Kitsopoulos, the conductor). She said, 'Yup.' On hearing this, Jack, an inveterate, maybe incorrigible, punster instantly asked, 'How can he be your old man if he's a constant teen?' Wow! I loved Jack and will really miss him."
Sandi Billingslea: "I'm not sure exactly when I met Jack Gale. It could have been during 'They're Playing Our Song,' in 1979: Rick Henly was house contractor. It could have been at the West End Little Symphony, conducted and founded by Eugene Gamiel and contracted by Seymour (Red) Press. I remember Jack and Dave Gale as a trumpet-trombone duo often playing the same jobs. Jack had a delightful sense of humor and a very quick wit, plus both brothers were fabulous musicians. Jack was famous for organizing his matinee day excursions to the Hop Kee restaurant in Chinatown. Every Saturday without fail, a group would go to there for a special menu arranged by Jack. He was a favorite and they always prepared a special feast for Jack and his friends. Jack was also the exclusive composer for Roslyn & Eugene Gamiel's Music Outreach Trios and the West End Little Symphony's Literacy Program. Music Outreach was a trust fund program developed by the Gamiel's to reach children with special needs in NYC's public schools, hospitals, autistic centers and schools for the blind and deaf. Trios introduced instrumental music to physically impaired, emotionally disturbed, traumatized, pregnant teens, autistic & down syndrome children, cancer patients and their families at Ronald McDonald House, blind and deaf children and beginning sometime in the 1980s, stories. Jack composed the music for those stories. During rehearsals he would emphasize just how his music should engage the words highlighting many segments with sound effects or riffs: whatever came out of that wonderful imagination of his. His music set the tone of the story. As the orchestra's storyteller and a trio leader, I enjoyed those musical adventures immensely and so did the teachers and children. Jack Gale's stories included 'Greater Than Great, or the Lion and the Mouse' (an Issop fable re-written by Roslyn Gamiel), 'Anansi the Spider' by Gerald McDermott, 'Horton Hatches an Egg' by Dr. Seuss, 'The Nightingale' by Hans Christian Anderson, 'A Snowy Day' by Ezra Jack Keats, 'Caps For Sale' by Esphyr Slobodkina, 'Anansi and the Moss Covered Rock,' retold by Eric A. Kimmel, and many more. Jack's music made the stories come alive. Jack and Dave introduced me to their parents when they visited during 'Dreamgirls' or 'Miss Saigon' or both. They were wonderful sons always visiting their parents or bringing them to New York for a fun-filled, theatre rich visit. Eventually, they arranged for them to live at the Actor's Fund retirement home in Englewood so they could be closer during their advanced senior years. Jack's transition marks the end of a wonderful era. I hope his family will allow his music to be published and used with other orchestras or trios. His scores were a delight. He was a true light in the world and the music world especially."
Bruce Bonvissuto: "JACK of all trades — MASTER OF EACH AND EVERY ONE OF THEM! Known primarily as one of the finest and most versatile trombonists of his generation, a brilliant arranger, composer and union activist, Jack Gale was all of these…and so much more. He was truly a Gale Force of Nature…Unstoppable, determined, indomitable, resolute. When Jack got hold of an idea, he thought it through, front to back, inside and out, analyzing it from every direction until he was satisfied that it was worth further consideration…or not. No stone was left unturned. Ever!
For those of us who were involved in some of these thought processes his methods were often maddening, sometimes frustrating but always fascinating! And in the end, you had to appreciate the approach and the care that Jack took with each and every decision, big or small.
Jack and I first met in the late 70s on a Paul Whiteman "reconstruction" band playing concerts in Carnegie Hall and the Academy of Music in Philadelphia. I was the "kid" in the band, playing with some of the legends of the NYC music scene – Jimmy Maxwell, Al Gallodoro, Johnny Mince, Eddie Bert, Bernie Privin, Bobby Rosengarden, Eddie Barefield, Milt Hinton, Wally Kane…and Jack Gale. I sat right next to Jack, whom I had known only through his stellar reputation but had yet to meet. At the dress rehearsal in Philly, I developed a blister on my top lip and was very concerned about getting through the concert. "I know just what you need. Every city has a Chinatown. We'll find it and you'll be just fine", Jack said. So, off we went, had a delicious dinner, which I'm sure included some Ung choy with fu ye, and then found some Tiger Balm which deadened the pain in my lip just enough to get me through the night.
That began a long, wonderful friendship which allowed me to work side by side with the man that I have since referred to as "my one brush with genius." We shared bandstands on Broadway and concerts, in recording studios, jazz bands and on club dates. I was in awe of his musicianship and command of the instrument. He could do it all; authentically play in any style, always with authority and integrity.
We also worked closely on many union issues, writing articles for the MEMBERS Newsletter, often talking on the phone in the wee hours of the night, ruminating, with Jack doing most of the thinking and talking, and me acting as a sounding board, occasionally contributing to the process. Whether we were making music, tackling complex issues, or looking for a parking space in Chinatown, the time spent with Jack was rewarding and edifying in every sense. Jack did all these things, and again: always with authority and integrity.
Jack's ability to decipher complex and seemingly unsolvable problems never ceased to amaze me. I was on the Executive Board in the 1980s when Local 802 was paying exorbitant rent on W. 42nd Street and facing declining revenues. Our union was on a collision course with eventual financial disaster. Jack floated the idea of buying a building in midtown Manhattan. Everyone, myself included, thought this was pure fantasy… "CRAZY!" Undeterred, Jack came up with a proposal to not only purchase a building but also create a strike fund, which our union had never had. One by one, he convinced union president John Glasel and other members of the administration of the feasibility of this plan. Today Local 802 owns a building worth tens of millions of dollars debt free and has a one-million-dollar strike fund to boot. Yeah, CRAZY, indeed!
But amid all the music making, arranging, composing and union activity Jack somehow always found time to be a devoted husband, loving father and grandfather, a dedicated teacher and mentor, and a loyal and trusted friend to so many. I'll forever miss the phone calls, which since the age of caller ID always started with "Bruce is that you? Yeah, Jack is that you?", the sharp wit, clever puns and the heartfelt caring that was always present in every interaction. I miss you dear friend!"
Bud Burridge: "I met Jack Gale when he was well into middle age. I was completely unaware of the scope of his accomplishments. Like many young musicians, I first knew Jack as a prolific composer and arranger of brass quintet music, suitable for literally any type of concert performance. Next, I discovered he was the professional studio musician I aspired to be. Only later did I learn he was the relentless union advocate and champion of musicians that I didn't know existed or was necessary. Jack was one of the folks who persuaded me to enter Local 802 politics and, especially in my early days, I often sought his wise counsel. I remember him, on occasion, sternly scolding me because of my position on a particular issue or my naïveté about how things worked. I also remember him almost always being right. He was a gentleman, but he wasn't shy. In rereading an unpublished interview I did with Jack a few years ago, I'm struck by how often he expressed gratitude for the opportunities he had and to his fellow musicians. He was generous, kind, articulate, a strong unionist and a force to be reckoned with. We are all fortunate he was with us as long as he was, as a musician and a colleague." Read Bud's full interview with Jack Gale.
Pete Calandra: "I met Jack Gale in the summer of 1984 when we played the last Radio City Music Hall summer show, 'Gotta Get Away.' We also spent 10 years working in the pit orchestra at 'Miss Saigon' from 1991 until 2001. I also hired him to play on a few recording sessions that I produced/arranged. Aside from his obvious musical gifts, Jack was always a very upbeat and positive person to be around. During the run at "Miss Saigon," he had a trombone for the show he kept at the theatre. Often this instrument would be left on a stand, in the pit between shows. Not just on matinee days but even overnight. By the time we were 8 or 9 years into the run, it looked more than a bit weathered. One Saturday, Jack did his usual between-shows Hop Kee run for dinner. I did not go, and after getting something to eat close by, I ventured back to the theatre. Walking into the orchestra room I saw the bass trombone/tuba player at that time, Dean Plank, feverishly working over a trombone he had spread out all over the table. Every part was carefully placed on a cloth while he cleaned out dirt from the inside and outside of the tuning slide, cleaned and polished the bell of the instrument so well that you could see your reflection. He looked at me and said 'This is Jack's trombone. It looks like it hasn't been serviced in a decade and I'm tired of looking at it.' He was laughing as he said it. He spent almost an hour cleaning, polishing, greasing and setting up the trombone so when he finished, it looked brand new. He put it back in the pit on its stand and didn't say a word to Jack. Most of the orchestra (except Jack) knew what Dean had done. Jack came into the pit at 5 and started to play the show without noticing. Then at some point toward the end of the first act when he wasn't playing, you could see him scratching his head and looking at the trombone. He picked it up and gave it a going over with a puzzled look on his face wondering what had happened or, if it even was his own trombone. Meanwhile, many of us were working hard to stifle the laughter at the entire scene. After a couple of minutes, Dean leaned over, told him what he had done and they shared a quiet laugh. Between acts it was a full on laugh riot. Jack was a really good sport about it and thanked Dean for the job he did on the trombone. It was much, much funnier in person. Jack was a one-of-a-kind person who will be missed by all of us that worked with and knew him."
Brian Cassier: "I have two favorite Jack Gale memories:
In 1984, Jack was the teacher of my jazz combo during my freshman year at Manhattan School of Music. We were the hot players who thought we knew it all! We started playing and soloing on a pretty complicated Chick Corea tune, thinking we knew what we were doing. Jack took solos with us. After all of us going around and playing a bunch of times, Jack stopped us. He told us, 'Guys, I hear lots of notes from all of you — but none of them are pretty!' He then had us play an F blues and made us only play the root of the chord, an F! 'Make that one pitch sound pretty, in any octave, using inflection,' he said. Boy, was he right! I never forgot that lesson.
Many decades later, I contracted a club date out at the American Yacht Club in Rye. The first thing Jack asked was if the gig was union. I had to show him the contract from AFM Local 38. I remember that night well; it was Jack, Chuck Wilson, Kelly Conner, Dave Ratajczak and myself. Jack always seemed to know every tune ever written. The gig was just background music and most of the audience was not really paying attention, so Chuck, Kelly and I started calling tunes to try and trick Jack with one he didn't know. We could NOT do it! I even thought I had him with a rarity called 'Ypsilanti' from about 1910. But Jack knew it! That says so much about his vast knowledge of music and jazz standards. He impacted my life in playing and will never be forgotten. Thanks, Jack!"
Michael Comins: "I broke into tears on the news of Jack's passing. Both as founding members of the MEMBERS Party and writers/editors for its newsletter, we had a long friendship that included many late evening telephone discussions about Local 802, the AFM, and world affairs. He often drove me home on his way back to New Jersey after union meetings. During one last drive, he informed me of his declining mental health. I'm deeply saddened by the passing of one of the finest people I've ever met."
Bruce Eidem: "The 35 years that I knew Jack produced many fond memories. I can still hear his high F singing throughout Times Square during sound checks for 'Broadway on Broadway' and the stylized way that he would play otherwise mundane parts. But what impressed me most was the way he inspired as a teacher. During my two years studying privately with Jack at the Manhattan School of Music, he made me believe that, although I didn't have it together yet, with hard work and dedicated practice, I could be successful in NYC. It was his willingness to take a chance on me as a substitute that lead to a career as a Broadway musician. I loved Jack as a player, writer, arranger and teacher but mostly as a person. I miss him greatly."
Tino Gagliardi: "Jack was a brilliant trombonist, composer, arranger and music educator, and was one of my earliest mentors at the union. As previously reported in Allegro, Jack helped the Members Party win the 1982 elections, which heralded a new era for the union. He served on numerous committees, was president of the New York RMA, and was elected to the Local 802 Executive Board for 18 years. Against the odds, he convinced the union to buy its present building, a decision that many felt saved the union financially and also helped us create a strong community and identity. He was a true visionary, and all of us at Local 802 owe Jack a debt of gratitude."
Maura Giannini: "I am deeply saddened to hear of Jack's passing. I served 16 years on the Executive Board and numerous committees with Jack. During those years, the board and the union grappled with many challenging issues. With his amazing creativity and grace, Jack always managed to steer the board or committee towards a consensus that would eventually be acceptable to the majority. Through his intellect, tremendous energy, commitment to the union, and work advancing the rights of musicians, he has left a legacy for which we are all grateful beneficiaries."
Lino Gomez: "Without a doubt, one of the most brilliant individuals I have had the pleasure of knowing and of calling a friend and colleague.  Among Jack's many talents was his uncanny ability to find a free parking spot on the streets of NYC's theater district; he was the go-to guy for all street parking matters. More times than I can remember, I have been proud to be able to tell a colleague seeking street parking tips, 'I studied with Jack Gale.'"
Wayne Goodman: "Here are my favorite memories of Jack Gale. I was beyond thrilled to learn that Jack, for whom I already had tremendous adoration for being a teacher and mentor trombonist since I was in high school, loved and adored the same early cinematic master comedians that I did since I was a kid. When I learned this about Jack, I was amazed all over again of his deep knowledge of the movies of Laurel and Hardy, the Marx Brothers and Buster Keaton. His respect for those masters was so resounding, it reminded me very much of his love and respect for playing music to the highest possible quality, and the humor and mastery with which Jack expressed himself in both idioms (music and comedy). Jack's sense of humor was only second to his sense of musicianship. And of course the two go hand in hand so often. I recall many, many hours on the 'Chinatown Shuttle,' which of course were the regular trips to and from Broadway (between Saturday shows) to Hop Kee in Jack's car, recounting, quoting and laughing over and over again (I'm laughing as I write this) at Jack's photographic, multitudinous recollections of Groucho's jocular quips, and his kid-like impression of Stan Laurel. He told me of how he edited down many of the classic Marx Brothers movies to remove the 'mundane' story lines featuring regular actors to only feature the sweet spots of why we loved those movies so much: just the funny bits. And regarding Hop Kee, often Jack would call in the early Saturday afternoons (almost each and every week), and if I was unavailable to answer the call, he'd leave the same script on my voice mail, 'Hi Wayne, this is Jack. I'm going to Hop Kee today, and would love it if you could come along. We'll be leaving from the corner of 45th Street and 8th Ave.' He would go on saying who he'd already called, who said yes, how much room was left in the car, and always, always offering to squeeze another person in even if there wasn't really room. He didn't care about any of that, as long as there were as many humans as possible enjoying the food and — most importantly — the company. And when the prolific meal (I can taste the ong choy with Foo Yee sauce and proportioned dumplings as I write this), and the luscious Belgian chocolate-chocolate Häagen-Dazs cone was over, we'd scurry back to his car to make the perilous trip back for the 8pm shows, Jack never sweating the traffic on the West Side Highway. However, the rest of us would be side-eyeing each other as we grew slightly anxious watching the clock tick past 7:30…7:35…7:40, tick tick tick….and we'd still be in traffic on '30=something street' and the West Side Highway! We always made our respective curtains, but some of us had a bit more perspiration stains under our black shirts than did Jack. Jack took particular care of music and he adored comedy (and Chinese food!), but he mostly took care of, and adored, people. Jack was the most special of human beings, and there will never be a replacement."
Tony Gorruso: "I was very fortunate to be hired by contractor Mel Rodnon for the show 'Miss Saigon' thanks to the recommendation of the fine lead trumpeter Rick Henly in the spring of 1991. I didn't know then that the added bonus would be the friendship and mentorship I'd cultivate with Jack Gale. He was an outstanding Broadway and studio trombonist, composer, arranger of brass quintets and big bands, alum of the Maynard Ferguson orchestra, instructor at the Manhattan School of Music, member of the Garrison Keillor Coffee Club Orchestra, and so much more. For those of you who aren't familiar with Jack, you should know that he was instrumental in the movement to rid the union of corruption, resulting in the ousting of the Max Aarons administration and the election of Members Party candidate John Glasel (rest in peace). Jack was also at the forefront of establishing the Local 802 building fund, resulting in the purchase of our current union building at 322 West 48th Street, the former home of historic A&R studios. This ended the waste of our dues on renting a space for our union's business to take place in. Jack was a loving family man who would share the stories he made up to entertain his daughter Cathy in her youth, the tales of Gagoose come to mind. He'd also bring his wife Julie into NYC on Saturdays so she could teach painting or purchase art supplies, then join us at Hop Kee for dinner. Jack was an avid old movie buff, and as the affordability of programmable VCRs increased in the 1990s, Jack purchased a few of them using them to record and collect many of the films he enjoyed in his youth. Jack once told me that one of the films he recorded was missing some dialog and that he and his daughter tried to lip-read and fill in the missing dialog. (Jack was also someone who loved puzzles, so this was right in his wheelhouse.) He and his daughter then recorded and overdubbed their dialogue back into the movie and fooled his parents into thinking their overdubs were the original dialog! I once quipped to Jack, 'You're the only one I know who uses the technology of the future to keep yourself firmly rooted in the past!' One other great character trait of Jack's was his generosity. He would routinely find the time in his busy days to burn CDs from out-of-print jazz masters for his friends and students complete with hand-typed liner notes, not to mention the Saturday matinee trips for dinner in Chinatown where he would always treat a first-timer to Hop Kee for a free ice cream after dinner at the nearby Häagen-Dazs. He was an intelligent, kind-hearted soul, who touched many of our hearts and will be sorely missed on so many levels. My heartfelt condolences to his family and many friends! There is a black hole in my heart and no doubt in many of yours who knew him that will be nearly impossible to fill. I had a good father, but Jack was like an older brother who helped guide me be it personally or musically and I'm forever in his debt. The world is a much darker place without him in it! One great last thing about Jack I was reminded of by Brian Bonvisutto, one of Jack's fine trombone students, today a fine trombonist in his own right: Jack never had a bad thing to say about anyone, something myself and many others could learn from. Missing you, Jack! Rest in peace. (One more thing: Jack was the king of finding parking in NYC as we carpooled together the almost 10 year run of the show, so I witnessed many a last-second parking miracle, but I'll leave those stories to someone else.)"
Bob Haley: "Of all Jack Gale's accomplishments, the one with the most lasting effect on Local 802 and its members was the election of 1982, where the Members Party won every office and ushered in a new, democratic union. Before then, the union was run entirely by non-musicians. Membership participation in contract negotiations was rare – the union negotiated and set scales. The officers handed out favors and penalties according to their own whims. It was dangerous to your career if you dared go against the entrenched administration. Working musicians were always outvoted because thousands of retired members across the country paid no dues but were still allowed to vote, and the elections were conducted by mail ballots sent to every member without request. Furthermore, the bylaws stated that the mail ballot could only be repealed by a mail ballot. Activists like Murray Rothstein and John Glasel and others did as much as they could for years to reform the union, but by the late 1970's they had become resigned that the working musicians could never win. I worked with Jack during the early days of the Members Party and I was in awe of his gifts.  His optimism was contagious, his logic was rock solid and his powers of persuasion were irresistible. Rothstein and Glasel's first reactions to the proposal of a new opposition party were the same. Forget it. We tried it. It can't be done.  But Jack persisted and eventually managed to get those two great leaders to attend meetings and discuss the idea. Their participation and Jack's tireless efforts encouraged others to join the movement, and a bylaw was passed, allowing members of the Executive Board and Trial Board to work as musicians. Eventually, Glasel agreed to run as president, and a group of well-known musicians filled out the slates for the two Boards. (Jack declined to run, saying that he could do more good outside of the administration, and indeed he did). In 1982 the election was won, and working musicians were in control of Local 802 for the first time in decades. Have no doubt about it. Had Jack not worked so courageously in the late 1970's we would not have the democratic union we have today. The same goes for the strike fund, the building fund, the purchasing of Local 802 headquarters and numerous other initiatives and reforms that Jack spearheaded. Many have written about Jack's musical talents, his moral compass, his sense of humor, his deductive powers and his wit and charm, and all of these are so very true. He was a humble man who accomplished great things, to the benefit of many. We have suffered a huge loss, but Jack's legacy lives on."
Martha Hyde: "I, like many others, went to Hop Kee many times in Jack's Dodge Dart. He treated me to ice cream my first time just as he did with everyone. Shortly after 9/11 we were talking on the phone. He said he wanted to go back but hesitated because of the devastation downtown. I told him they needed him more than ever; that many restaurants and businesses in Chinatown were suffering because of the horror so close by. We agreed to go together the next Saturday and go we did. They were very happy to see us. Another story: Jack wrote original music for children's stories that we performed as someone read the stories for schoolchildren as part of the Music Outreach program. What many folks don't know is that he also recorded his own stories using music that had already been written and recorded. They were for his daughter and featured the adventures of Gagoose, a little girl in honor of his daughter. He took an interest in the fact that my small boys loved both music and stories and he gave me a collection of Gagoose stories. Those stories were some of the most requested listening by my boys on car trips."
Dale Kirkland: "I arrived in NYC late in 1979 and at the invitation of Jim Pugh (Thanks Jim!), began subbing at 'Sweeney Todd.' Listening to that section of Jack Gale, Jim Pugh and Dean Plank play together set the bar as to what a great section should sound like. Jack was immediately welcoming and I was introduced to not just an exceptional player, but an exceptional human being as well. As I began to get comfortable subbing there, Jack started making suggestions as to who I should call, and what I should say to help find more work. He graciously offered to make a few calls himself on my behalf and so began the Broadway portion of my career. Jack went out of his way to help. As the years went by and I was able to work with Jack at different venues, I came to understand just what an amazing guy he was. His sense of humor, his stylistic mastery, and his positive attitude were all examples that set him apart. One of the things I admired most about Jack was that you never heard him say a negative word about another person. It didn't matter what was going on, Jack stayed positive. So many have already recounted the fun at Hop Kee or various incidents involving ice cream. As we all know, Jack loved his sweets. One of the traditions that he introduced me to at Sweeney was 'donut night.' There used to be a place at the corner of 51st and 8th Ave. called Honey Cake Donuts. To this day, I've never found a place that made better glazed whole wheat donuts. Every Thursday night, Jack brought some into work. Occasionally they would get followed with a Tic Tac chaser. Good times, lots of laughs and great musicianship. Jack, you are missed by all those privileged to have known you and played alongside you."
Bill Moriarity: "During my years in office at Local 802, I was fortunate to work regularly and closely with Jack. As everyone knows, he was intelligent, articulate and wildly creative. But what was most impressive to me was his unfailing personal integrity; nothing that he did was for him alone, but for the good of the whole, for his fellow musicians, for his union. I would hope that there are more like him out there because we need them badly. But I fear that he may have been one of a kind. I miss him very much."
Frank Pedulla: My favorite Jack Gale stories/memories are the following. Note: some of these stories may be too good to be true:
Back in the day of metal recording tape, the tape (like all tape) would sometimes get tangled. Jack figured out that if he unwound the tangled tape and wrapped it around the outside of his house at least several dozen times, he could always straighten it out. Perhaps if you'd been walking around his neighborhood back in the day, you might have even seen him unrolling his tape!
Jack Gale allegedly once fell asleep during a Broadway show while sustaining a written fourth-space bass clef G, at a fermata. The rest of the musicians followed the conductor's cutoff, but not Jack. The entire orchestra broke up laughing, and then noticed that even the conductor was unable to hold back his laughter.
Jack once told me that while he was crossing the street in midtown Manhattan, a truck came speeding straight at him. He saved his own life (and his trombone) by running back towards the sidewalk, wrapped his arm around a streetlight pole, spun around it about three times — all while holding onto his trombone in its case!
Jack once brought me some homemade ice cream, in a small white box. It must have been cold out that day, since even after traveling all the way from his house in New Jersey, the ice cream still had perfect consistency, not even the slightest bit melted. Even though vanilla is not my favorite, it was the greatest vanilla ice cream I ever tasted in all my years. (I  soon bought a book about how to make your own ice cream.)
Back in the day of pay phones, you only got 60 seconds of talk time before you had to put in more coins. Jack had a very fest-tempoed way of talking or leaving messages, to stay within the 60-second time restriction. My wife Marianne remembers that "even though Jack spoke so quickly, you could understand every word because of this tonal inflection. He spoke with a musical contour, the likes of which I have never heard in my life, and not possible for anyone else to execute!"
Dean Plank: "Jack and I were close friends for many years. We worked together on Broadway and in many other aspects of the music industry. Being neighbors, we shared rides, primarily in his 'trusty' old Dodge Dart. You see, the Dart had a cassette player, and he had hundreds of cassettes he 'needed' to play. I'm sure my primary value in the carpool was my ability to keep the car running all the way to work, which was many times a challenge. I remember Jack for his artistry and talents as a musician and trombonist, but even more so as a very giving person. His contributions to the work of the union and the Members Party are legendary, but most of all I will remember the love and respect we had for each other and the way he showed it to his fellow musicians. Thank you, Jack for sharing your life with us."
Jim Pugh: "It is difficult, if not impossible, to talk about someone as large and influential as Jack Gale in a short space. He possessed great integrity, a ferocious intelligence, a passion for music (both playing and writing), trombone, trombone players, old radio shows, chess, London Times cryptic crossword puzzles, his family, home recording, organizing Saturday culinary excursions to Hop Kee, street parking and milkshakes. When I moved to NYC in 1976, Jack was one of the first local trombonists I met; he embraced my coming to town and became one of my dearest friends. I had the pleasure of working with him on many recording sessions but got to really know him through the original run of 'Sweeney Todd' in 1979. We played chess (I never won!). We both got one of those new video tape recorders and we each scouted for the cheapest place to buy blank tapes, always reporting back. I would watch in awe as he would complete the London Times cryptic crosswords by intermission (admittedly, Jonathan Tunick's gorgeous but very orchestral orchestrations left the trombones with a lot of down time, but still…). Jack enjoyed the quirks of language and playing with words and their occasional multiple meanings. We were talking about naming pieces of music and how tricky that often can be. Jack mentioned thinking about Aaron Copland naming of one of his most well-known works and wondered from where did that particular 'appellation spring'? He once considered hosting a get-together and inviting only lead and principal players to his 'party of the first part.' There are many other stories, many other sides to Jack's talent and influence as a player, as a teacher, as a mentor and this could go on for many pages. On a sad occasion, it has been a joy for me to revisit so many wonderful memories. Anyone fortunate enough to have spent time with Jack is better for it. He deservedly was a huge presence in the New York music scene and will be missed."
Al Regni: "Jack Gale, musician extraordinaire and all-around mensch. His contributions to music and musicians are endless. He gave of himself tirelessly to help the lives and carriers of so many of us. We all have a large measure of gratitude to extend to his memory. My associations with Jack were on an array of work from classical, jazz, recordings and commercial gigs but most memorable were the six plus years spent working with him in the band of Garrison Keillor's 'American Radio Hour' (formerly 'The Prairie Home Companion.') This was one of the favorite times of my career. Jack Gale was a large part of the joy of those years because of his formidable musical presence and for the ever-present upbeat personality that he brought to every show. Jack's matinee day trips to Chinatown remain as an unforgettable memory of the Broadway years. So many of us who had the pleasure of traveling to Chinatown and back in record time in his magical Dart can thank Jack for that memory. His uncanny way of avoiding traffic and finding parking places will remain in the foremost archives of musician's storytelling. Thanks for the memories, Jack."
Bill Rohdin: "When I served with Jack Gale on the Executive Board, aside from his boundless energy and knowledge of local 802, the AFM and unionism in general, what impressed me the most was that when he brought an idea to the board, or commented on another's idea, his positions were always logical and thoroughly thought through with an eye on potential consequences, good or bad, both short and long-term. But Jack was not a stubborn person. If you could present a well-reasoned argument in opposition to his position, he would listen and consider it, and if he was convinced by your thoughts, he was capable of changing his mind. I was amazed at that open-mindedness in light of the fact that he was almost always right. Jack was, in my opinion, the most important and influential member of Local 802 in the past 30+ years. He is, after all, the only rank-and-filer to have his name on a plaque in the lobby. And of course many people know that Jack loved Chinese food. Every matinee day that Jack was working a Broadway show, he would organize a trip between shows to Chinatown for dinner. He would call musicians to see if they wanted to go with him. He called me several times but I always begged off saying that I had something else I needed to do. That was a lie. The real reason was that I've never been crazy about Chinese food, but I couldn't say that to Jack. Whenever a matinee came around, he would contact musicians from other shows to see if they wanted to go, and he would arrange pick ups at different corners at precise times so that the whole process was as efficient as possible. When his car was full, it was off to Chinatown, where Jack always knew exactly where to park. Then a short walk to the Hop Kee restaurant at 21 Mott Street. The one time I gave in and went with him, he was greeted with great enthusiasm by the Hop Kee staff. He was apparently a star at that establishment. We were then escorted downstairs to Jack's usual table. Jack ordered for the whole table. Shortly, the servers brought out a variety of dishes, most of which I had never seen or heard of – a lot of slimy stuff as I recall. I remember not being interested in most of the dishes and so I didn't eat very much. I was therefore quite hungry through the evening show and found it necessary to stop at my local diner on the way home for a good ol' cheeseburger. I'm sure there are many Broadway musicians who rode the "Chinatown Express" from time to time through the years (me just the one time) and I'm sure they will remember it with great fondness."
Jack Schatz: "In 1982, I received a last minute call to sub for someone at a concert who had become ill. When I got there I noticed there was only one other trombone player in the section. That was Jack Gale. I was a little nervous being in my early 20's and just getting started in the music business. As I walked on stage, I was immediately greeted by Jack who made feel completely at ease. The concert went well, and Jack went out of his way to help me through it. After the concert ended Jack and I talked for a while. He was so encouraging and supportive. It really meant the world to me. That was the essence of Jack Gale. Jack was a consummate person and musician. His contributions to music and Local 802 are astounding. A musical genius, and so kind. Anyone who worked with Jack became a better person and musician as a result. Jack Gale's legacy is one that will live on for generations." Also see "The Gathering Place: memories of Jack Gale and friends at Hop Kee restaurant," by Jack Schatz.
Bobby Shankin: "Jack was one of the most dedicated Local 802 members and advocates who I have ever known. His service to our union is legendary. Rest in peace, Jack."
Steve Shulman: "One Saturday, Jack drove some of the usual suspects to Chinatown, and right away (of course) found a parking spot on Worth Street. As we were getting out of the car, a woman approached us and pointed out a no-parking sign on a nearby lamp post: some film was being made nearby and the film company wanted to have their own reserved parking. Since we were on a vital mission (Hop Kee), Jack right away pointed out to the film rep that there was nothing official about the sign: no insignia, no mark of NYC authority, just a paper sign. When she threatened the car with being towed away, Jack — with his always polite relations — told her that if that was what she felt she needed to do, then go ahead. (He knew it would take time to get a tow truck to actually show up.) So we went to have dinner — and ice cream — and when we returned, of course the car was there, un-ticketed, un-towed. The king of parking!"
Blair Tindall: "I will never refer to Jack in the past tense, as he made everything possible for Local 802 musicians, which will secure so much of us forever. My union gigs started in 1974 (I'm 62), and I met Jack in 1979. At the time, I was in a handful of female musicians, but Jack never saw me as anything other than a regular old musician (as did most working musicians). He treated me like anyone else, encouraged me, and once I started volunteering for AFM union committees, I understood his maverick contributions. Jack is a step beyond brilliant. Not only is he a virtuoso, he selflessly represents all of us. He has an uncanny political and financial sense that he quietly used to our collective advantage, I was always astonished that he could put aside his calculations (which for our pension, are astonishing), pick up his horn and play like a god, which is is. Godspeed, Jack. My prayers are with David, whom I also love, and Jack's children. Chinatown weeps every Saturday."
Dale Turk: "Jack Gale was a brilliant multi-instrumentalist, prolific arranger and composer, respected teacher, and union activist.  Behind all of those accomplishments was a humble and generous human being.  Among many fond memories of playing (and dining) with him, I treasure a Local 802 membership meeting in the early '80's where he stood up to politely but firmly press for member input into contract negotiations, as opposed to the Executive Board's long-standing custom of negotiating with employers without member involvement.  Jack made a great contribution of his attention and time to improve conditions for all of us working then, and now."
Dave Weiss: "I played many gigs with Jack in the later 1980s and 90s, including six years together at 'Miss Saigon.' One night, we were all in the pit at 'standby,' quietly waiting to start the show, when one of the stagehands opens the pit door behind Jack, shows us a trombone, and asks, 'Anyone missing this?' Turns out, Jack had used the restroom just before the show, but had left his trombone propped up in the corner and had forgotten it!"
Bill Whitaker: "My favorite memory of Jack Gale was probably the first time I met him, which happened to be my first time making the memorable trip down to Hop Kee. I met up after my matinee with a bunch of musicians and we headed over to 9th Avenue. To myself I'm thinking we'll probably grab a cab and head downtown. Then Jack pulled up in the Dodge Dart! We piled in at 45th and 9th and made the trip to Chinatown. I was introduced to Jack and we headed downtown with some great sounds on the stereo. Jack found a place to park with ease and I then experienced "the meal" with Jack and all of his/my friends and colleagues. I was just blown away with the entire scene. Jack made me, the new guy, feel like I'd been around forever and the meal was incredible. What a surprise afterwards to receive ice cream as a first timer! All of the stories that have followed through the years from those who worked with Jack always had me laughing. Thanks for everything Jack!"
This page will be continually updated. E-mail your own reminiscences of Jack Gale to Allegro@Local802afm.org to be added to this page. Also see special tributes below.
---
Additional tributes to Jack Gale:
---
Photos of Jack Gale, courtesy of Catherine Gale: