Jazz in the Afternoon at Local 802
Photo Feature
Volume 116, No. 11
November, 2016
At Local 802, musicians support their fellow artists. This year, we began producing a monthly benefit concert series called Jazz in the Afternoon, featuring top Local 802 talent. All proceeds benefit the Local 802 Musicians' Emergency Relief Fund. The most recent show, pictured on these pages, was a special tribute to arranger Marion Evans by the 48th Street Big Band, conducted by Glen Daum and Roger Rhodes. The next event is Wednesday, Nov. 30 at 5 p.m. featuring the Greg Ruvolo Big Band Collective. For more info, see our event calendar. Contact Bettina Covo, who organizes this series, at bcovo@local802afm.org or (212) 245-4802, ext. 152. To make a donation to the relief fund now, visit www.local802erf.org.
THANK YOU TO ALL MUSICIANS WHO PARTICIPATE IN THIS SERIES!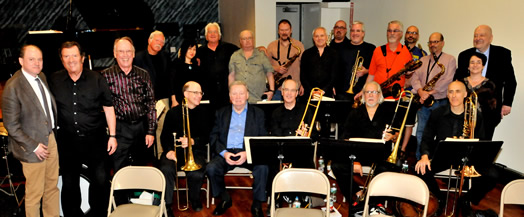 THE 48th STREET BIG BAND is: Glen Daum and Roger Rhodes (conductors); Matt Hong, Dan Pearson (alto sax); Dan Block, Dave Riekenberg (tenor sax); Ken Berger (bari sax); Bob Millikan, Glenn Drewes, John Bailey, Bud Burridge (trumpet); Keith O'Quinn, Bruce Bonvissuto, Mark Patterson, Jack Schatz (trombone); Tomoko Ohno (piano); Jay Berliner (guitar); John Beal (bass); Ronnie Zito (drums).
All photos by Walter Karling.