Jazz Teachers Take Manhattan
Volume CVII, No. 3
March, 2007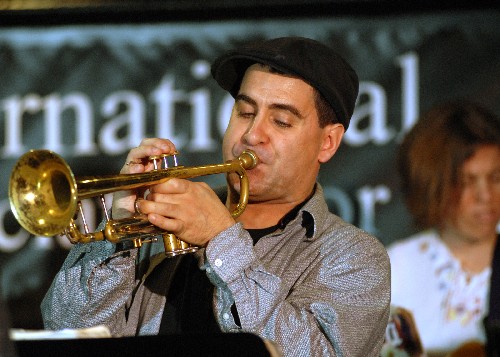 Peck Allmond (above), Charlie Burnham (left, below) and David Phelps show off their chops for jazz students at the 34th annual IAJE conference in January. More photos by Enid Farber found below article.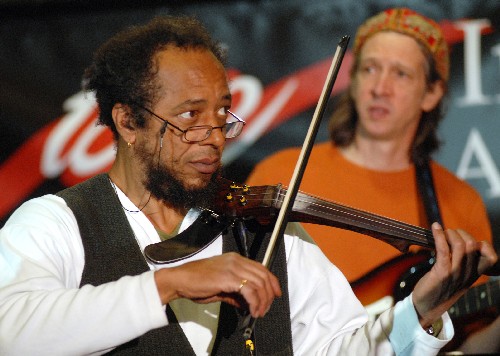 The International Association of Jazz Education returned to New York City for its 34th annual conference in early January. The largest gathering of the international jazz community attracted over 8,000 educators, musicians, industry executives, media and students from 45 countries.
The IAJE always takes on a special energy when we meet in New York, said IAJE Executive Director Bill McFarlin.
"It's exciting to see the city – already credited as the epicenter of the jazz universe – explode with thousands of jazz professionals and educators, many of whom can be found patronizing New York's jazz clubs and live music venues throughout the week," McFarlin said.
In addition to performances by many of the world's most respected jazz musicians, the conference featured a 75,000 square-foot music industry exposition, technology presentations, research papers and award ceremonies.
Top schools from around the world were on the performance bill. Represented were France, Denmark, Australia, the U.K., Israel, Kazakhstan and Canada.
Local 802 shared exhibit space with the AFM, where we displayed and conveyed information on the importance of union membership for musicians, maximizing pension benefits, Local 802's Health Benefits Plan, and the passage of the Justice for Jazz Act, which has great potential to enable many musicians who perform in clubs to vest in the pension fund as well as increase their current contributions.
The conference serves as a jazz reunion where respected musicians and 802 members like Reggie Workman, Benny Powell, Bob Cranshaw and Jimmy Owens have the opportunity to catch up as well as meet the next generation of jazz musicians: students who are usually their biggest fans.
Jazz greats like Dr. Billy Taylor and Nancy Wilson could be found strolling around. Watching musicians reminisce about their times together, in the clubs, on the road, and in the studio with Ellington, Miles, Coltrane, Mingus, Dizzy and Bird makes the conference a unique educational experience.
David Caffey, IAJE president, said, "The music needs to be better represented and utilized in the worldwide public media, and we need to be stronger advocates for jazz and jazz education."
Local 802's goal behind participating in the conference is similar, and the union has realized some gains in these areas through successfully unionizing the jazz teachers at the New School University Jazz and Contemporary Music Program.
Local 802's goal for 2007 continues to include building on these gains in jazz education and music education as a whole.
Joining myself at the conference was 802's jazz consultant Bob Cranshaw together with 802 members Paul Abler, Thiago DeMello, Chuk Fowler, Steve Kroon, Janet Lawson, Benny Powell, Max Schweiger and Wally "Gator" Watson.