A tribute to Jim Hannen
Volume 123, No. 2
February, 2023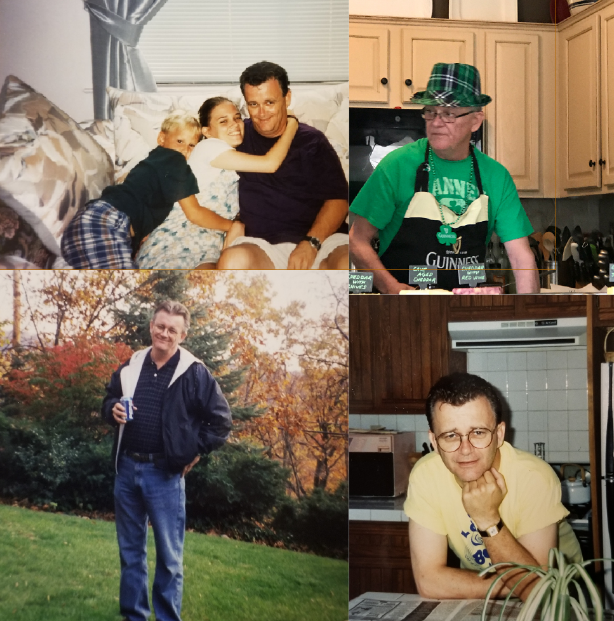 Jim Hannen, 71, who worked at Local 802 from 1992 to 2010, died on December 7, 2022.
Jim first served as a business rep before being promoted to supervisor of contract administration and field services. His passion was to make sure that musicians were paid the wages and benefits they deserved for club dates as well as hotel jobs and other gigs.
Local 802 Principal Business Rep Pete Voccola, who worked with Jim for many years, said, "Jim was able to effortlessly run a team of about 20. His door was always open to musicians and staff. Jim believed that business reps belonged in the field, communicating with musicians at their gigs. He wanted employers to know that Local 802 was always watching. In fact, Jim was not only respected by the musicians and staff, but also had respect from employers, too."
Jim earned his bachelor's degree in labor studies from Rutgers and had a lifelong interest in workers' rights, said his son James. "He wanted equality across the board."
James told Allegro that Local 802 "meant everything" to his dad. "He loved working at the union and loved what he did," James said. "It was a place where he could have an impact on the world. He always talked about work. When I visited him at Local 802, I saw that everyone gravitated to him."
Bill Moriarity, who served as president of Local 802 from 1993 to 2003, said, "Jim supervised the entire single engagement field with its seemingly endless variety of problems and situations, and he did it with grace and understanding. He was highly respected and valued by those he worked for and those he worked with and especially by the musicians he represented so well. He was a wonderful person and a great friend."
Local 802 Financial Vice President Karen Fisher said, "When I started working at Local 802 as a business rep in 2007, I always knew that I could go to Jim with questions about contracts, the single engagement field, or internal processes. He made members and colleagues alike feel welcome and was always encouraging and ready to help. I still miss his positive presence and influence around the office."
Outside of work, Jim loved and prioritized his family, said his son. He especially enjoyed cooking delicious meals for his friends and family. Jim was also a skilled carpenter and completed many home improvement projects from scratch, including additions on his houses. Near the end of his life, he was building a series of custom birdhouses.
Local 802 member Paula Atherton told Allegro, "Jim was well known and loved by all the musicians I worked with in the club date field. He always had our back and always had our best interests in mind. He called me years back to help modernize the union's payroll service Legit 802 after Leo Ball passed away. It was a mess, but we got it done. It was really fun working with and spending time with Jim. He built me a beautiful 'Beatles'-themed birdhouse: he was quite a skilled carpenter! He was just an overall lovely guy. I will miss him very much as I'm sure everyone else will."
Pete Voccola also remembers that Jim helped design Local 802's LS-1 contract. The rules are strict, and the contract has to be filled out correctly or the musician runs the risk of it getting rejected. Pete remembers, "Jim could have handed this work to his staff; however, he knew that musicians' health benefits depended on these contracts, so he personally made sure each one was verified and correct."
One Local 802 member who knew Jim told us, "In the 1990's, I was an active club date musician. Whenever I visited Local 802, Jim greeted me with open arms. Jim and his team had a soft spot in their hearts for those of us who played music full-time. This also meant they had a bulldog-like tenacity when they went to bat for us either in negotiations or grievances."
Another musician said, "I spent a good deal of time at Local 802 back in the day. Even now, I recall getting a smiling hello from a staffer, then seeing Jim in his office, with his door almost always open. And if he saw me, even if he was on the phone, he'd wave for me to come in, sit and talk."
Jim dabbled on drums and was a great lover of music, listening to the Beatles, the Who, the Hollies, Steely Dan, Bob Seeger, Motown classics, and all kinds of jazz, especially Miles Davis. "His musical interests went from A to Z," said his son.
Jim is survived by his son James, daughter Julie, brother Ed, brother John, sister Kathleen, and many nieces and nephews.
Jim, from all of us at Local 802, we'll miss you.
Thanks to James Hannen, Bill Moriarity, Karen Fisher, Pete Voccola and Paula Atherton for their tributes to Jim Hannen in this article. If you have memories of Jim Hannen that you'd like to contribute, send an e-mail to: allegro@local802afm.org