A tribute to John Ashton Thomas
Volume 122, No. 5
May, 2022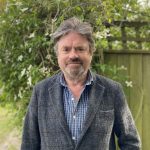 John Ashton Thomas, 60, a member of Local 802 since 2013, died on Oct. 2, 2021. He was a composer, orchestrator, conductor, keyboard player and teacher. Known as a phenomenal musician and pedagogue, he was a hugely inspirational and popular figure within the music industry. Unbound by stylistic constraints, he celebrated and created music across all genres as though it was the most natural endeavor in the world. As an educator he ignited endless musical possibilities for generations of students.
Born on March 28, 1961 in Plymouth, England, John attended Exeter Cathedral School as a chorister, an experience which was to significantly shape his musical future. He later studied at Trinity College of Music and Goldsmiths College. After college, he worked as a keyboard player and composer and ran his own band, and was soon to become one of Hollywood's top orchestrators. He worked on over 160 films, many with his fellow Trinity College alumni John Powell and Gavin Greenaway, and also music for the Oscars awards ceremony. In addition to his work as an orchestrator, John was a prolific composer. His works ranged from jazz, collaborating with Mark Lockheart, Amy Dickson and Martin Speake, to choral works, to traditional folk music, working with Phil Cunningham and Celtic Connections. His piece "Iona Elegy" was featured in the BBC Proms in 2018. He recently completed a mass, yet to be performed, and had a long and fruitful association with Roger Sayer and Temple Church.
John was also much in demand as a conductor, and regularly worked with Michael Buble, Diana Ross, the BBC Scottish Symphony Orchestra and on many recording sessions in London, where his warmth and humor endeared him to everyone he worked with. He loved being around musicians, and musicians loved working with him.
John's passing leaves an irreplaceable void in the music industry. But above all, as a wonderful human being and mentor to aspiring young artists, John possessed the rarest kind of passion, generosity and skill from which all of us can only feel supremely lucky to have benefited.
He is survived by his his wife Christine, his children Holly and Jack, and his brother Harvey.
(This obituary was written by John Parricelli and Nick Smart, and edited by Local 802. It was submitted by Christine Thomas.)