A tribute to Kathryn Easter
Volume 120, No. 7
July, 2020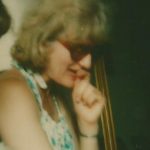 Kathryn Easter, 86, a member of Local 802 for almost 60 years, died on April 16, 2020.  Kathryn was probably best known for her extraordinary career as a Broadway harpist.  Starting in 1962 with Steven Sondheim's riotous musical farce, A Funny Thing Happened on the Way to the Forum, Kathryn's Broadway pit work spanned over thirty years and included more than 16 shows.  Notable among them were SHENANDOAH, FOLLIES, A LITTLE NIGHT MUSIC and the Marvin Hamlisch hit, THEY'RE PLAYING OUR SONG.
Born and raised in Santa Rosa California, Kathryn's first harp teacher was Anne Adams, who was harpist with the San Francisco Symphony.  Moving East and settling in the New York area, Kathryn studied with Marcel Grandjany, graduating from the Julliard School before launching her Broadway career.
Kathryn's freelance work included numerous concert and recording dates.  Her thorough knowledge of harmony and her impeccable ear, enabled her to be quite skilled at improvising and arranging, providing her with a huge repertoire of popular music which she displayed whenever called for a "cocktail music" job.
Kathryn was a kind and generous person who will be fondly remembered by all who knew her.
Sincerely,
Local 802 member Henry Fanelli