President's Report
Keeping it Live
Volume CX, No. 11
November, 2010
Our new live music campaign is ready to roll
here in New York City. But in Detroit, why
doesn't management value its musicians?
As musicians, we already know about the joy and beauty of live music. It's why we're musicians in the first place. But as a union, it's our job to share this passion with the public. That's why I'm pleased to formally announce the rejuvenation of Local 802's live music campaign.
Public appreciation of live music is key to our present and future. Frankly speaking, we rely on our audiences. We depend on them to create the demand for our services. If audience members want and expect live music, they won't settle for anything less. If they become satisfied with canned music, then we've lost.
When we are in major negotiations, we need the public on our side in order to succeed completely. A public that understands and cares about live music will support our efforts to preserve live music.
In addition, schoolchildren need to be exposed to the magic of live music. Music education needs to once again be a major component of every child's curriculum. Offering children the opportunity to learn yet another language to further enable creative expression is essential. They are not only our future audiences but our future artists as well.
We had already laid the groundwork for this campaign by the formation of two committees earlier this year: the Broadway Theatre Committee's Communications Subcommittee and the Executive Board's Public Relations Committee. Both of these committees are tasked with increasing awareness of live music and doing it in ways that are practical, effective and economical.
We have now invested even more into this campaign. We've hired a prominent P.R. firm to advise us how to spread the joy of live music to the New York City public and get maximum media exposure for our message at the same time.
We wouldn't be doing this if we didn't think the payoff was so important. Luckily for us, live music sells itself. We just have to get our voices out there. Part of this campaign is about buying ads on the New York City airwaves to remind the public about the importance of live music. We've invested in spots on 1010WINS, with voiceovers from prominent Local 802 members and other celebrities. Guitarist John Pizzarelli was the first to volunteer to do a voiceover and we are currently soliciting other prominent musicians and celebrities. If you have a suggestion, or know of someone that is interested, please contact this office.
Tino Gagliardi's 1010 WINS spot
John Pizzarelli's 1010 WINS spot
SHOWDOWN IN DETROIT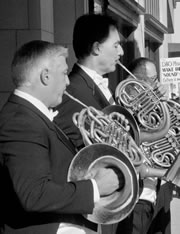 The Detroit Symphony Orchestra went on strike in early October. Above, french hornists from the DSO perform on the picket line.

Photo: Hart Hollman
As Allegro goes to press, the 84 musicians of the Detroit Symphony Orchestra are still on strike. These brave musicians, who are represented by AFM Local 5, began this action on Oct. 4 after management backed them into a corner with unsupportable and unacceptable demands. Management then imposed its final offer, leaving the musicians with no options other than to work under the onerous terms of that offer, or to strike.
Hopefully, the strike will have been settled by the time you read this. In the meantime, I want to quote Haden McKay, a cellist in the orchestra and one of the spokespeople for the musicians. He said the following on a Web site that the musicians have set up, www.DetroitSymphonyMusicians.org:
After continually refusing to negotiate, [management] claimed an impasse existed, enabling them to impose their last offer to the musicians.

That offer not only slashed salary and benefits 33 percent, it imposed many onerous changes in work rules that have nothing to do with cutting expenses but would seriously damage the quality of the orchestra. At a four-hour meeting convened [on Sept. 24] by three mediators, we indicated to the mediators that we would be willing to modify our position if we were told by management that they would be willing to do likewise.

The mediators consulted with management and reported back that management was unwilling to make any changes to their position.

Naturally, we were puzzled as to why management even agreed to this meeting if they were unwilling to negotiate.

We were also puzzled by comments in the media by Anne Parsons, the DSO's executive director, that management had offered to discuss changes to working conditions and other elements of their last proposal.

No such comments were ever made to us or reported to us by the mediators.
McKay also said that management has advised the musicians that they will cancel all of the insurances under which the musicians are covered even though the musicians have offered to pay the premiums themselves. Those insurances include medical, dental, vision, life, long term disability, and instrument insurance.
Finally, McKay said that management lawyers threatened to sue the musicians to prevent them from publicizing benefit concerts and from telling their side of the story on their Web site.
The musicians and the union have filed unfair labor practice charges with the NLRB.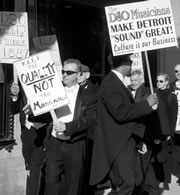 Musicians from the DSO march on the picket line.

Photo: Hart Hollman
I also want to share with you something that Bruce Ridge, president of ICSOM, also wrote on the Detroit musicians' Web site. This is an excerpt from a letter he sent to the Detroit News, in response to an editorial:
The arts in Michigan are good business.

The nonprofit arts and culture industry leads to 108,000 jobs throughout the state.

Personal income in Michigan is increased by nearly $2 billion by these arts jobs.

One study showed that the arts in Michigan account for roughly 6.5 percent of the state's economy.

Across America, the arts lead to 5.7 million jobs and $166 billion in annual economic activity.

Every dollar that government invests in the arts returns seven dollars to the community.

Of all the great artistic institutions in Detroit, none are more visible internationally than the Detroit Symphony.

There can be no doubt that if the management is allowed to implement their proposals, the reputation of the organization will be irreparably damaged.

With the arts meaning so much to Detroit's economy, the question cannot be, "Can Detroit continue to support its world class symphony?" but rather, "How can Detroit afford not to?"

The musicians of the DSO are bravely standing up for their institution and for their community.

It is not "aloof" of them to believe in their city, as the editor stated.

The community can indeed do better, but only with the image of this historic orchestra preserved through the vision of the musicians who now stand up for all the citizens of their city.
Needless to say, Local 802 supports the Detroit musicians 100 percent. They are facing the same financial crisis that many of our New York City ensembles are.
Times are tough, but the point is that our employers – including DSO management – must think long term, not short term. The economy will recover. Our symphonies and ensembles will flourish again.
Starving the musicians and forcing them to strike is simply not a recipe for a long term recovery. There are creative ways to negotiate in a recession. There are ways to sustain an ensemble, not destroy it. Forcing a strike is not the answer.
OUR FREELANCE ORCHESTRAS
Currently we are in the midst of negotiating the freelance classical orchestra contracts for renewal. As usual, we've started with the New York Pops, but given the state of the industry, these negotiations may be difficult and prolonged.
The current economic climate has caused many employers in this field to take a hard stance regarding wages. Vice President Blumenthal and the Concert Department have been working diligently to represent the musicians in these orchestras and to make sure that fair and just agreements are reached for both working conditions and wages.
The freelance orchestras are the American Composers Orchestra, American Symphony Orchestra, Bronx Arts Ensemble, Brooklyn Philharmonic, Little Orchestra Society, Long Island Philharmonic, New York Pops, Opera Orchestra of New York, Queens Symphony and Riverside Symphony.
HEALTH PLAN NEWS
Several provisions in the new health care law went into effect on Sept. 23. The Local 802 Plan has made adjustments to comply:
Dependent children up to age 26 must be offered coverage on their parents' plan. This is up from age 23, and went into effect for the 802 plan on Oct. 1. Notices were sent to participants.

Annual caps on benefits must rise to $750,000 for the next year. Beginning Oct. 1, Plan A+ annual cap will rise from $250,000 to $750,000. The 802 plan applied for and received a waiver for Plan A and B for the next year. The cost of raising the caps to $750,000 from $50,000 for Plan A and $5,000 for Plan B would have been unsustainable.

Other provisions such as no lifetime caps, no denial of coverage for sick children, no taking away coverage if you get seriously ill, preventive care without co-pays and an external appeals process do not apply to the 802 plan, either because the plan is already in compliance or because it existed before the law was signed and is grandfathered.
One other thing 802 members may notice: Blue Cross is no longer offering a stand-alone hospitalization policy. You can still get this coverage by working under an 802 contract but you cannot buy it on your own. Beginning Jan. 1, 2011, insurance companies will have to prove that 80 percent of premium income is spent on medical care or they will owe rebates to customers. Some insurers may shut down policies like the stand-alone hospitalization because they are too expensive to administer.
HELLO, GOODBYE
Organizing is key to our union's growth, and I'm pleased to announce that we have a new director of organizing, Michael Donovan. In addition to organizing, Michael will also be supervising the Club Date Department.
At the same time that we say hello to Michael, we must say goodbye to Jim Hannen.
Jim began his career at Local 802 in 1992 as a club date rep. He left us briefly in 1995, when his wife was transferred to Detroit for GM. He worked for SEIU Local 79 in Detroit, where he represented hospital workers, nursing home workers and janitors. Jim returned to Local 802 in 1998 as the supervisor of the Contract Administration Department, where he has been overseeing club dates, other single engagements, hotel work, other steady work, the referral service, our payroll service and much more.
Jim, thank you for all of your good work, and we'll miss you.