A tribute to Ken Hitchcock
Volume 122, No. 9
October, 2022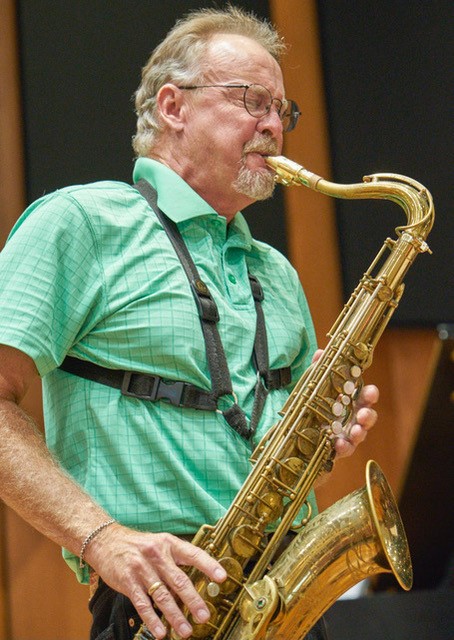 Renowned jazz musician and beloved saxophone great, Ken Hitchcock, died unexpectedly at the age of 66 on Aug. 31, 2022 while on vacation in Ireland.  Ken was known by family and friends not only for his incredible talent and irrepressible passion for music, but also for his generous heart and giving spirit. He loved to play music, yet he reveled equally in his role as a mentor to countless musicians across the country. He had been a member of Local 802 since 1975.
Ken was raised in McLean, Virginia, but spent most of his career in New York City, attending Juilliard as the only saxophonist accepted to the elite program that year. After graduating in 1978, Ken began an illustrious career spanning more than four decades, playing with many of the musical greats and performing all over the world. His resume included recording or playing with Elvin Jones, Buddy Rich, Louie Bellson, Tony Bennett, Frank Sinatra, Charles Mingus, Liza Minnelli, Aretha Franklin and Sting. Most notably, he played on three Grammy-winning albums with Gerry Mulligan, Machito and Steely Dan. Ken was a member of New York Saxophone Quartet for many years and also played in the pit for a myriad of Broadway shows. His versatility allowed him to be equally at home on the orchestral concert stage or in all types of jazz big bands or combos, funk, R+B and Latin groups.
Ken met his wife of 34 years, Sue Halloran, at the Red Parrot in NYC, where she was a regularly featured vocalist and he played in the band. Their refuge from the city was spending weekends at their home in the Catskills where they loved to ski and hike and watch their beloved beagles — first Stella and then Xmas — run joyously across the hillsides.
In 2014, Ken and Sue relocated to Smith Mountain Lake in Virginia with the thought of retiring and Ken's hope of playing a lot of golf. Ken did spend a great deal of time on the links and was an excellent golfer. But retirement never came as he quickly made connections across the Blue Ridge with other talented artists. He continued his joy and excitement for music until his untimely death, performing almost every weekend with local artists Hoppie Vaughan & the Ministers of Soul, Lenny Marcus & the Sway Katz Big Band and Joel Stopka & the JStop Latin Soul. He also continued doing gigs with Sue, crediting the release of their collaboration on the 2012 CD "I Can Cook Too!" as perhaps the most fulfilling achievement of his entire career.
While Ken was a world-class instrumentalist, an even greater joy for him was being with his family and friends. His kindness and warmth were infectious, and he did a wonderful job of keeping abreast of all the family happenings, enthusiastically attending christenings and graduations and always remembering birthdays. Ken was often encouraging family and friends to visit in Virginia, where he, Sue and their beagle Xmas were consummate hosts and graciously shared their experience of living a relaxed lifestyle of boating, fishing and floating on a beautiful lake with the backdrop of the Blue Ridge mountains.
Ken adored spending time with his brother and sister-in-law, Alan and Carey Hitchcock and their three children, Jack, Will and Grace. He especially loved his ongoing golf rivalry with his younger brother. Ken was so thankful to have such a close relationship with Alan and he would have been overwhelmed with gratitude for Alan and Carey's support of Sue at this sad time.
In addition to Sue and Alan and Carey's family, Ken is also survived by brother and sister-in-law, John and Jackie Hitchcock. He was predeceased by his parents, John and Ann Hitchcock and his brother Andrew.
A service will be held on Saturday, October 1, 2022 in McLean, Virginia. A celebration of life will be held at 2 p.m. on October 30, 2022 at Trinity Ecumenical Parish, 40 Lakemount Drive, Moneta, Virginia.
In lieu of flowers, the family requests gifts be made in Ken's memory to support aspiring musicians at the music lab at the Jefferson Center (click here to donate).
This obituary submitted by Sue Halloran. For more information, send an e-mail to Sue at suehalloran9@gmail.com
See also Ken's obituary in the Roanoke Times: "Saxophone great and Smith Mountain Lake resident Ken Hitchcock dies"