LABOR AGAINST THE WAR
Photo Section
Volume CVI, No. 7/8
July, 2006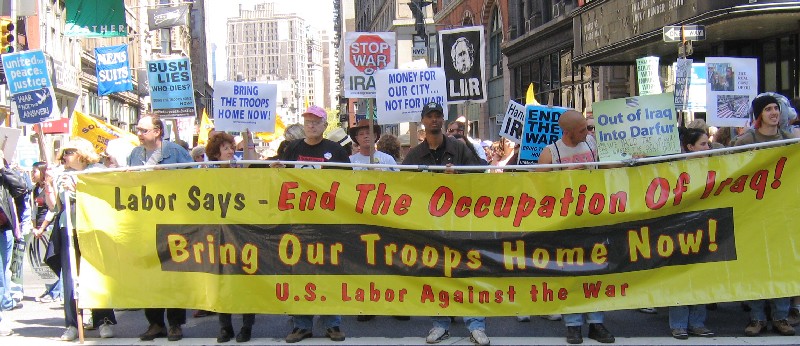 No War! Local 802 musicians and staff marched with thousands of others on April 29. Allegro asked musicians why they marched against the war; check out their answers. Photos by Joy Portugal.
I almost never miss a peace rally or march. As a New York City born-and-bred artist, my politics have always been inextricably bound with my music and all of my artistic endeavors. But it was an amazing experience to march with 802 this time out and to stand with all the labor groups. It gave the whole experience another layer and depth I had not experienced at past marches.
I only wish more musicians had been able to come out and bring their instruments, as our group was small. I did my best to help keep things going with a tambourine.
The part of the march we were walking in definitely needed more noise and music. Even a cop with a megaphone yelled as we passed, "Come on people! Pick it up! Make some more noise!" I figure if the cops are having to tell you to act up a bit more, then you kind of have a problem!
But it all picked up a bit more later and the whole day was really inspiring. It was great to meet other 802 members and realize another common bond.
–Rebecca Moore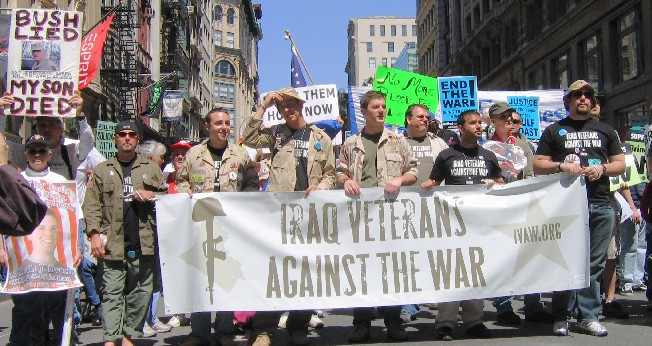 The war is absurd, has no basis in reality, serves only to make the rich get richer, has killed or destroyed the lives of thousands of our own young men, and has massacred thousands of Iraqi citizens and destroyed a good part of their historic culture.
–Carol Sudhalter
I traveled to Dubai to perform recently and saw how the people in power there are bosom buddies with the Bush/Cheney organization. I heard about the proposed selling of our major ports to Dubai while there and, upon my return, wasn't surprised to see that this was not even shown on the news in the U.S. for one week after my return.
In my opinion, the message is clear: Saddam Hussein, though a tyrant, had nothing to do with 9/11.
Meanwhile, Osama Bin Laden is still on the loose and it is a well-known fact that his family from Saudi Arabia are great friends of the Bush family.
I lived in New York City for 20 years and moved back to my home city of New Orleans last year just in time to witness the Katrina catastrophe. The government would have air-dropped food and water quicker to Iraq than they did to our own people in New Orleans. Need I say more?
–Ricky Sebastian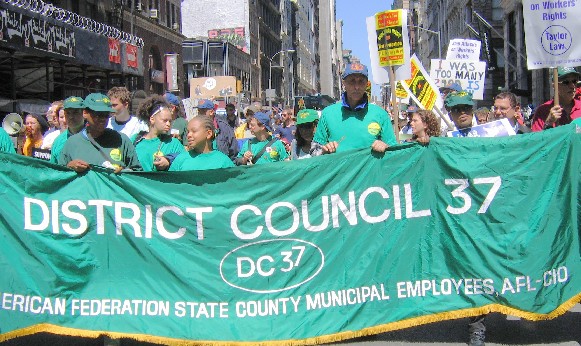 Why is it important to protest the war? Because it seems it is only serving the agenda of a very small group of people…namely the neo-cons.
–Dan Zellan
I felt very strongly before the war started that it was not the best course of action. I showed up for the rallies three years ago, and every other one that I could before that (first Gulf War, the war in Afghanistan) and since then, because I feel that war is not a successful solution to world problems – it only creates more problems and suffering.
It is empowering to be at these protests – which are not often (if at all) reported in the news – and tangibly feel that there are many people who feel similarly about war and foreign policy. (There are also many agendas represented that I don't subscribe to, which is democracy at its healthiest.) I also really enjoy the theatre of it all – I often keep a list of all the slogans on all the signs.
The rallies and marches I've enjoyed most were ones where I got to play – I brought an instrument last Saturday, and it was surprising that none of the other musicians in our small contingent did.
–Jeff Schiller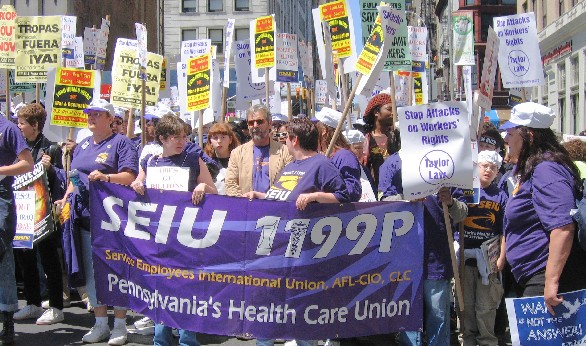 My impressions: Beautiful day, many enthusiastic labor groups, vigorous young people determinedly chanting for peace loudly in sing song.
I was surprised to find only 30-odd people from 802 – it made me regret not having called my musician friends to invite them to march together.
Passing the interesting buildings and shops on our way down to the bay made me think how beautiful New York is and that Baghdad was also beautiful before we pounded it with bombs twice over.
–Hank Nowak
There's a well-known saying, that the only thing needed for evil to triumph is for well-meaning people to do nothing. I don't think doing nothing is an option for any of us, given the world we're living in.
Here's another favorite quotation, from Margaret Mead: "Never doubt that a small number of vocal, committed people can change the world. Indeed, it's the only thing that ever has." (Relevant to the labor movement too, no?)
–Pat Hackbarth