Live from Times Square!
Volume CVII, No. 10
October, 2007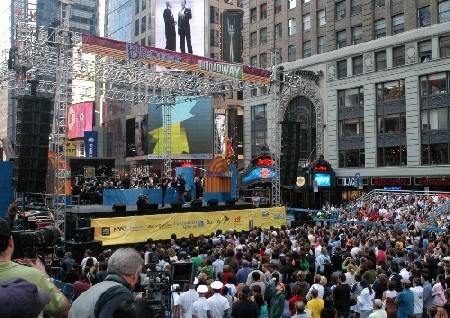 Photo by Walter Karling.
Broadway on Broadway — the League's annual revue of Broadway musicals in Times Square — came back this year with far less tape and far more live music.
This reverses a recent trend that had caused the Music Performance Fund to remove Broadway on Broadway from its list of sponsored events last year.
In 2005, eight of the shows were using pre-recorded tracks instead of the 30-piece live orchestra conducted by 802 member Paul Gemignani.
As a result, the Music Performance Fund — one of Broadway on Broadway's major sponsors — had withdrawn its support.
This year, the League attempted to reverse the situation.
Producers agreed to limit the amount of pre-recorded music and encourage shows to perform to live music if at all possible.
With that stipulation, Local 802 contacted the MPF and asked them to reverse last year's position. The fund agreed.
"I'm pleased that we were able to work together cooperatively to make sure the public gets the show they deserve, complete with live music," said 802 President Mary Landolfi."
MPF Trustee John Hall told Allegro, "Only live music captures the magic of living theatre, and the Music Performance Fund is pleased to sponsor the live music performed by the professional musicians of Local 802 at the 2007 celebration of Broadway on Broadway."
The performance took place on Sept. 16 in Times Square.
Audiences love Broadway on Broadway, since it's a chance to see slices of Broadway shows outdoors and for free. But audiences also deserve live music.
Given that the League appears to be building a positive relationship with Local 802, we hope this spirit of cooperation will continue.