Live music adds class to midtown restaurant Pier 9
Volume 112, No. 11
November, 2012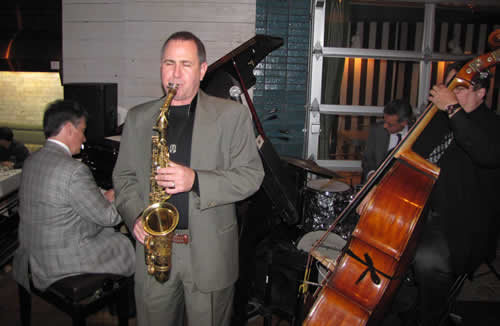 In the October issue of Allegro, our cover story
was about how live music adds class and elegance to the best hotels in NYC. We're
also pleased to note that live music is a growing trend in the city's
restaurants. Below, we profile one of the newest places to offer live music
under a union contract.
While the work of Local 802 is often to bring
attention to the struggles and challenges our members face, it is important that
we also celebrate our victories and shed light on employers who do right by our
members. Today, we are happy to recognize a Manhattan restaurant that is paying
musicians under a union contract, right in Local 802's own backyard.
Standing six blocks from Local 802's offices, and
with the memorable street address of 802 Ninth Avenue, the restaurant
Pier 9 features live music five nights a week.
The band, the Ed Vodicka Trio, has been in
residence since August playing straight-ahead jazz and the Great American
Songbook. Bandmembers earn health and pension benefits under a Local 802
contract.
The trio features Vodicka on piano, as well as
members Steve LaSpina (bass) and Tony Tedesco (drums).
"Working union used to be the norm for these
kinds of gigs," Tedesco told Allegro.
LaSpina agrees. "Hotel lobbies, restaurants
– they all had musicians," he told Allegro. "It's really nice to
see live music coming back."
Local 802 hopes more businesses will follow suit,
said Recording Vice President John O'Connor. "We are happy to see an
employer choosing to do the right thing by hiring musicians under a union
contract," O'Connor told Allegro. "We applaud Pier 9, and we hope
that other restaurants in New York will recognize the value of having live music
and treating musicians fairly."
When restaurant owner Mario Zarate took over Pier 9
less than six months ago, he had a vision for how he would revitalize the
restaurant. Going for a more modern aesthetic, he brought in a new chef and
adapted the menu to bring together Mediterranean and American cuisine, and he
brought in live music to add some more class to the establishment. "Having
live jazz brings a certain elegance to the place," said Mr. Zarate.
Mr. Zarate also told us that he has always loved
jazz, and has been surrounded by music through much of his career. "I
worked for many years at Zinno's [a former jazz club on West 13th Street], and
I heard many great players there," he said. "When I started this
restaurant, I wanted to try bringing jazz to this new neighborhood."
"We're only two blocks away from the
Broadway theatres, so we hope to be able to tap into the local arts communities
in this neighborhood," bandleader Ed Vodicka told Allegro.
Pier 9 is offering a 20 percent discount to members of Local 802 and other
entertainment unions (Equity, SAG/AFTRA, IATSE, etc.). Now you can eat, drink
and enjoy live music, right here in midtown. Pier 9 is at 802 Ninth Avenue,
between West 53rd Street and West 54th Street. The music starts at 8 p.m. See
www.pier9restaurant.com for more info.