Live Music Now!
President's Report
Volume 111, No. 6
June, 2011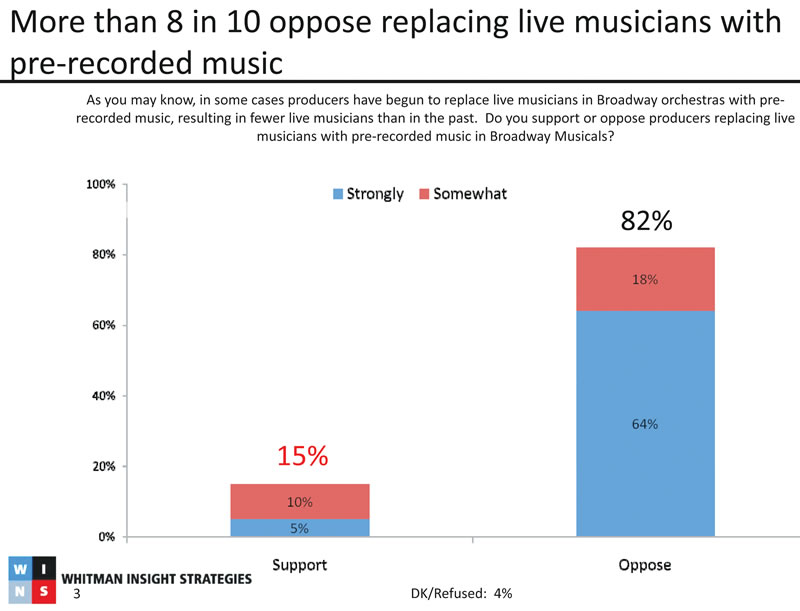 Local 802 recently joined forces wit the Council for Living Music, which commissioned a survey of Broadway audiences. We now have hard data to support our claim that the public wants more live music, not less. Above, one page of the survey, showing that more than 82% oppose replacing live musicians with tape.
Our campaign is not just about jobs: it's about art, beauty and culture
All over New York City, we're hearing the cry: don't cut live music. As everyone knows by now, producers of the Broadway show "Priscilla, Queen of the Desert" have hired fewer musicians than the Palace Theatre's minimum and are using a recording to provide the sound of strings and augment the winds and brass. We're fighting this decision in arbitration and we're also fighting it in the streets. We're letting audiences know that they're not getting the live music experience they're paying for.
Before I go any further, I want you to, right now, stop reading this column, open up your computer, and visit our campaign Web site, at www.SaveLiveMusicOnBroadway.com. Sign the petition. Share it with your friends. Spread the news as widely as possible.
Now let me step back for one second and talk about the bigger picture. We are at a crossroads in history. One path leads to cultural renewal and a renaissance of the arts and intellectualism. The other leads to decay, despair and a dumbing down of society. All of us have an obligation to help our culture take the high road. In the largest sense, that's why we exist as artists, that's why we exist as a union, and that's why we fight for the highest standards of art and beauty. And that's why we have a live music campaign, and that's why we're fighting canned music on Broadway.
You see, it's not just about musicians' jobs – although we care deeply about our livelihoods! This struggle is really about rejecting the path that leads to a cheapening of the live theatre experience. Yes, some outsiders might say, "Oh, why can't the musicians' union just let that Broadway show get away with a little recorded music? It won't hurt anyone." But it will.
Recorded music is a slippery slope. It's a slippery slope to the path of artistic destruction. Imagine a world where all theatre and ballet is accompanied by recording, or by recordings plus a few musicians. Perhaps audiences could get used to that awful sound, but what would be lost is the essence of the live music experience. This experience is not expressible in words. It is about spontaneity, interaction, excitement, joy and passion.
We, as musicians, have picked Broadway as a venue to express ourselves musically. When we are required to play with a tape or a click track – supplanting the conductor's guidance and limiting our ability to play expressively – we are deprived of the full experience of live performance.
The magic of live performance is the reason we all became musicians in the first place. When audiences hear it – when they feel it in their bodies – they know that it is incomparable. They crave more of it, not less.
It is our duty to protect this experience. That's why we take a hard line when productions try to cut musicians. It's not just about jobs: it's about the art, and we have become the gatekeepers of this art on Broadway.
Even if the producers of "Priscilla" should eventually win in the legal arena, they will have lost in the ethical and artistic arenas. Our struggle has earned us a New York Times story that was prominently displayed above the fold on the front page of the arts section. We also won media exposure on major radio stations, media outlets, as well as abroad and all over the Internet. Our story has gone "viral," to use the term. This is not the kind of publicity that producers hope for when they invest in a show.
This battle over taped music is just one aspect of what we're calling our live music campaign. This campaign is not just reactive, it's proactive. We are sending out positive messages to the public about the importance of live music. This campaign keeps live music front and center in the public's eye, which is good for our members and also good for society in general.
As part of the campaign, we joined forces with the Council for Living Music, which commissioned a survey of Broadway audiences. Over the next few issues of Allegro, we'll publish some of the results. Not surprisingly, a vast majority of audience members think that live music is important and crucial to the Broadway experience. More than 8 in 10 people oppose replacing live musicians with tape.
Look at some of these comments that have been piling up in support of us. (These quotes have been culled from our Web sites, our Facebook pages and our Twitter feeds.)
"I hate taped music on Broadway shows, whether on the Great White Way or on tour. It reduces the experience to rote performances… I'd just as soon download 'Chicago' from iTunes or listen to my old CD."

"Shows with canned music don't even come close to creating the experience that audiences are paying for, whether it's in a small, local theatre with a five-piece band, or a full Broadway theatre with a magnificent 30-piece orchestra like 'South Pacific.'"

"Prospective audiences will not want to spend their hard earned dollar on canned music; they can have it for free in elevators."

"The point of coming to New York to go to a Broadway show is to see a live performance and that includes live music. Hey producers – tell New York hotels, restaurants, shops, galleries, and museums that I won't be coming."

"I have never been to New York and, now that I am living on the East Coast, going to a Broadway musical is one of my dreams. However, I am worried that I will not have the chance to experience a musical with an orchestra. It is sad that theatre companies discourage potential patrons like me."

"I will never, ever forget the joy and power of hearing 'West Side Story' performed live, feeling how that live music reinforced the fabric of the story and witnessing the interaction between live orchestra and performers. It was an unforgettable experience that reinforced, for me, the magic of the Broadway musical."
Those are all inspiring words.
So, how can you help with our live music campaign?
If you didn't already, go to www.SaveLiveMusicOnBroadway.com. Sign the petition. Follow the links to the Facebook page. Share it with everyone you know.

Join our electronic mailing list. Start at our homepage and look for the sign-up box on the right. We'll be sending out e-mail alerts about leafleting "Priscilla" and any other shows that use recorded music.

Most importantly, tell everyone you know that live music is integral to the live experience. Play live music for your relatives and friends. If you have young children, nieces or nephews, play your instrument for them whenever you see them at family gatherings. Get people interested in live music and show them the passion and the fun of it. Make yourself an advocate for live music. This is one of the most important things you can do.
GRAMMY TRAVESTY
Unfortunately, here's some more news about cultural decay. The National Academy of Recording Arts & Sciences recently voted to eliminate 31 categories of Grammy awards, including Best Classical Album, Best Latin Jazz Album and Best Chamber Music Performance. Jazz awards were cut from six to four, and classical awards were also cut (from 13 to nine.) The removal of these and other categories (like Best Instrumental Soloist Performance with Orchestra, Best Jazz Instrumental Album, Best Hawaiian Album, Best Zydeco/Cajun Album and Best Native American Album) weakens musicians' chances to be recognized for their achievements. It also shows a disrespect for the diversity of American music. For more information and to sign a petition, go to www.GrammyWatch.info.
BRAZILIAN UPDATE
As members know by now, the music director of the Brazilian Symphony Orchestra (known by its Portuguese acronym OSB), recently dismissed half of its orchestra for "insubordination." Why? Because they refused to re-audition for their own jobs. Musicians' unions around the world came out in support of the Brazilian musicians and called for a worldwide boycott of auditions for the OSB. We sent out an action alert about this to all of our members. The OSB's New York City auditions recently occurred here from May 20 to 23, and we sent our union reps there to intercept musicians who were on their way to audition and to let them know about the situation.
DON'T PLAY FOR CHAIM ROSENBLATT
The following notice is from a letter that we recently sent to all club date musicians.
For the past several months we have been attempting to bring the club date agency Evanal under contract with Local 802. The behavior of this employer has done nothing short of jeopardizing the entire Jewish club date field. If Evanal continues unchallenged, it will mean a race to the bottom for wages and benefits that union musicians have for long enjoyed. Make no mistake, some union musicians working for Evanal may be paid overscale now, but if people like Chaim Rosenblatt get their way, wages will soon be depressed, even among the most skilled players.
With this in mind, Local 802 has moved toward a zero-tolerance policy for nonunion employers and union employers who are in violation of the Jewish Club Date agreement. Therefore, this notice will serve as notice to union musicians that they are to discontinue immediately all engagements with Evanal or any Chaim Rosenblatt services. Musicians who are found working for Rosenblatt or Evanal will be subject to charges by Local 802. Such charges could result in discipline up to and including expulsion from the union. Those expelled from the union may suffer loss of all future Local 802 and AFM work. Musicians who are not members, will be liable to charges upon rejoining, should they ever require membership for AFM or Local 802 or any AFM work.
As Ben Franklin once said, we either hang together or we hang separately. Union members are encouraged to call our hotline at (212) 245-4802, ext. 260 to report any relevant information anonymously.
PERFORMANCE RIGHTS
We are continuing our long struggle to win performance rights for musicians when their music is heard on AM/FM radio. The latest news is that the broadcasters have pressured their allies in Congress to support a nonbinding resolution (H. Con. Res. 21) against performance rights for musicians. In response, the AFM's allies are introducing a similar resolution in favor of performance rights (H. Con. Res. 42). This battle of nonbinding resolutions is similar to a straw poll, to see which way the wind is blowing on this issue. It's easier for us to convince our allies to support a nonbinding resolution, since there's less political danger for them to do so. We've also learned that Rep. John Conyers is introducing a full-fledged bill in support of performance rights. The previous Performance Rights Act died at the end of the last session. We'll keep you posted.
INTRODUCING K.C. BOYLE
I am delighted to introduce K.C. Boyle, our new director of politics and public relations. During his career as a community organizer, consultant and campaign manager, K.C. has worked across the country on gubernatorial, senate and mayoral campaigns as well as on Barack Obama's 2008 presidential campaign. Since 2009, he has been working at City Hall, serving as chief of staff for New York City Councilmember Vincent Gentile, assisting with matters concerning legislation, communications and constituent services. K.C. comes from a family with a rich musical background, with two brothers recently graduating from Berklee College of Music. Given his own passion for music, the arts and politics, he tells us that he is excited to join the team at Local 802.
CIRQUE DU SOLEIL
I am happy to announce that Local 802 is the first AFM local within the United States to reach an agreement with Cirque du Soleil. The company is based in Montreal, and after a week of deliberations there in April, Local 802 was able to achieve working condition and economic standards representative of the theatre industry in New York City. This was a collaborative effort with AFM Local 406, which represents our Canadian brothers and sisters in the province of Quebec. We were able to negotiate a tripartite agreement that is attached to the larger agreement that is negotiated with Cirque and Local 406. Local 802 will have the obligation to administer the agreement and represent the musicians in New York.
Cirque's upcoming show is called "Zarkana" and will be playing at Radio City Music Hall from June 9 to Oct. 8. and I personally would like to welcome the musicians of "Zarkana" to our theatre community and to our local. It is important to point out that although it has been historically difficult to reach accord with Cirque (as proven by our negotiations over the company's previous production of "Banana Speil"), all the entertainment guilds in NYC were able to come to an agreement and we can be assured that all the work done at Radio City this summer will be covered by union agreements that offer the protections and standards we rely on and expect.