Living With Music
An exclusive look at Ralph Ellison's record collection gives new insights into a literary master
Volume CX, No. 2
February, 2010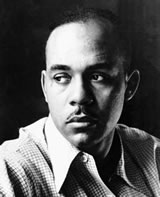 Ralph Ellison (1914-1994).
Three years ago, Local 802 jazz rep Todd Bryant Weeks was given exclusive access to Ralph Ellison's apartment in Manhattan to find a home for Ellison's record collection. The actual records have never before been examined or discussed, until now.
"Art thou troubled? Music will not only calm, it will ennoble thee."
– Ralph Ellison
Of Richard Wagner, Ralph Ellison once wrote that the composer's symphonies were works, "which, by fulfilling themselves as works of art, by being satisfied to deal with life in terms of their own sources of power, were able to give me a broader sense of life and possibility."
Like many artists of his generation Ellison utilized a multidisciplinary approach and drew on music, photography and the fine arts as sources of inspiration and cultural pride.
He saw music as a key to individual expression and the universality of experience and, in his own work, he pointed out the influence and impact of everything from Beethoven to Bessie Smith.
By examining the achievements of many jazz and blues musicians in the context of the Western canon, he broadened the listening audience for these performers, and contributed to their stature as artists of real and lasting significance.
In the summer of 2006, I was given exclusive access to Ellison's Riverside Drive apartment with the express purpose of finding a home for his record collection. (I'm happy to say it now resides in the National Jazz Museum in Harlem).
Ellison was a known audiophile. Based on its contents, his collection appears to have been amassed between the earliest 1930's and the late 1980's.
That day, I found many of the expected items, including the music that Ellison wrote about so passionately – that of Charlie Christian, Mahalia Jackson and cante flamenco, among others.
But there were also many revelations: a truly varied range of 17th to 20th century classical, pop items, spoken word, and much more.
All in all, there are about 500 individual pieces in the collection, 125 of which are 78 r.p.m. records.
Ellison, who was born in Oklahoma City, originally intended to become a classical composer.
He came up during the emergence of big band jazz, and experienced many legendary performers first hand: King Oliver, Ida Cox, Louis Armstrong, Walter Page's Blue Devils, Fletcher Henderson, and Bennie Moten.
Under the tutelage of Zelia N. Breaux at Frederick Douglass High School, he studied harmony and played the trumpet in the school orchestra.
As a student of William L. Dawson at the Tuskegee Institute in Alabama, he had direct access to original Prokofiev scores.
Later, he was to study with Wallingford Rieger in New York City.
All of this activity predated his career as a writer, but we know, from an extensive body of essays and interviews, that it informed his thinking.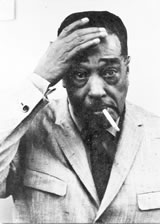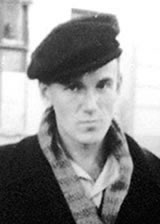 From top: Duke Ellington; the Russioan pianist Sviatoslav Richter; and Pharoah Sanders, all of whom were represented in Ralph Ellison's record collection. Photos by Wikipedia.
Ellison wrote about the emotions that music engendered in him as a young man, recalling "certain needs for other forms of transcendence and identification which I could only associate with classical music" – here citing Schumann, among others.
Those feelings and associations were later folded into his writing, including what many have called the preeminent American novel, "Invisible Man."
Indeed, Louis Armstrong's 1929 recording of the Waller-Razaf-Brooks tune "(What Did I Do to Be So) Black and Blue" is an indelible feature of that book's prologue.
Ellison was to champion Armstrong throughout his literary career, even when it became unpopular to do so.
Much has been written about Ellison and music, and there is too little space here to review this fascinating subject in detail.
To the extent that any person's tastes determine his or her actual outlook, and given that we all have "artifacts" in our homes, sometimes arbitrarily acquired, the Ellison sound collection is a necessarily subjective take on the man and his inner world.
As a cultured member of an intellectual elite at the peak of their influence in the 1960's, Ellison obviously took an interest in "deep" music.
His collection sports the popular albums of Glenn Gould's Bach performances, and these and other selections indicate that he was influenced by the Baroque fad that started during that decade.
But his broad palette is perhaps more accurately represented by 20th century works like Berg's "Wozzeck," Charpentier's "Louise" or Duke Ellington's "Flaming Sword."
Here I found records featuring the divas Bidu Sayo, Joan Sutherland, Leontyne Price and Kathleen Ferrier, signifying an abiding interest in the great female singers – but Ellison seems not to have been an opera buff.
The collection does tend towards the thinking man's classical repertory, mostly German (Brahms played by the Berlin Philharmonic and conducted by Furtwangler, etc).
Recordings of Barber, Lutoslawski, Schoenberg, and Roy Harris indicate an interest in more contemporary classical styles.
Works by Britten (tied to Russian players like Rostropovich and Richter) and copies of William Walton's "Façade" and Michael Tippett's "Knot Garden" suggest an Anglophile streak.
The flamenco recordings were there, though not as many as one would expect, since cante flamenco was a flag that Ellison flew high.
Ellison, who once referred to the dancer Escudero as being able to "recapitulate the entire history and spirit of the Spanish dance with a simple arabesque of his fingers," reviewed a three volume Westminster anthology of cante flamenco recordings for the Saturday Review in 1954, in which he characterized flamenco as a "most useful and needed…gift to the West." The Westminster LP's, incidentally, were there, but only volumes I and II.
Then there were the jazz, blues, pop and spoken word records.
A predominance of Ellington indicates a true reverence for the maestro. Almost a quarter of all the recordings in the collection are by the Ellington band, or some subset thereof (Johnny Hodges, Rex Stewart, et al).
Original 78 recordings of several Ellington classics from the early 1940's were all well played, suggesting that the writer's fascination with Ellington may have peaked during the Blanton-Webster period of 1940 to 1942.
During my visit to the Ellison apartment, I was directed to a back bedroom, which held a box containing dozens of 78's and several reel-to-reel tapes.
A Black Swan disc of "Kissin' Daddy"/"Go Get It" by the blues diva Inez Wallace with a Fletcher Henderson accompaniment was cracked and unplayable.
I also discovered an Ethel Waters' recording of "No Man's Mama"/"Shake That Thing," indicating that Ellison was no prude – these more racy blues were part of a group of novelty items that included the black vaudevillian Bert Williams' "Elder Eatmore" sermons, records by Dusty Fletcher ("Open the Door Richard, Parts 1 and 2") and Johnny Temple and the Harlem Hamfats' recording of "Hoodoo Women"/"Give Me Some of That Yum Yum"!
The Southwestern Swing which Ellison discussed at length in his collection of essays, "Shadow and Act" (1964) was less well represented.
The commensurate Basie items were present, and there were a few notable anthologies of groups such as Harland Leonard and his Rockets and the great Bennie Moten Orchestra – but platters featuring the big bands of Andy Kirk or George E. Lee were few and far between, and the solo work of Mary Lou Williams was here in a sole Moe Asch 78 ("St Louis Blues"/"Lullaby of the Leaves").
Ellison had an uneasy relationship with modern jazz, but bop records included several by Bud Powell and multiple discs by Milt Jackson, Thelonious Monk, and James Moody.
Ornette Coleman's "Free Jazz: A Collective Improvisation" and "The Shape of Jazz to Come" were on his list. These records were controversial in the late 1950's – and topical.
There were only about a dozen Louis Armstrong items in the bunch, suggesting that privately, despite his public stance, the novelist's tastes may have begun to morph with the times; black Americans did not embrace Armstrong in the 1950's and 1960's.
Not surprisingly, one of the Armstrong discs was a 45 of the 1964 number one hit "Hello, Dolly."
There were other, more curious things, some of a personal nature.
There were 78's by Georgia Gibbs, the Ray-O-Vacs (a semi obscure 1950's R & B group) and an LP of Amalia Rodriguez, the Portuguese queen of Fado.
There were two copies of the LP "Eric Burdon and War: The Black Man's Burden," a record of "Fifes and Drums of Williamsburg," and a Forum Records LP, "Guess Who's Comin' Home: The Black Fighting Man Recorded Live in Vietnam."
One of the reel-to-reels I found there may be a home recording of the writer's mother-in-law.
Others reels were unlabeled, and invite further research.
What do these artifacts say about Ralph Ellison?
In the most general sense, I believe they contributed to his distinctly pluralistic viewpoint, and were behind his marked insistence that, apart from our race, we each of us must identify as Americans first and foremost.
But, to quote the collector:
"…[I]n the swift change of American society in which the meanings of one's origin are so quickly lost, one of the chief values of living with music lies in its power to give us an orientation in time. In doing so, it gives significance to all those indefinable aspects of experience which nevertheless help to make us what we are. In the swift whirl of time music is a constant, reminding us of what we were and of that towards which we aspire. Art thou troubled? Music will not only calm, it will ennoble thee."
Todd Bryant Weeks is the jazz rep at Local 802. His 2008 book "Luck's In My Corner: The Life and Music of Hot Lips Page," recently won a certificate of merit from the Association for Recorded Sound Collections.
Russell Platt and David Schengold contributed to this article.
HIGHLIGHTS FROM ELLISON'S RECORD COLLECTION
The Italian conductor Argeo Quadri conducting Ottorino Respighi's "Fountains of Rome" and "Pines of Rome" with the orchestra of the Vienna State Opera
Pharaoh Sanders's album "Deaf Dumb and Blind"
Two sermons from the Reverend C.L. Franklin: "Hosiah the Prophet" and "Gomer the Prostitute"
James Baldwin reading from "Giovanni's Room" and "Another Country"
The 1958 album: "Duke Ellington's Spacemen: Cosmic Scene"
The Russian pianist Sviatoslav Richter performing an all-Beethoven program at Carnegie Hall
The 1911 comic opera "The Knight of the Rose" ("Der Rosenkavalier") by Richard Strauss
The original New York cast recording of the 1943 Broadway musical "Carmen Jones"