An interview with Lorraine S. Cohen
Volume 123, No. 3
March, 2023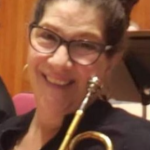 LORRAINE S. COHEN
I was nine years old when my father offered me a dollar to play the trumpet. He said I was full of hot air. I accepted his challenge. Unfortunately, I really wanted to play the flute. Come to think of it, I still do.
My first teacher was Donald Stroud. I studied with him from fourth grade to 12th grade and he gave me so much self-confidence. Seymour Rosenfeld (Philadelphia Orchestra) believed in me through my years at Temple University and beyond. My parents (in spite of the "hot air" crack) were constantly at my side and my biggest fans. I feel very lucky to have had their support and encouragement.
I was blown away by Itzhak Perlman the first time I heard him play. He made me feel that leaving your physical body was the only way to perform. I stopped feeling self-conscious once I realized that. And listening to Joan Sutherland's beautiful long singing phrases strongly influenced the way I approached playing the trumpet. I wanted to sound like that.
Two standouts: the day I won the audition for principal trumpet of the Israel Philharmonic after auditioning for Zubin Mehta and the day I appeared on the Mothers' Day episode of Maury Povitch and my young son, Adam, introduced me and sat on stage with me through the taping of Flight of the Bumblebee. That last part was terrifying!
Challenges. Here's where things turn dark. My greatest personal challenge was keeping myself from bringing lawsuits or charges against all the colleagues and arts administrators who committed multiple and constant acts of aggression against me. I was told by Gilbert Johnson (Philadelphia Orchestra) after I auditioned for Curtis that I had no future as a woman trumpet player. (He accepted me the second time I auditioned and he made me first call sub with the Philadelphia Orchestra.) I've had things thrown at me in performance. I've been purposely shoved while playing. I've won auditions but had to watch the jobs go to others — always men. I was the first call sub on a Broadway show for decades and saw the job finally go to a man. I've been told by contractors that everyone voted for me but the lead player, who wouldn't sit next to a woman. Many times I wanted to pursue charges but I knew that I would be punished for doing so and my career meant too much to me to risk it. So, I adopted the ultimate defense. I promised myself I would always play better than any of them! I focused exclusively on that goal. I honed my skills and prepared like hell for every gig.
---
BIOGRAPHY
Lorraine S. Cohen, trumpet, graduated from The Curtis Institute of Music in 1976. She played trumpet with the Philadelphia Orchestra under Eugene Ormandy from 1973 to 1977. From 1977 to 1979, Ms. Cohen was the principal trumpet of The Hong Kong Philharmonic. From 1979 to 1980, she was the principal trumpet of the Israel Philharmonic under Maestro Zubin Mehta. Moving to New York in 1980 proved to be the right move. She is an original member of the Westchester Philharmonic trumpet section, has played over fifty Broadway shows, and is the principal trumpet of The Queens Symphony Orchestra and the Bronx Arts Ensemble. Ms. Cohen has played with the American Ballet Theatre Orchestra, the American Symphony, is the founder and leader of the New York Brass Trio, and has played trumpet with virtually every orchestra in the tri-state area. She has won a position in the Radio City Christmas Spectacular Orchestra. Most recently, Lorraine was inducted into the Arts Hall of Fame in Springfield Delaware County, Pa. on May 24, 2012.
---
This interview by Martha Hyde and Sara Cutler first appeared in the March 2023 issue of Allegro, the magazine of the NYC musicians' union Local 802 as part of a feature called "Women's Lives, Women's Stories"