Hanging out with Blue Lou Marini
Feature interview
Volume 119, No. 11
December, 2019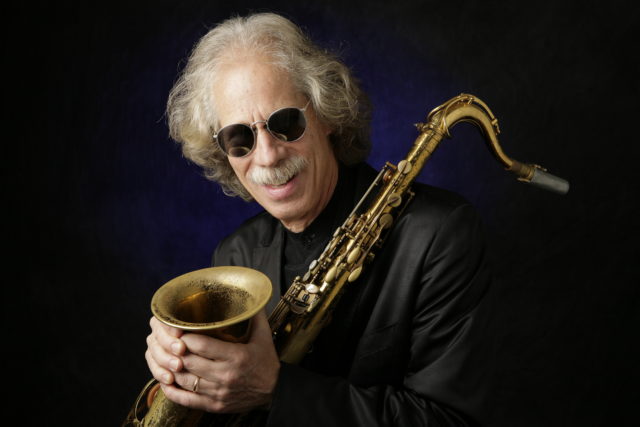 Lou Marini needs no introduction to readers of Allegro. A member of Local 802 since 1972, he's known as a consummate multi-instrumentalist and composer. He might be best known to the public for his work with the Blues Brothers band (including a famous on-screen appearance with Aretha Franklin in the 1980 movie), but he's also played, recorded or toured with everyone from Aerosmith to Frank Zappa. (A full list of his credits and current projects appears at www.blueloumarini.com.) A true lover of big bands, Marini has also had the honor of performing and arranging with some of his childhood idols such as Thad Jones-Mel Lewis, Stan Kenton and Buddy Rich.
This year, Lou Marini won the AFM Lifetime Achievement Award. "I can think of a lot of other people who deserve lifetime achievement awards, but it still meant a lot to me," Marini told Allegro. "I don't like to think about ranking myself. The acknowledgment of my peers is more than sufficient to me. But I have to admit, it was a really lovely moment and very emotional for me."
Marini also told us that he's a fierce champion of unions. "When Ronald Reagan busted the air traffic controllers in 1981, that was one of the darkest days in our country," Marini said. "I think that every union in the United State should have shut down the whole country right then. If we had done that, we wouldn't be in the deep shit that we're in now, with the failure of working people to have any kind of bargaining power, and the ability of the far right to demonize unions. It has been a disaster for our country. So let's fight not only for our union, but for every union."
Local 802's Bob Pawlo recently sat down with Lou Marini to hear about his life in music.
Bob Pawlo: How did your incredible journey in music begin?
Lou Marini: My dad was a wonderful pianist, composer and arranger. He also happened to be my high school band director, so I was around music my whole life. He had me study with one of his best friends who was a wonderful, natural jazz player – a saxophonist named Frank Corbi. Both Frank and my dad were absolutely in love with music. I think that one characteristic of the best musicians is that they never lose their childish, innocent delight in the making of music with others. But Frank and my dad were stern teachers. If you didn't practice and weren't prepared for your lesson, you definitely heard about it! My dad started me out on classical clarinet, and at the same time, he encouraged me to play along with records and learn to play by ear. My dad loved the big bands – especially Count Basie and Woody Herman – and so I grew up listening to the classic Woody bands with Stan Getz and Zoot Simms. My dad and I eventually played little gigs together – him on piano and me on clarinet – and he would write music for us. I started playing in a rock band on the weekends and got a taste of making my own money. Over the summer, I attended the famous Stan Kenton band clinics. John LaPorta and Sam Donahue were among my teachers, David Sanborn was my roommate, and I got to meet Don Grolnick, Jamie Aebersold, Randy Brecker and Peter Erskine. I later became an instructor there myself. Eventually, I ended up in the jazz program at North Texas State College and learned from Don Jacoby. In Dallas, I fell into the recording scene. I got all kinds of chances to play with many different musicians passing through. I remember playing with Red Garland. Sometimes Red would stop comping during a solo; he would just listen to the soloist and get a beautiful look on his face. But if the soloist got in trouble and started to stray or didn't know where he was going, Red would jump right in and help.
Bob Pawlo: What did you do after Texas?
Lou Marini: My career just took off fast. I played a tour with Doc Severinsen, who I had met in Dallas through a connection. I did a clinic with Clark Terry and from there I got the gig with Blood, Sweat and Tears. I started getting recording session work in NYC; in fact, on my first session job, I played second flute to Julius Baker! I got work in Latin bands, including playing with Eddie Palmieri. I recorded with Lou Reed. I learned how to be flexible because I was playing and recording in so many styles,. One moment I was playing a classical thing on flute; next I was playing a New Orleans riff on alto. That was the challenge: to be able to snap into the appropriate groove of every job and do it honestly. I was also meeting the best musicians in the world and making lifelong friends.
Bob Pawlo: You got hired in the Saturday Night Live band in 1975. What was that like?
Lou Marini: When I went to audition for Saturday Night Live, I felt like it was my gig. I don't know why I felt that way, because a lot of New York saxophone players auditioned. But I got it. You know, the opening theme song starts with just tenor. And trumpeter Alan Rubin, who was in the band with me, would joke, "Where's the hippest place to be on the planet right now?" And it was right there, playing the opening solo, because the show was so popular back then. That was the era of Steve Martin, Bill Murray, John Belushi and Dan Aykroyd.
Bob Pawlo: You also worked with Frank Zappa around then?
Lou Marini: Yeah, Frank appeared on SNL once and our horn section played with him, and then later on he hired us to do three nights at the Beacon Theater. We had a tune called "Black Page" because it was just black with notes. We rehearsed it, and Frank said, "Lou, play it on soprano instead of alto." And I said, "Frank, I'm a good transposer, but I don't know anyone who could transpose this music on the spot." He says, "No, no. Don't transpose it. Just play it."
Bob Pawlo: Oh no.
Lou Marini: So there I am, playing a fifth away from everybody else, and it feels to me like the guy in church who doesn't know he's singing the wrong notes. And I hated it. And Frank liked it. He told me to keep doing it. But on the second or third night of the gig, I figured, he'll never know. And I just stayed on alto. And we started the tune, but he stopped us and says, "Stop, stop, stop." And he turns to the audience, and he says, "Ladies and gentlemen," and he points to me and says, "Because Lou Marini didn't switch to soprano saxophone, we're gonna play 'The Black Page' again."
Bob Pawlo: Let's talk about possibly your most famous appearance, at least from a popular point of view: your association with the Blues Brothers band and movie.
Lou Marini: Yeah, well that started on Saturday Night Live. John Belushi and Dan Aykroyd had been hanging out with the blues singer Doc Pomus, and they came up with the idea of singing as two blues musicians who wore black suits. Lorne Michaels turned them down at first. But finally they were short a skit during the live show and Lorne let them sing a tune. The response was tremendous. The audience just freaked. Belushi was already a star from "Animal House," you know. And suddenly we were told that we were putting together an actual act that would open for Steve Martin at the Universal Amphitheater for ten nights. It just took off from there. Then came the Blues Brothers movie and tour. That was such a wide-ranging band. Everyone came from a lot of different places. We were getting standing ovations every night and huge crowd reactions. Famous people would stop by. I remember Bette Midler, Danny DeVito and Robert DeNiro all enjoying us. One of my nice memories is playing the tune "B Movie Boxcar Blues," and I'm the outside guy in the horn section, so I was closest to the audience, and I look over and see Jack Nicholson sitting in the front row. And Jack looks at me. He lifts up his sunglasses, and he whispers, "Wow!" That band had some fire going!
Bob Pawlo: How many times are you noticed in public for your role in the Blues Brothers?
Lou Marini: I always kid that it's never women who recognize me. It's always guys. And it's guys like firemen or policemen or construction workers. "Hey. Fuckin' Blue Lou, all right!" But I could see how fame can be oppressive and overwhelming for guys like John Belushi. People would just run up to him. They couldn't help themselves. It's not cool when this happens all the time and you don't feel protected. That gets to be a drag, and that's something that I've never had to deal with. With me, I just get recognized, and people come up to me politely, and it's just one of the lovely things in my life. I remember once when the Blues Brothers band was playing at Ronnie Scott's about three or four years ago in London. We finish the gig, the place is packed, I'm in the front hallway, and a little old Scottish lady comes by. She shakes my hand and says to me, "Don't ever underestimate the importance of what you do." That was so beautiful, man. I talk about this kind of thing a lot with Lee Finkelstein, the drummer in the current version of the Blues Brothers band. Consider this: the band has played thousands of gigs since 1988. We just toured Europe as recently as this summer. We see the incredible crowd reaction all around the world, and we know that for an hour and half or two hours, we've made people happy. It's not a light thing. It's something to be proud of and something that's worth giving it all we've got.
Bob Pawlo: That is totally inspirational. Let's end this interview by talking about the next generation of musicians. What advice would you give to players, especially young reed players, coming up in today's musical world?
Lou Marini: There's only one way to get good, and that's just to spend thousands of hours by yourself polishing your shit up. I think that has a result in defining your kind of musical personality. You have to mean every note you play and have a commitment to totally be there when you're playing. As for gigs, every gig that I've gotten has been through word of mouth. One musician hears you; they recommend you to someone else. You get an opportunity, a door opens, and if you're prepared, you could step through it. In New York City, you quickly find out whether you really want to play or not. You can either do what it takes to be prepared or you can decide you want to do something else. When I was starting out, I lost an audition with Horace Silver's band because the other horn players knew Horace's music much better than I did. There's no shortage of young players whose technique is unbelievable. But finding your own singular voice is what you have to do. It's about paying attention to yourself and listening to yourself. I think you also have to like your own playing! And it's not only about playing; it's about hanging out with other musicians. There's always the joy of making music and the joy of getting to know all these wonderful musicians.