Major Freelance Orchestras Reach Agreement
Volume CVIII, No. 6
June, 2008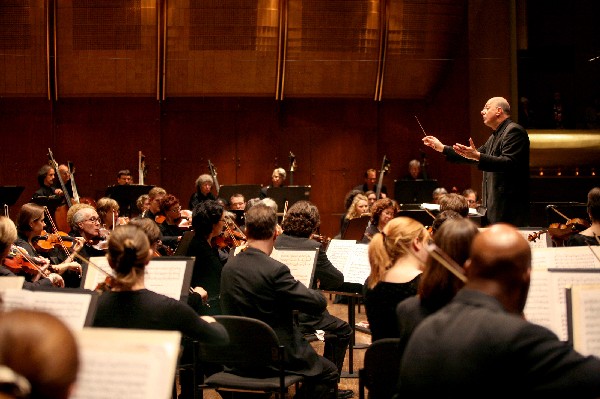 The American Symphony Orchestra (above) and the Opera Orchestra of New York are two of the ensembles that have signed new agreements with Local 802. Photos © Steve J. Sherman.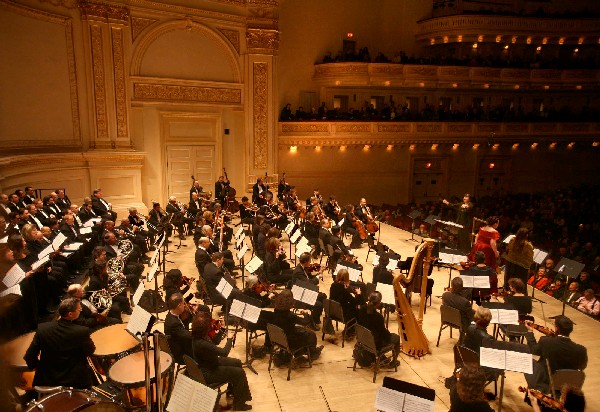 Recently, several major freelance orchestras have reached tentative agreements with Local 802.
The American Symphony Orchestra, Bronx Arts Ensemble, Little Orchestra Society, Long Island Philharmonic, Opera Orchestra of New York, Queens Symphony and Riverside Symphony have each signed memorandums of agreement which adhere to the wages, health and pension as established by the New York Pops negotiation.
These terms have become the union's new freelance scale, as per an April 29 vote by the Executive Board. They are available in the "Wage & Contract Info" section of this website.
As Allegro went to press, a verbal agreement had also been reached with the Brooklyn Philharmonic Orchestra. The American Composers Orchestra has yet to complete its negotiations.
Going into negotiations, musicians made uniform wages and benefits a priority. A level playing field among the major freelance orchestras assures musicians that they will make the same amount per service when performing with any of these orchestras. The managements benefit as well because a level playing field keeps one orchestra from undercutting another orchestra when bidding for outside work.
Each of the new agreements contains a "health benefit shortfall fund." Tenured musicians in these orchestras who fall short of making the union's health plan A or B by $500 or less can request a shortfall contribution. After confirming a shortfall, the union will request a health contribution on behalf of that musician, divided among the orchestras in which the musician is a tenured member and which have a shortfall fund. Shortfall contributions are made on a first come, first served basis. Once an orchestra's shortfall fund is used up, no further shortfall contributions can be made by that orchestra until the orchestra's shortfall fund is replenished on Oct. 1 of each year.
(In order to receive a Plan A shortfall contribution, musicians must have paid their Plan A premium. Plan B requires no premium.)
Melanie Bradford, orchestra committee chair for the Little Orchestra Society, told Allegro, "I was pleased that management recognized that musicians falling off the health plan was a huge concern and stepped up to the plate to make the health shortfall fund happen."
A recurring theme heard from those across the table was that per-service health contributions had risen precipitously during the term of the last contract.
Our position was that rising health costs were a concern for the entire nation and required a national solution. That said, we understood management's position that unlimited liability for rising health costs had become untenable.
Therefore we agreed to a per-service health contribution cap of $50 per performance and $16 per rehearsal in the event the trustees of the health plan raise the employer contribution amount. (The current amounts are $1,400 for Plan A and $500 for Plan B per six month period.)
Pension has always been a negotiation priority for working musicians. The increase in the pension rate to 15 percent of gross scale wages in the third year of the new contracts helps to ameliorate the pension fund's decision to reduce the multiplier in recent years.
Lanny Paykin, a member of the Brooklyn Philharmonic and American Composers Orchestra, told Allegro, "Being on two orchestra committees simultaneously has made me keenly aware of the importance of rank-and-file involvement in the bargaining process. Issues that arise from management must be vetted and analyzed as only players can do."
I would like to express my heartfelt gratitude to all of the committee members involved in the major freelance orchestra negotiations as well as union counsel Harvey Mars and Senior Concert Rep Karen Fisher. Their dedication and hard work has resulted in significant improvements in these contracts.
If you perform with a major freelance orchestra, please take a moment to thank your committee members personally. They are most deserving of your praise. See box below for a list of committee members.
American Composers Orchestra
Robert Biddlecome; Eugene Moye; Lanny Paykin; Sander Strenger; Mary Whitaker.
American Symphony Orchestra
John Babich; Adria Benjamin; Jeffrey Caswell; Jeffrey Lang; Eugene Moye.
Brooklyn Philharmonic
Louis Bruno; Wayne Du Maine; Dan Gerhard; Lanny Paykin; Andrew Seligson; Jessica Troy; David Wechsler.
Little Orchestra Society
Melanie Bradford; Michael Gillette; Howard Hall; David Heiss; Susan Jolles.
Long Island Philharmonic
John Babich; David Creswell; Valerie Levy; David Read; Jay Schulman.
New York Pops
Louis Bruno; Yana Goichman; Daryl Goldberg; Christine Ims; Susan Panny.
Opera Orchestra of New York
Lawrence Benz; Christine Ims; Valerie Levy; Eugene Moye; Gabriel Schaff.
Queens Symphony Orchestra
Francisco Donaruma; Laurance Fader; Jules Hirsh; David Moore; Andrew Seligson.
Riverside Symphony
Sarah Adams; Leise Anschutz; Louis Hanzlick; Gail Kruvand; Richard Sosinsky.