'Make a Difference'
Volume 111, No. 11
November, 2011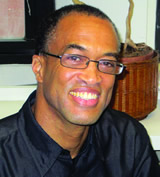 Pedro Libert was born in Aruba and raised in Curaçao. As a teenager, he traveled to the Netherlands to study music, where he earned degrees in conducting, music theory and viola. Libbert teaches in the STARRRS program (see story above) and was interviewed by Kathy Schrier, director of the Actors Fund Work Program.
Kathy Schrier: I know you are interested in becoming a licensed teacher. Why?
Pedro Libert: I believe teaching is a wonderful way to make a difference in the lives of New York City public school children. Also, I am a new dad, and I welcome work opportunities that will give me stability, but also allow me to continue to be a musician. I am currently enrolled in the M.A. program in education at Lehman College and expect to be dual certified in music and special education.
Kathy Schrier: How has the STARRRS program affected your career path?
Pedro Libert: The brilliance of the program lies in our training instructor Howard Katzoff, who is not only a seasoned educator, but also has a total commitment to children and nurturing artists. Howard believes very strongly that students' skills and talents are the foundation of all classroom instruction. I experienced this approach as not only learning from the teacher but also learning with the teacher. Honestly, the STARRRS experience made me recognize the ingredients of quality education.
Kathy Schrier: Would you recommend the STARRRS program to other Local 802 members?
Pedro Libert: The STARRRS Program is terrific. Local 802 members have many career options and the wonderful Actors Fund staff will help them identify them. I truly believe that the Actors Fund Work Program helps us be all we can be!
Kathy Schrier: How were you introduced to Local 802?
Pedro Libert I came to the United States in 2008, because I fell in love! I also knew that this country would have different professional opportunities for me. When I first got here I met a singer at a church who told me about the Monday night jazz jam sessions at Local 802. I went to the session, and it turned out that night there was a concert to support the union's Justice for Jazz Artists campaign. At that point I recognized the importance of the union. I joined immediately. During one of my visits to Local 802, I mentioned that I really needed to find work to complement my music career. All roads led to the Actors Fund Work Program.
The Actors Fund is a national human service organization that helps all professionals in performing arts and entertainment. The Fund is a safety net, providing programs and services for those who are in need, crisis or transition.
For more information on the Actors Fund Work Program, the STARRRS program, or anything in these articles, please contact Kathy Schrier at Kschrier@ActorsFund.org or (212) 354-5480.