Making Sense of it All
A brief economic explanation for rising health costs
Volume CIX, No. 3
March, 2009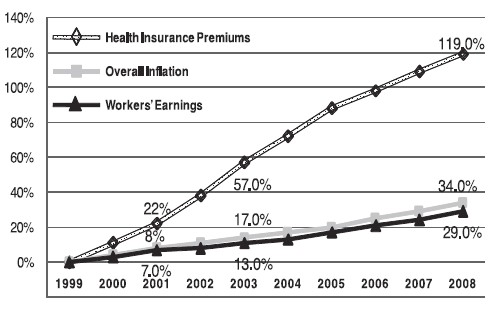 Figure 6. Check out how health care premiums easily outpaced wages and inflation from 1999 to 2008.
Back in 2000, premium rates for family coverage cost nearly $540 per month. By 2007, that figure soared near $1,010 per month (or $1,068 in New York). That's an 87 percent increase, and like it or not, that's what happened to average health care premiums between 2000 and 2007.
Making matters worse, during those same seven years that health care premiums went up 87 percent, average take home pay only rose 11 percent! Is there a way to make sense of this?
Yes.
The health care industry is riddled with very expensive overhead costs from its marketing, underwriting, lobbying, and administrative departments. When we rely on insurance companies to provide us access to health care, premium rates rise 30 percent in order to cover these costs!
The impact of these costs is massive. The New York Times estimates that the $150 billion in total excess spending on administrative costs in 2008 was sufficient to finance covering the underinsured and uninsured with health coverage for the entire year!
The rest of the price pressure comes from the collection of companies within the health care industry desiring high profits.
These firms include investor-owned insurance and health service companies, pharmaceutical companies, medical device suppliers, and professional consulting firms among others.
The profit motive creates an incentive for private health care firms to expand their operations in an effort to increase earnings through consolidated market power.
The large-scale compensation packages given to CEO's of investor owned health care firms artificially inflate prices to the detriment of patients and consumers.
As 1 million families go bankrupt each year because they can't pay their medical bills, the stock options of the top 80 executives in four sectors of the health care industry total over $9.5 billion!