A tribute to Marty Berns
Volume 122, No. 8
September, 2022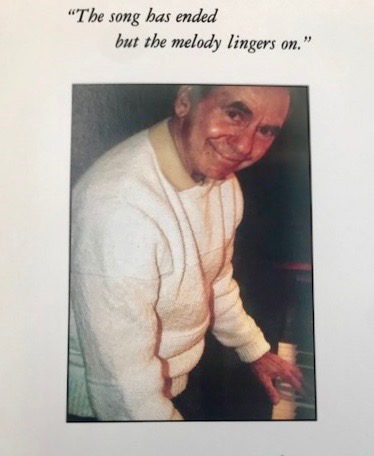 Marty Berns, 95, a pianist who first joined Local 802 in 1950, died on August 3, 2021 and was laid to rest with military honors at St. Raymond's Cemetery in the Bronx.
Born Marvin Martin Bernstein on April 6, 1926 to Etta and David Bernstein, Marty grew up in the Bronx and started taking piano lessons at age 6.  He fell in love with the instrument and knew this was his calling in life.
He graduated from the prestigious Music and Art High School. Eager to enlist at age 17, he had to wait until he turned 18 to join the Army, where he qualified as a bombardier during World War II. After the Army, Marty attended Temple University and graduated with a bachelor's degree in music.  Eager for adventure, he went on the road as a musician, changed his name to Marty Berns, and formed a group with his best friend Jimmy Comac. Together, they performed in clubs around the country for several years.
When he arrived back in New York, he landed at the celebrated supper club Jimmy's La Grange as the featured piano player. On his first day, he spotted the beautiful hatcheck girl, Carolyn Rolleri. It was love at first sight and from that moment on they were inseparable, enjoying an over 69-year love affair that continued until Marty's last breath. (His wife, Carolyn, passed away exactly three months to the day after Marty, on November 3, 2021.)
Marty is survived by his daughter, Corynne Shaw, son-in-law, Martin Shaw, granddaughter, Molly Shaw, grandson, Casey Shaw and great-grandson, Gavin Greer as well as three nieces, a nephew, three grand nieces and four great grand nieces. He was a good man, a gentleman, a kind man, a smart man, a quiet man, a patient man, a loving man, a piano man.
— Obituary submitted by Mr. Berns' daughter Corynne Shaw