Meet our youngest member (age 10)
Volume 119, No. 4
April, 2019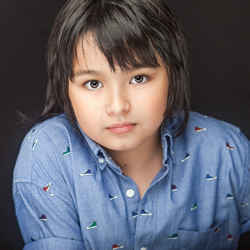 At 10 years old, Julian Kenji Brescia is the youngest member of Local 802. Allegro recently caught up with him and asked him about his path in music so far. Here's what he told us.
I joined Local 802 when I got a job with the first national tour of "School of Rock" and was cast as Lawrence, the keyboard player in the band. My dad, Kenny Brescia, is a longtime member of Local 802. "School of Rock" is my first professional gig. Playing music live nightly with the band and touring is lots of fun.
I started singing and dancing in a local musical theatre troupe when I was two years old. My parents are musicians so I'm surrounded by all kinds of musical instruments. I started playing piano when I was three, then drums, xylophone and guitar at five. I recently got an electric bass, which is my favorite instrument now.
Music makes me happy and makes me dance.  It also helps me to be motivated when I do math and English homework.
Besides the eight shows a week playing in the band, I also play music with my family.
I want to keep studying and training to be a better musician. Luckily, there are many amazing teachers and players in my life who inspire me.