Meet Our Youngest Member… And Our Oldest
Volume 118, No. 4
April, 2018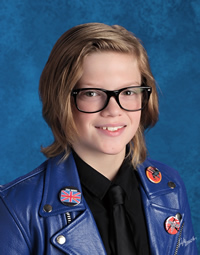 JESSE SPARKS
At 12 years old, Jesse Sparks is the youngest member of Local 802. Allegro recently caught up with him and asked him about his path in music so far. Here's what he told us.
I joined Local 802 because I just joined the "School of Rock" national tour as a swing and an understudy for the character Zack, who plays guitar. My mom said that joining Local 802 helps protect my rights as a professional musician and can also help build connections. The "School of Rock" tour is my first professional gig, although recently I played for a dance at my school and that was a lot of fun!
I grew up in New York City going to lots of shows with my dad. My mom tells me that my first show was seeing Lou Reed play at the World Trade Center site but I don't remember because I was a baby. I started taking piano lessons at Bronx House when I was 6. I started taking guitar lessons when I was about 8. I played at recitals at the Bronx House and I was a part of their Music Brigade program, playing at senior homes. I started middle school at Manhattan East School for Arts and Academics this past year and perform in the school's rock band (called The Bulldogs) and concert band.
I grew up around music and musicians. I love playing music because of the way it makes me feel. I need to play music.
---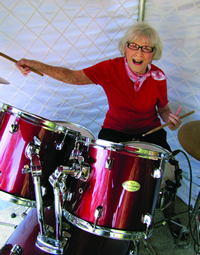 VIOLA SMITH
We have a living legend in our ranks. At 105 years old, Viola Smith – who was one of the first professional female drummers and was called the female Gene Krupa – is the oldest active member of Local 802. She first joined Local 802 in 1942.
She was born Viola Schmidt in Mount Calvary, Wisconsin, where her father owned the town's restaurant and dance hall. He made sure each child played an instrument, and the family orchestra became known as the Smith Sisters. At the time, some of the sisters were under 18, so the family had to apply to the AFM local to get permission when the underage girls went on tour.
Later, some of the sisters formed a new group – the Coquettes – which became a big success. They were part of a wave of all-female orchestras that swept the scene during World War II, when many men were overseas.
Ms. Smith rode this wave to the top: she appeared on the cover of Billboard in 1940, joined another highly successful all-female orchestra (Phil Spitalny's "Hour of Charm"), performed at the inauguration of Harry Truman, and played drums in the 1945 Abbott and Costello film "Here Come The Co-Eds."
Around that time, she also achieved notoriety for an op-ed that she penned for Downbeat, entitled "Give Girl Musicians a Break," imploring jazz groups and orchestras to not discriminate against female musicians.
She appeared on the Ed Sullivan show many times and also on the cover of Variety more than once. Ms. Smith played in the original Broadway production of "Cabaret," as part of the Kit Kat Club band. She and the Kit Kat band later made several TV appearances, including on Liza Minnelli's special, "Liza with a Z."
In the summer of 1948, she earned a scholarship to Juilliard and won a seat in the Juilliard Symphony Orchestra under conductor Walter Hendl. She studied timpani first with Saul Goodman and later with Karl Glassman. In 1949 and 1950, she played percussion with the National Orchestral Association under Léon Barzin.
In 2000, Ms. Smith was featured in a New York Times story on "all-girl bands." That same year, she was among eight musicians honored at Lincoln Center in a tribute to women legends in jazz. Local 802's recording rep Bob Pawlo interviewed Viola Smith in the November 2013 issue of Allegro.