Meeting New Musicians, Visiting New Musicals – and Creating New Energy
In the Trenches
Volume CVIII, No. 12
December, 2008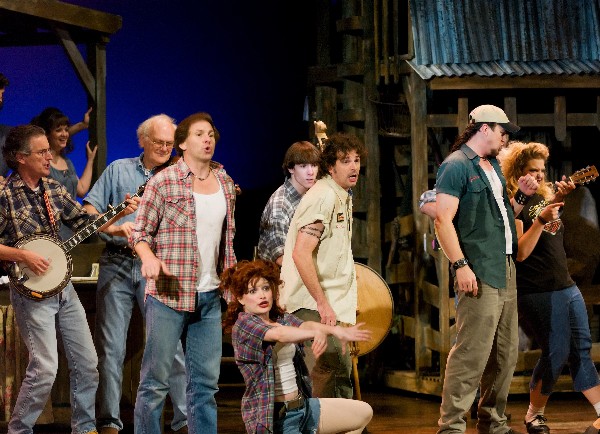 © 2008 Bill Shiply/ShipleyPhoto.com
New theatre means new members. Local 802 has just completed its fourth year of reaching out to musicians performing in the New York Musical Theatre Festival. This year we were able to talk to musicians who performed in the Fringe Festival as well. We're doing our part to bring in new members and teach them about the importance of Local 802. Down the line, when these musicians perform elsewhere, they'll already know about the union. This makes our organizing easier in the future.
Bassist and trombonist Eric Day is one such musician. He's not yet a member of Local 802, but he performed in the on-stage band for the festival musicals "Bedbugs!" and "Usher." He was one of many who showed up to Local 802 for a networking "meet and greet" after the festival. Day told Allegro, "I thought the meet and greet was a welcome introduction to 802, as well as a helpful forum on ways to approach being a theatre musician in New York."
Day added, "It was nice to get an inside look at this community, and hear about the varied paths that working musicians have had to navigate. I look forward to joining the union and getting involved."
Since 2005, Local 802 has visited over 100 festival musicals. Most of these productions hire between one and six musicians. It is not unusual that the musicians are relatively new members of Local 802 or not members at all. But we've also found that as many as 60 percent of musicians could be veteran 802 members.
Some of the festival musicals make it big. The musical with the offbeat name "[title of show]" went from the 2004 NYMF festival all the way to Broadway. And a few years back, "Urinetown" went from the Fringe Festival to Broadway. Many other productions have gone to Off Broadway, including "Altar Boyz" and "Evil Dead."
Following our field visits to the musicals, Local 802 hosted a networking meeting. The year's event was attended by 54 musicians who had performed in the festivals or were new members of Local 802. Eight of our Broadway theatre delegates were also in attendance.
Recording Vice President Bill Dennison welcomed the guests and panelists. Our five distinguished panelists — Red Press, John Miller, Tania Leon, Steve Silverstein and Valerie Sciarra — provided the benefit of their vast experience and knowledge of the music business. Theatre Committee Chair Tino Gagliardi hosted the program and special guest speaker George Wesner provided a charming and amusing view of economics and the music business.
Local 802 member David Libby, a pianist, attended the meeting. He liked what he saw. "Local 802 does a great service to its members by holding events like this because they foster new relationships, renew existing relationships, and offer real industry insight from panel members," he told Allegro. Libby has worked on several Broadway tours and was the musical director for "That Other Woman's Child" at NYMF this year.
WHAT'S NEXT
We still have much to do. We need to visit more of the musicals that are in the Fringe Festival. Even though it is an international festival, there are many local musicians in the productions.
We also need to make an additional effort to get our Theatrical Showcase rules and regulations into the hands of the producers. Each year we have received a few of these agreements back from producers with benefit contributions. Musicians who do this work can help make this happen. There are hard copies of the showcase rules available at the union and they are also available on our web site. These rules are an important step to getting future contracts with employers — not to mention another way for musicians to get health and pension contributions.
'TAKE PRIDE IN YOUR WORK'
It's all about who you know! As part of the union's effort to make new connections, Local 802 sponsored a "meet and greet" where musicians who performed in this year's NYMF and Fringe festivals could come to the union, learn more about us, and network. Local 802 member Valerie Berke Sciarra was one of the panelists. Sciarra is a keyboardist and musical director whose latest show was "Circle of Friends: An American Girl Musical." She also performs as a singer/songwriter. Sciarra has been a member since 2004.
I agreed to speak at Local 802's meet-and-greet because I thought it was so important to let musicians know the union could help them at any level. Just being part of the union has changed my perspective on what I do and how I see myself as a musician. And to hear others go through the process makes you feel connected and hopeful.
I truly wish there had been a meet-and-greet like this when I was starting out. I was so overwhelmed as a young musician and kept thinking everything I had done was wrong. It was so wonderful to hear there was no wrong way. As long as you are prepared, your opportunity will arrive.
Local 802 has a responsibility to make sure its members are respected for the work they do. Many musicians put countless hours into learning their craft and that never changes. Some are even more educated than doctors and deserve to be paid accordingly.
These festivals in particular are highly stressful and the music director often serves as arranger, rehearsal pianist, vocal coach, conductor — all for very little pay and an enormous amount of time. Musicians need to feel that though they are gaining experience, they are not being taken advantage of.
I thought the event was highly successful. There was a lot of interaction after the panel and many great questions were being generated. The main point that I think got across was to work hard and bring your game to everything you do. Take pride in your work, something I feel the union can help musicians to do.