Meeting of the Muses
802 has Strong Presence at Jazz Improv Live Convention
Volume CVII, No. 12
December, 2007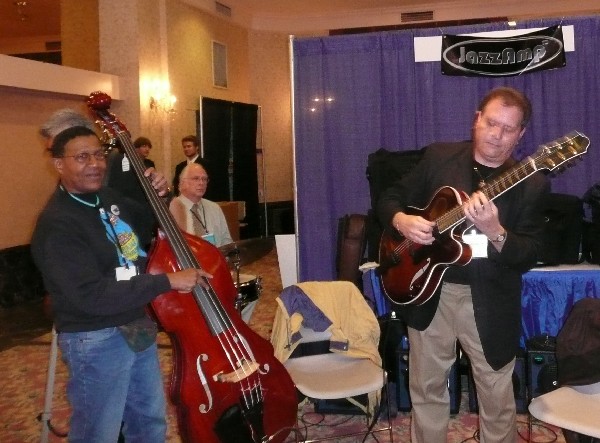 Jamming are Local 802's Bob Cranshaw (bass), Fred Taylor (drums) and Dr. Frank DiBussolo (guitar).
Bob Cranshaw walked up to his old friend Barrie Kolstein, a man who had been supplying him with new instruments for many years.
No words were needed, as Barrie simply reached for the travel bass that bears his name and handed it gently to the legendary jazz musician.
As the curious began to congregate, Cranshaw moved his fingers across the instrument's beautifully lacquered belly and then, in an almost imperceptible gesture, struck a chord.
The sound rang out melodiously, and within minutes a small throng had gathered as Cranshaw and others tried out new instruments for sale at the Jazz Improv Live Convention and Festival.
The festival, held at the New Yorker Hotel in late October, was the first of its kind, a for-profit venture that showcased many local jazz artists and provided opportunities for vendors, educational institutions and individual artists to market themselves and their wares.
Local 802 hosted a booth on the convention floor, and reps met face to face with the general public, answering questions and providing information on topics ranging from union health and pension plans to tax rebates for jazz artists and other initiatives to stimulate growth and encourage live music.
Jazz Advisory Committee Liaison Jimmy Owens, Jazz Consultant Cranshaw and Recording Vice President Bill Dennison presented a panel entitled "Justice for Jazz Artists: Access to Union Health and Pension Funds."
Richard Gabriel, special assistant to the president of the AFM, represented the Federation's West Coast offices.
The festival was organized by Mark Nemeyer and Jamie Cosnowsky of Jazz Improv Magazine.
The live performances were generally well produced and well received, and artists the likes of McCoy Tyner, Jack DeJohnette, Sonny Fortune, Rufus Reid, Ken Hatfield, Bobby Sanabria and 802 Jazz Advisory Committee member Sue Terry appeared at various venues over the three-day event.
In fact, Sue Terry appeared in dual roles: as an advocate for the raising of jazz education standards, and as a virtuosic instrumentalist in her own wonderfully spontaneous "Blueseum Project."
"We had one rule going in," Terry told Allegro. "There were to be no rules at all. The only thing I said to [fellow reed player] Tim Price at the top of the first number [which they had never attempted before] was 'I'm gonna play clarinet.'" The free improvisation that followed thrilled the audience.
Jazz Improv Live is already booking acts and panelists for next year, and 802 is set to build on its positive relationship with festival organizers to help create a more vibrant — and fair — scene for jazz musicians in New York City.
In the spirit of the jam session, Bob Cranshaw remarked, "Everybody ought to have the same opportunities I had. We all deserve to be heard, and to be treated like the professionals that we are."