Memo to Jazz Clubs: Do the Right Thing
Volume CXI, No. 1
January, 2011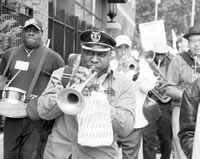 Musicians and supporters march through the streets, New Orleans style, at Local 802's now-famous Justice for Jazz Artists rally that took place in September 2009.
Photo: Enid Farber
In 1953, when I came to New York from Boston to be the New York editor of Down Beat, then the bible of the jazz community, I learned quickly how hard it is for many players to make a living – as I reported on exploitative club owners, record companies, and bookers.
Few musicians had medical insurance, let alone pension funds or other basic resources. It was a sobering awakening for this jazz fan.
In 2010, as Local 802's John O'Connor recently told me: "Every year, we see jazz musicians who have dedicated their lives to their art fall into poverty, requiring the use of Local 802's Emergency Relief Fund and the Jazz Foundation (a national emergency life-saver for jazz musicians, based in New York)."
O'Connor emphasized, "A few hundred dollars a month in pension income could make a world of difference to musicians who are in need in their later years."
I add: Not only in their later years.
There have been jazz musicians with gigs – Broadway shows or nearly disappeared television network orchestras – who have been able to benefit from the AFM Pension Fund.
But excluded are the players in nightclubs, where most jazz musicians work.
O'Connor, who became Local 802's first jazz rep in 1996, made this crucial point: "If nightclubs paid pension benefits on a regular basis on behalf of jazz musicians who played regularly in those clubs, these musicians could become vested in the AFM pension fund in as few as 38 months," guaranteeing a pension for life.
Since the mid-1990's, Local 802 has been working, through its Justice for Jazz Artists campaign, to make this happen.
In the July/August 2010 issue of Allegro, Todd Bryant Weeks (author of a splendid biography of the long-neglected trumpet player Oran "Hot Lips" Page) cited an unexpected opening to create pension-fund contributions from New York club owners.
In 2006, 802's Jazz Advisory Committee successfully got the New York State legislature to eliminate the entertainment tax nightclubs had to pay.
With those savings, jazz clubs could institute pension funds.
But the clubs – among them the Blue Note, Birdland, Jazz Standard, and Iridium – that had backed 802's legislation were decidedly not interested in pensions for jazz players.
So 802 started a petition drive that has gathered some 3,500 signatures – ranging from New York City Council Speaker Christine Quinn to a range of jazz musicians, as well as critics Amiri Baraka, Stanley Crouch, and this writer.
The club owners were not moved. So Justice for Jazz Artists had to move onto the streets. After a rally in September 2009 at Greenwich Village's Judson Memorial Church – a frequent site for free-speech activists – 802 invoked a New Orleans marching tradition. (See photo above.)Weeks reported: "Some 125 musicians and their supporters marched with their instruments, New Orleans style, to the front door of the Blue Note," where the petition was presented to no avail.
This February, while master bassist Ron Carter was onstage at the Blue Note in front of a full house, there was Justice for Jazz Artists leafleting in front of the club.
Ron Carter and his colleagues, Paul Motian, and Bill Frisell, had beforehand given full swinging support to the leafleting.
This June, leafleters were at the Blue Note's doors for a John Pizzarelli gig.
Said O'Connor in Allegro this summer: "We're not going away. The Blue Note presence is only the beginning."
Why the Blue Note so specifically? It was selected, said O'Connor, "because of its high visibility as the quintessential jazz nightclub."
Despite that praise, the Blue Note, like the other club owners, he noted, "have never consented to even having a conversation with the union on this issue."
For several years, I have often – at the Blue Note – been doing television interviews with jazz musicians, some of whom are already prominent and some of whom should be. (Those with Ron Carter and Jon Faddis are in my new book, "At the Jazz Band Ball: Sixty Years on the Jazz Scene", University of California Press.)
I have been trying to get a statement from the boss of the Blue Note on why he has gagged himself concerning Justice for Jazz Artists.
He won't speak to me. I've told 802's O'Connor – and Blue Note's producer of my jazz interviews there – that if jazz musicians and their supporters set up a picket line at the Blue Note (a line that musicians engaged for gigs there choose not to cross), I won't cross it, either.
Having organized my first union when I was in my teens (during the so-called Great Depression) at a prominent Boston candy store – and later, with others at Radio Station WMEX in Boston, which gave me my first jazz show – I respect picket lines.
The WMEX boss was eager to fire me in the 1940's when I had the blacklisted folk singer Pete Seeger on my folk-music show, but I was shop steward by then and he didn't want to tangle with the union.
New York's Blue Note and other jazz clubs will learn not to mess with Local 802.
But why are the club owners so rigidly resistant?
Since they don't speak, I can only give you my speculation.
With regard to the AFM Pension Fund, I expect these club owners do not want to be involved, as employers, in dealing with Social Security and medical care contract provisions.
Let 802's emergency fund and the Jazz Foundation take care of players evicted for non-payment of rent and in life-saving need of surgery and other procedures that they can't afford – if they know about them.
Local 802 is going to keep on keeping on. When I was a kid, a favorite song of mine was the union-organizing rallying cry: "Which side are you on?" New Yorkers going to jazz clubs in this city and its boroughs will increasingly be asked to answer that question.
If any other AFM locals are involved in pension benefits for our men and women, please write to me at the Village Voice (see www.VillageVoice.com). This could start a national Justice for Jazz Artists jam session.
Nat Hentoff is a world-renowned jazz and cultural critic. This article first appeared in the Village Voice /VillageVoice.com and is reprinted with the author's permission.