Memories of Ray Rapetti
Reminiscences
Volume CXI, No. 1
January, 2011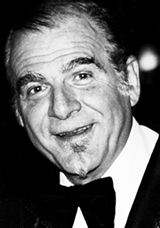 Living legend. They don't make 'em like that any more. Last of the best. Genius. Well, yes, Ray was all that, and more. He was er, uh – Ray Rapetti.
Ray died Oct. 8, 2010, leaving sadness in the lives of his family and personal friends. His passing also leaves a big hole in the club date field. It's possible he was the club date field at one time, certainly a large part of it. He played other venues of course. He conducted. He contracted. He composed hundreds of tunes and several musicals. Ray played the pits, the ships, saloons, road bands, you name it. Leaders called him when they had a problem party; they knew Ray could cover it.
Ray was proud of his trade and its union; he'd been a member of Local 802 since 1938 and was in the group who founded the "Musicians' Voice," a reform newspaper that brought together musicians who later formed the Members Party. He mentored young players and guided others to jobs buried in the maelstrom of the union floor. It was from club dates that I knew him.
We met in the mid-1950's when I was manager and Ray was doing first trumpet work for Ben Cutler, a society leader now long deceased. It was the tag end of the debutante era, presentations which had fallen into disfavor and eventually disappeared. Parties lasting eight or nine hours were not uncommon, and the bands never stopped. Literally, never stopped. Most players doubled instruments and rotated, so each player could take a bathroom break. Ray played anything; lead, second or third harmony trumpet of course, maybe a little bass.
In addition to everything else, he had perfect pitch. But his double was piano, sheer agony for the players. He played perfect harmonies, but only on the black keys, mostly in G flat. You want to fake harmony to "Ridin' High" in G flat? Not me. Someone said he played segregated piano – never touched the white keys.
Ray's strength, as with so many other players, was his repertoire and consummate knowledge of the business. In those days repertoire was everything, for few leaders used charts. It was all in the head. Most guys learned the tunes by rote or from hand copied lead sheets which sold for fifteen cents on the union floor.
Ray's recollection was vast – society tunes, Greek music, Jewish, middle Europe, Latin, show tunes, whatever. I remember hearing him play the verse to "Flying Down to Rio." Now that's memory. He said once he'd heard and played a tune it never left his head. If he'd seen the written music, his mind's eye pictured what he'd first seen on paper.
One night during dinner the leader called Rudolph Valentino's "Kashmiri Love Song." It was a 25-piece orchestra stacked up onstage at the Waldorf ballroom, with saxes and brass spread out in the top row and the mice down below. Started out like gangbusters. Everybody knew the "Pale hands I loved, beside the Shalimar" beginning. Then what? Where's it go? In bar five, players began to fall out. At the end it was just Ray and drums. He remembered the whole thing, note for note, exactly as he'd seen or heard it somewhere.
That same night the guest of honor was Bob Hope. When Hope was introduced, the leader just stood there, like he'd never heard of run-on music. Hope was coming toward the stage to applause but no music. Finally Ray stood up, yelled "For God's sake," sailed out a big D natural (Thanks…), then cued the band, who knew immediately to answer with (….For the Memory). Hope smiled.
As time passed, the business changed. Ultimately both Ray and that club date era were washed away in a veritable tsunami of DJ's and electronic backbeats. Repertoire became marginal; one song could make you rich. The Beatles taught us you could make more money playing your own stuff instead of somebody else's. After too many Saturday nights sitting home, Ray packed it in. He sold his instruments, most of his music collection, and his home in Westchester, retiring to Las Vegas where he lived out his years.
Ray is survived by his brother Gene ("B.G.") Rapetti who is also a trumpeter and active Local 802 member. He is also survived by his two daughters Beverlyn and Geraldine, grandsons Paul and David, and great grandsons Conor, Domenico, and Tommy.
Ray was one good guy, a supportive father, true friend, great cook, world traveler, and genuine giant in his trade. He lived a long, vibrant, colorful life, giving it one helluva shot – 94 dynamite years. Love ya Ray.
– Dutch Wolff
December 2010
A request stumps Wayne Newton – and Ray Rapetti saves the band
I met Ray Rapetti in the 1980's when he was contractor at the Colonie Hill in Hauppauge, New York. Long before, Ray had earned a reputation in the club date field for having an enormous repertoire of tunes at his command but, to a lot of the show musicians who worked at the Colonie Hill, he was just "the contractor."
Among the many acts presented at this giant "dinner theatre" venue was Wayne Newton. Newton carried with him every arrangement he had ever recorded so that he could perform any tune that he chose at a moment's notice. Every musician had a stack of parts more than a foot high on the floor beside their chair.
One night a little old lady at a front table repeatedly called out praise for Newton: "Wayne, we love you!" and Newton took a liking to her. On the microphone, where the 1,000-plus audience members could hear him, he told the lady "Mother, It's great to have you here tonight, and to show my appreciation, I'm going to do any song you want to hear. Just name it!"
She immediately called out the 1941 ballad "Miss You." Everyone could see that Newton neither knew nor had ever heard of the old tune. He gave a pleading look to the orchestra but no one responded…except Ray, who stood up and began playing the song unaccompanied until, one by one, the rhythm section and the rest of the musicians figured out the melody and chords and chimed in.
It was clear that Newton was profoundly grateful and the whole band realized that they had seriously underestimated this veteran club dater.
Ray was a classic example of the Golden Age of New York club date musicians, whose encyclopedic knowledge of the American songbook was their stock in trade.
– Jack Gale