Met Orchestra Makes Deal
Pension Climbs High in New Contract
Volume CV, No. 11
November, 2005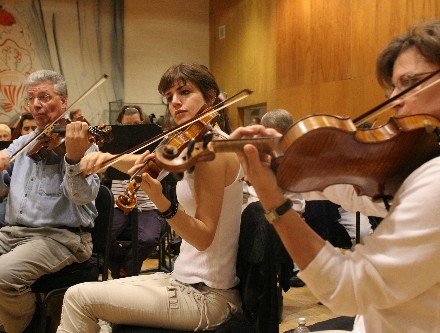 Musicians in the Met Opera Orchestra ratified a new contract that will lead to a big increase in pension payouts. From left, Michael Ouzounian, Sylvia Danburg and Shirien Taylor. More photos by Claire Houston below article.
Musicians at the Met Opera overwhelmingly ratified their new five-year contract, which will lead to a whopping 26 percent increase in pension payouts. Despite a wage freeze on the front end of the contract, musicians achieved wage increases of upwards of 10.5 percent over the life of the agreement, including performance and rehearsal increases and symphonic adjustments.
"Virtually every other symphony has been really challenged on pension in their negotiations; we feel great about this," timpanist Duncan Patton told Allegro. "Playing for the Met is a hard job – the hours that we work; the pressure; the level that we're playing at. To have great pension at the end of the tunnel is pretty special to us." Patton was the vice chair of the musicians' negotiating committee.
The Met's pension formula refers to a "base year salary." Musicians earn pension based on this number. The new contract pushes the base year forward. The effect is that a musician earning the current average pension of $59,000 per year will now earn annual payments of over $75,000. (These figures are averages for musicians eligible for full pension during the term of the new contract.)
Several musicians sang the praises of the new pension payouts.
"The pension increase is quite substantial," Steve Norrell, bass trombonist, told Allegro. "In our industry, our pension is not really comparable with any other orchestra. You work all those years and the pension is the great payoff."
"I think the pension increase is the most fabulous thing we've achieved in our contact in years," said Shirien Taylor, violinist. "Our young members are really going to appreciate it. We've been wanting this for a long time."
"I'm always pleased when we manage to push the pension year up to make the pension current," said Ira Weller, viola. "It makes a big difference; it gives us a pension which is among the best in the nation."
"I am very pleased with the new contract, especially in light of the current financial climate and the financial troubles that many arts institutions are currently experiencing," said oboist Susan Spector. "I am particularly pleased with the significant gains in our pension that the new contract provides and the fact that we made no concessions in our medical benefits."
Traditionally, the Met and Local 802 negotiate early. The current agreement was not due to expire until next year. Negotiations almost broke off this spring when the Met insisted on Sunday performances. However, the opera dropped the demand.
"Everyone has certain concerns for the performance industry right now, so I am certainly happy that we've come to an agreement," said bassist Tim Cobb. "This job is as hard as it gets; it's been hard enough to create a great product night after night without worrying about our contract and our future." Cobb was on the negotiating committee earlier this year.
As part of the agreement, librarians are included in the unit for the first time ever.
"We are thrilled to be considered part of the orchestra in that we've always considered ourselves part of the orchestra," Bob Sutherland, chief librarian, told Allegro. "Previously, we had our own contract. We're very thankful to our colleagues and to Met management for allowing this to be. It means just one set of negotiations. It makes so much more sense." Along with Sutherland, the other librarians are Rosemary Summers and Paul Beck.
Musicians picked up some additional perks in the new contract:
Pre-season room rehearsals will be reduced in length by 15 minutes when there are two rehearsals in one day.
The Met agreed to expand its TransitCheck program to allow musicians to use pre-tax dollars to pay for parking, which will be a boon to those who drive in and pay for the expensive Lincoln Center lot.
The opera will be offering some new services to musicians. It plans to give family-oriented performances during the daytime, especially during holiday weeks. The performances will be short and will take the time slot that would normally be used for rehearsal. Musicians will be paid $350 per performance plus 80 percent of performance overscale for up to two hours.
The committee was chaired by David Langlitz. Duncan Patton was the vice chair who has now stepped up to chair a few items that remain to be negotiated. Other members were Sandy Balint, Kathy Caswell, Javier Gandara, Craig Mumm, Michael Parloff, Jim Ross and Kingsley Wood.
"We are very thankful for the skill and leadership shown by 802 President David Lennon and our attorney Mel Schwarzwald. They were a huge help in getting this done," said Patton.
Further talks on electronic-media issues are pending.
An agreement was also reached on behalf of Met associate musicians adopting equitable economic improvements to the Met regular orchestra contract. Negotiations on a full agreement are expected to commence shortly.
Negotiations on behalf of members of the Met musical staff are also pending.