An interview with Monica Ellis
Volume 123, No. 3
March, 2023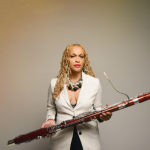 MONICA ELLIS
I started on clarinet in second grade at seven years old. My father, Clarence Oden was a professional saxophone player who had his own band in Pittsburgh, where I grew up. There was a clarinet sitting around the house so even though the Pittsburgh schools started band in the third grade, I was able to start in second grade because I had a clarinet. In the sixth grade I began playing saxophone and piano and I kept up with both through high school. In the eighth grade my band director handed me a bassoon to try and I took to it. I was studying clarinet with a woodwind doubler who suggested I study bassoon with Mark Pancerev, bassoonist with the Pittsburgh Symphony. Once I began to play bassoon with the Pittsburgh Youth Symphony I was hooked and excited about the bassoon. I still play a little alto and soprano saxophone and played some soprano on an Imani Winds recording.
The greatest influences on me were Mark Pancerev of the Pittsburgh Symphony and my parents, Clarence Oden and Marlene Ellis. Also my bassoon teacher at Oberlin, George Sakakeeny and my teacher in NYC, Frank Morelli. The support of my family has always been very important. They made sure I never felt like I was alone; they always stood behind me.
One of my standout experiences was going to Panama twice during Oberlin's Winter Term which is the month of January. A colleague named Nicolasa Kuster, who was a few years ahead of me at Oberlin, founded the Panama program while still an Oberlin student. Oberlin conservatory students would go to Panama to play and teach students there. This planted the seed of community outreach in me. Other standout experiences include various summer festivals where close musical ties are formed and nurtured.
There was always the challenge of being the "other" as a Black bassoonist. I feel I was unaffected by this largely because of the support system from my family and also because I am just not someone who lets naysayers define me.
The more immediate challenges are about Imani Winds making our way in a world where artistic directors always seem to be looking for string groups, not a group of winds. In the beginning, because the group was founded as a wind quintet made up of all people of color, we had a steeper hill to climb to be taken seriously as a qualified, excellent chamber group. But we work hard at excellence because that is what we want, not just because it removes all doubt about excellence. The group has been together over two decades and has always had a culture of excellence because the members expect nothing less.
The culture of excellence is a common element between my family and Imani Winds. It has always just been an expectation. Both have also been a support system for me as I make my way. I am also grateful that my nine-year-old son can see what I am doing, how hard I work and how rewarding it is. He often comes on the road with me.
I love the life I lead.
---
BIOGRAPHY
Bassoonist Monica Ellis is a founding member of the twice Grammy nominated wind quintet, Imani Winds, who for over a quarter century has dazzled audiences around the world with their dynamic playing, adventurous programming and commitment to new works and collaborations.
As the daughter of a jazz saxophonist father and fashionista mother, she was raised in a house full of go-getters. A natural organizer, Monica is the co-artistic and executive director for Imani Winds and their annual Chamber Music Festival and treasurer for their non-profit Foundation. Influential teachers include Mark Pancerev, of the Pittsburgh Symphony, where she was raised, George Sakakeeny at Oberlin College Conservatory (BM), and Frank Morelli at The Juilliard School (MM) and Manhattan School of Music (PS).
She has performed and recorded with dozens of world-renowned artists and organizations spanning genres and styles from the likes of Wayne Shorter to the Chamber Music Society of Lincoln Center. As a celebrated educator, Monica has given masterclasses and solo performances across the country and is on the faculty at Manhattan School of Music and Curtis Institute of Music.
Monica is a frequent commentator on critical discussions regarding race, gender and entrepreneurship in classical music. She is on the Orchestra of St. Luke's Educational Advisory Committee, and is a board member for Concert Artists Guild and the International Double Reed Society (IDRS).
Monica is a Fox Bassoon Artist and plays exclusively on a Model 201.
In 2022, Imani Winds was GRAMMY nominated for its 9th studio recording entitled BRUITS.
Monica religiously watches Jeopardy!, loves home decorating and resides in the historic village of Harlem in New York City with the greatest joy of her life – her 9 year old son, Oden.
---
This interview by Martha Hyde and Sara Cutler first appeared in the March 2023 issue of Allegro, the magazine of the NYC musicians' union Local 802 as part of a feature called "Women's Lives, Women's Stories"