Monk's Union
New bio sheds some light on Local 802 history
Volume CX, No. 2
February, 2010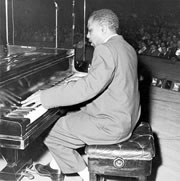 Monk performs at the Salle Pleyel for the Paris Jazz Festival ("Salon du Jazz"), June 1954
(photograph by Marcel Fleiss; used courtesy of Marcel Fleiss, all rights reserved).
Excerpted from "Thelonious Monk: The Life and Times of an American Original" by Robin D. G. Kelley. Copyright © 2009 by Robin D. G. Kelley. Excerpted with permission by Free Press, a division of Simon & Schuster, Inc. All photos provided by Free Press, a division of Simon & Schuster, Inc.
Nine days before Christmas in 1941, a card addressed to Thelonious Sphere Monk arrived in the mail.
He had only recently adopted his maternal grandfather's name as his own middle name. Uncle Sam knew it, and wanted him.
The return address, 155 West 65th Street, was his local draft board. He was classified 1A, available for unrestricted military service.
Monk half-expected the news since registering for selective service in October 1940, and receiving a questionnaire just two months before Pearl Harbor. Little over a week had passed since the attack.
The United States and Britain had declared war on Japan the next day, and on Dec. 11, Germany and Italy declared war on the United States.
Hitler's troops already occupied France, Poland, Greece, Czechoslovakia, and major parts of the Soviet Union, and fighting between Allied and Axis powers spilled into North Africa.
As far as Uncle Sam was concerned, Monk was an ideal candidate for service: 24 years old, five feet, ten and a half inches, 168 pounds, good physical condition, and unemployed.
Of course, there was the matter of color: The military was segregated and black troops were largely relegated to noncombat service roles.
But neither patriotism nor a paycheck could persuade Thelonious to don a uniform and serve his country in this fashion.
He wanted to play music and take care of his mother; toting water, building bridges, and digging trenches for his fellow white troops in a Jim Crow Army simply did not appeal to him.
The letter did not include his induction papers, and Monk was able to push the draft to the back of his mind.
The more immediate problem was finding work.
Having lost his gig as house pianist at Minton's, Monk no longer enjoyed a steady income.
Thanks to his mother, he did have a roof over his head, plenty to eat, and a decent piano at home.
If it weren't for Barbara's continued support he might have had to join the world of wage work.
Instead, Monk wrote music, practiced, and took whatever gigs he could find.
He played in a band led by Kenny Clarke at Kelly's Stable on 52nd Street for a couple of weeks, but didn't work much more.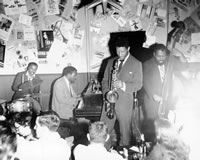 Thelonious Monk with Sonny Rollins (tenor sax), Roy Haynes (drums) and Ahmed Abdul-Malik (bass) at the Five Spot Cafe, Sept. 1958 (photograph by Marvin Oppenberg; Music Division, the New York Public Library for the Performing Arts, Astor Lenox and Tilden Foundations, all rights reserved).
Meanwhile, trumpeter Cootie Williams – who had formed his own orchestra late in 1941 after leaving Benny Goodman – had adopted Monk and Clarke's "Epistrophy" as the opening and closing theme for his performances.
Williams's band appeared regularly at the popular Savoy Ballroom, introducing the song to a larger audience.
Williams recorded "Epistrophy" under the title "Fly Right," in Chicago on April 1, 1942, although two decades passed before it would be released.
One of Monk's collaborators from Minton's, Joe Guy, was in Williams's band and participated in the recording session. The pianist was another Minton's regular – Ken Kersey.
Had Monk heard Williams's version, he would have recognized the melody but not much else.
The arrangement is classic Cootie – danceable and typical of the style popular at the Savoy Ballroom.
Monk would have jumped at a chance to join Cootie Williams's Orchestra, or any name band at the time, but few bandleaders knew what to do with such an adventurous pianist.
Ideally, Monk would have preferred to lead his own band and record his own songs, if only he could find a record label interested in his music.
But even that prospect was cut short on Aug. 1, 1942, when the American Federation of Musicians, under president James Petrillo, declared a strike against the record industry.
All union musicians were banned from engaging in any recording activities.
The AFM wanted the record labels to pay artists royalties every time their records were played on jukeboxes or similar devices in restaurants, clubs, bars, and anywhere else live music might be played.
The union argued that "canned music" took away the musicians' livelihood.
For Decca, Capitol, and many small record labels, the strike lasted a little over a year, but major labels such as RCA Victor and Columbia did not settle the dispute until November of 1944, losing quite a bit of money in the process.
Things seemed to be looking up for Monk when Lucius "Lucky" Millinder hired him to replace pianist Bill Doggett during an engagement at the Savoy Ballroom in early August.
Dizzy Gillespie was playing with Millinder at the time and he lobbied his boss to hire Thelonious.
(Monk, however, always believed Dizzy had ulterior motives: "He got me hired on piano so's he could be around me" and therefore pick up more of his ideas.)
Monk's old pal Nick Fenton was also in the band.
It was a huge gig for Monk; Millinder's orchestra was one of the hottest black dance bands in the country.
Featuring Sister Rosetta Tharpe singing "spirituals in swing," the band was known for its excellent arrangements and talented players, who were expected to cut a few choreographed dance steps on the bandstand.
Despite the potential for long-term employment, however, the gig seemed doomed from the beginning.
According to the band's drummer, Panama Francis, Millinder simply detested Monk's playing.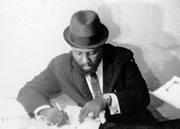 Monk backstage at the Village Gate, 1962
(photograph by Eddie Locke; used by permission, all rights reserved).
"Monk came one night," he recalled, "and played three or four pieces with us, after which Lucky told him to shove off and never come back." In truth, Monk worked for a week at the Savoy before Millinder fired Monk, without notice and without pay.
Millinder's actions prompted Monk to go to the union and file his first complaint against an employer.
At a Local 802 trial board hearing on Sept. 8, 1942, Monk testified:
"I was working at the Savoy Ballroom and the defendant [Millinder] let me go. He worked at the Howard Theatre. He didn't pay me for the last week at the Savoy. Sunday night another man play; he just told me I was through. The scale was $38 for six days and I worked 7 days, and they had three more days to go at the Ballroom."
Millinder never showed up to the hearing to testify on his own behalf, although he was in town for an engagement at the Apollo.
Unsurprisingly, the board sided with Monk, ruling that he was entitled to $63.33 in back wages for ten days of employment at the Savoy.
During the weeks that followed, Monk was back to playing at dingy watering holes, house parties, and restaurants, though he still hung out at Minton's on Monday nights.
Toward the end of September, an obscure saxophonist named John Harley hired Monk to play at a Chinese restaurant in Harlem for five dollars a night, six nights a week.
Nothing about their engagement went well.
After about a month of miscommunication and mutual recrimination, Harley fired Monk, initiating a series of claims and counterclaims they both brought to the union.
According to Harley, Monk was habitually late and often deliberately so.
He recounted one story in which Monk brought his girlfriend – Rubie Richardson – and the owner refused to give the couple a half-price discount on food.
Monk stormed out of the place and did not return until 11, an hour after the first set was scheduled to begin.
"I was looking all over for a piano player and I had to play piano until he came in," Harley testified. "I was ordered to get rid of him."
Another night, Monk didn't show up at all and Harley had to hire "a blind pianist" to replace him.
Harley paid the blind pianist out of Monk's measly wages.
What annoyed Harley most, however, was when Monk came to work drunk or high on reefer and fell asleep at the piano.
He even claimed he saw Monk smoke marijuana on the bandstand.
Fed up, Harley gave Monk two weeks' notice, but as his erratic behavior only worsened the owner told Harley to let him go before the two weeks were up.
Monk responded with humor, accusing Harley of being "a better liar than I am."
The real issue, he claimed, was the working conditions.
"The reason he got mad," Monk explained, "is because he works the musicians to death. He plays an hour and a half without stopping. I have to play every minute[.] I said we are playing too hard for this little bit of money. He was working me to death while he stood up there with his horn. The reason he fired me is because I said we were working too hard and should rest some of the time. He said to me I hope you do get off the stand so I can fire you at the end of the night and then he said you are fired and it was in the middle of the week."
The case was held over until Nov. 4, at which time Harley produced two witnesses, Shadrack Dobson and Charles Lee, to attest to Monk's character and undependability.
Lee, a tenor player who hung out at Monroe's and would go on to make a couple of rhythm and blues recordings with Al Tinney, was openly hostile to Monk, stating, "I wouldn't want Monk on the job."
Dobson, a bassist who sat in with Monk at Minton's on Monday nights, was a bit more charitable, though he agreed that Thelonious frequently fell asleep on the job.
In the end, both witnesses concluded that had it not been for the owner of the restaurant, Harley probably would not have fired Monk.
The trial board took no action, and both parties agreed to go their separate ways.
Monk was out several days' pay, and his confidence in the union began to wane.
But Monk would forever be sensitive to the exploitation of musicians, especially at the hands of club owners and record labels.