Music From the Heart
Gigging for nursing homes requires versatility and soul
Volume CXI, No. 1
January, 2011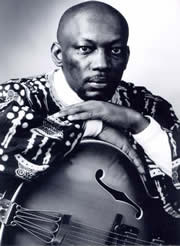 Conroy Warren
How old is old? Local 802 members Richard Frank and Conroy Warren are at the height of their powers, but the nursing home residents they entertain consider them youngsters.
Have you ever considered playing at a nursing home? Most nursing facilities organize programs to provide residents with entertainment and activities with therapeutic benefits.
Frank, who spent most of his early musical career playing for Broadway musicals and doing studio work, discovered the nursing home venue when studio work became scarce in NYC.
Warren, a Connecticut resident who is a graduate of the Berklee College of Music, was looking for ways to add to his income – he is a music education consultant – when he expanded his performance venues to include nursing homes.
These performances are supplemental sources of income for trained musicians who can create a rapport with a live audience in an intimate setting.
The gigs are union jobs funded with support from the Music Performance Trust Fund.
And while the technical skill is important, the ability to connect, and to entertain, is fundamental.
It is very different from studio work or live performance as part of an orchestra. Some musicians cannot make the transition.
Twenty-five years ago, Frank had little competition. Now, he says, there are a number of trained musicians who make part of their living from this.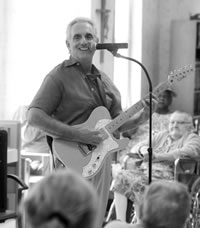 Local 802 member Richard Frank entertains nursing home residents.
Photo: Walter Karling
Both string men entered professional music as guitarists. They added singing to expand their ability to entertain an audience.
Warren joked he plays and sings, but doesn't get paid for the singing.
"At nursing homes, the audience responds to the entertainment factor. It's really about rapport," Warren told Allegro.
"Performing doesn't automatically guarantee that," Frank said. "The whole point of entertaining [these] audiences is that they need stimulation" to engage their interest.
Frank specializes in American popular music stretching as far back as the 1920's.
His mother is 99; he knows what music her generation enjoys.
Songs that prompt audience members to respond to the beat, sing along or get up and dance, tell him what to play.
He can be sure that they will enjoy, and often request, standards by Rogers & Hart, George & Ira Gershwin, Irving Berlin and Cole Porter.
He lives on the Upper West Side and regularly performs in several Manhattan venues, but also plays the suburbs – two very different audiences.
He also finds differences in audiences at senior centers and assisted-living facilities compared to those at nursing care facilities.
One thing is constant; if the audience is engaged and entertained, they reward the performer with enthusiastic participation.
Warren, a native of Antigua, performs calypso, jazz and American pop music, primarily in the tri-state area.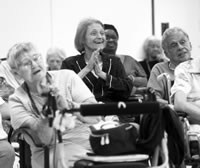 Residents at the Kateri Residence on the Upper West Side enjoy a perfomance of live music.
Photo: Walter Karling
"I try to perform songs they need to hear, songs they want to hear, and things I want to share. I might do an old standard with a Caribbean feel to it," he said. "If you are down, it will raise you up. Patriotic songs are vital to my presentation. Residents look forward to hearing them. I usually start with 'Americat the Beautiful' and end with 'God Bless America.'"
Warren said he must be able to be an accompanist and to include songs that they can sing – participation is part of the therapy.
Frank agrees; he "make[s] the audience sing along." To encourage that, a big part of his routine is to take requests.
This demands a vast repertoire and guarantees that he never entirely duplicates a program.
Some songs are requested over and over, especially by audiences for whom he has been playing for 20 years or more.
"Let Me Call You Sweetheart" is a hands-down favorite.
Warren said his programs are usually organized around seasonal holidays. However, the big thing at nursing homes is birthday parties.
Warren presents a monthly birthday party at a nursing home in Harlem. He says, "The important thing is to make it festive, make it a party."
Warren recalled setting up for a performance at Bainbridge Nursing Home in the Bronx when a staff member informed him that a resident wanted to "sit in" with him.
The resident turned out to be Dakota Staton, a jazz and pop singer whose heyday was in the 70's. It was her first day as a resident of the facility.
"She blew me away!" he said. "I was living in the Bronx at that time so I went straight to the Wiz (a record store) after leaving the nursing home to pick up one of her CD's." He said Staton was one of the greats, if under-appreciated.
She sang "Let it Be Me" and "September in the Rain." He lost track of her for a while, but when he performed at Isabella Geriatric Center in Upper Manhattan, he saw her one last time.
"I'm so happy I went to see her that day because she died soon after," he said.
Frank is looking forward to an upcoming gig at the Actors Home, across the river in New Jersey.
The audience could include some of the folks he backed up while they sang and danced shortly after he first got his union card in 1965.
When he plays a nursing home, Warren involves not only residents but doctors, nurses, kitchen staff and custodians – even visitors. He maintains that happy staff members are a benefit, too.
He often prescribes "Conroy Warren's Therapeutic Limbo."
"I tell them, the same way you came into this room is the way you're going to go under the stick," he said. "It's about being inclusive, doing whatever you can do and making the best out of it."
"I do a set of waltzes for older crowds," said Frank, "and dancing does occur." Although it is very rare to have everyone dancing, at senior centers and assisted living centers many in the audience get up to dance.
"Sometimes they just get up and move about. If someone gets up and dances with her walker, I know I have entertained," Frank said.
Warren said that even he has a good time.
"I am blessed and grateful in many ways," he said. "Folks always want me back. I do have fun…At the end of the day, you give thanks and praise for it."