Musical Trailblazer
Volume 115, No. 1
January, 2015
A tribute to Edward Simons, who – along with his wife Janet – made music flourish in Rockland County
My father, Edward Simons, a member of Local 802 since 1946, is turning 98 on February 1. It is very possible that he is the oldest orchestra conductor in the world. Local 802 has been a big part of that long history, which prompted this brief trip back through his professional career. Besides being a conductor, my father is a violinist and teacher. He and his late wife Janet, a violist and pianist, were a powerful musical team who spread their love of music far and wide in Rockland County and beyond.
In 1944, my parents were stationed in Texas. My father was playing violin and bass drum in the Navy and about to be transferred to Virginia. My mother decided their home base should be New York City. Mom was seven months pregnant with me as they headed north. Two years later, my little brother came along and Dad came home to our Manhattan apartment after he was discharged from the Navy.
In 1946, Mom and Dad joined Local 802, opening the doors to playing in the pits of Broadway shows. This led to my father going on tour twice with the American Ballet Theatre, conducted by Max Goberman. While on tour, Dad discovered where the scores for the ballets were kept on the train and snuck into that car to bring a few of them to his hotel room. One of his roommates saw him doing that and told Max, "Ed's been looking at the scores!"
Max asked Dad if he wanted to conduct a ballet, and my dad said, "Sure!"
"When's your birthday?" Max asked.
"February 1," my dad answered.
"O.K.," said Max, looking at the tour schedule. "On February 1, we'll be in Denver – and you'll be conducting!"
He then gave Dad a 10-minute conducting lesson, which is all he ever had, but apparently Dad impressed Max. When the tour was over, Max opened "Where's Charley?" on Broadway but planned to leave after two weeks and handed the conducting job over to Dad. When that show closed, Dad got conducting offers for several other Broadway shows, all of which lasted a total 25 years. The shows included "Wonderful Town," "Two on the Aisle," "Fanny," "Bless You All," "Tovarich," "My Fair Lady" and "Camelot."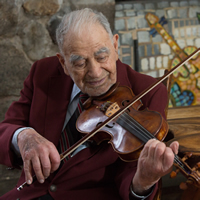 In 1950 we moved to a cooperative community in Rockland County called Skyview Acres. We were 40 minutes from the city. It didn't take long for Mom to realize that our school music program only taught brass and winds. There were no strings at all. She became the instigator to reverse this band-only trend. Four years later, she succeeded with the help of other musician friends (including Itzhak Perlman's Juilliard teacher Dorothy DeLay and her cellist sister Nellis Harvout).
One of the first things Mom did was to take on the entire third grade at our two-room schoolhouse and teach those kids for free for a few years. When they entered elementary and middle school, parents asked, "Where are the string teachers?" With students wanting lessons growing exponentially, Mom decided it was time to start a music school and opened the Community Music School (now the Rockland Conservatory of Music) in Spring Valley in 1956.
Dad had joined a small gathering of musicians in 1952 called the Suburban Symphonette, of which he quickly became the conductor. It grew from eight members to over 50 in eight months and was renamed the Suburban Symphony (now the Rockland Symphony Orchestra), which he still conducts. I call my parents the music gods or musical Johnny Appleseeds of Rockland County. They were trailblazers. The music school and the symphony became the launching pads for a multitude of endeavors, and were also very intertwined in their joint missions. Dad taught at the music school, Mom played in the symphony. Students at the music school ended up in the symphony, Dad taught a symphony of kids at the music school. They both were always thinking beyond private lessons. From the get-go, Mom also wanted kids who couldn't afford lessons to have the opportunity to study, so she started a scholarship program. Benefit concerts raised money to cover the cost of those lessons.
Many notable NYC pros and members of Local 802 – such as violinists Charles Libove and Nannette Levi, cellist Bill Harry and others – traveled to join Mom and Dad in chamber music concerts. One of the students receiving scholarship lessons was Alicia Svigals, who went on to found the Klezmatics. There are many other music school students who made music their lives as well. Local 802 member Stan Kurtis, who appeared in the movie "Scent of a Woman" with the Tango Project, was one of Dad's students. Stan told me, "From the age of eight, I regularly heard world-class playing at chamber music evenings and symphony concerts conducted by Ed. They made a lasting impression on me and were the foundation for my continuing studies at Juilliard and becoming a professional musician."
Jon Klibonoff was another of Dad's students: he became a concert pianist. Many others became teachers and performers.
Highly respected musicians from Rockland and the city were drawn to the philosophy of the music school and attracted by Dad's prowess on the podium. They wanted to teach at the school and play in the orchestra. Dad was so loved and respected as a conductor that he began to receive big offers – which he turned down, choosing family and community over fame. I'm convinced Dad could have been a famous conductor, but he was more interested in building his reputation locally with my mother. My brother and I are very grateful for that!
Nonetheless, many other opportunities opened up: a stint on Sesame Street with Dad playing the violin (search for it on YouTube), annual Mozart birthday concerts in Boston, even a gig conducting an orchestra in Zurich.
But with all this going on, the lifelong passion for both of my parents was always playing string quartets with musician friends whenever possible. Folks from the city loved to come out to our country home to play quartets with them on the weekends.
Thanks to Dad's persistence, the music school eventually hooked up with the local Rockland Community College. Students were able to take lessons and receive college credit without having to pay extra tuition. Dad also became a teacher at RCC, first teaching music appreciation, then rock and roll! He also taught an adult ed music appreciation class to seniors for many years, which only ended two years ago – when he was 96. The seniors in his class were always a whole lot younger than him!
Dad never picked up a college degree himself, yet he has taught in colleges many times, including a stint as an assistant teacher in the music department at Michigan State College in 1939 (which, by the way, is where he met my mother, who was a music major there).
Local 802 has provided many wonderful opportunities for both of my parents, most notably when my father was accused in the 1950s of being a Communist sympathizer by the House Un-American Activities Committee. A clever lawyer from Local 802 defended Dad and he never had to appear before the committee. His career was not interrupted. We are all very grateful to Local 802 for that gift and for all the rest it has provided all these years.
I am writing a book about my parents called "My Father Wakes Up Laughing." Charting their careers has been challenging because of their many musical endeavors spanning over 60 years. But I feel very strongly that their story needs to be told. Their legacy is not only that they were very accomplished musicians, but that they approached all they did with an intense loving energy which endeared them to so many.
I'm convinced, along with many others, that the music Dad lives and breathes is what keeps this irresistible man going and going. He and my mother are truly Rockland County treasures. I feel very blessed to be their daughter!
The music that started in the Simons family has passed down four generations. I teach piano privately and also a music class called Music Together. My daughter plays both classical and jazz clarinet; as a senior in high school, she performed the Mozart clarinet concerto with Dad's orchestra. My grandchildren are very serious musicians: 18-year old musical twins who play viola, piano and voice; a 16-year old bassist brother; and a 15-year-old violist cousin of theirs. They are very much invested in making music their lives and Dad is thrilled to follow these kids as they mature. Recently, we had a chance for a multi-generational performance of the Mozart G-minor piano quartet with Dad on violin, me on piano and the great-grandkids on cello and viola. That was very special.
Thanks Mom and Dad, for all you did. It's been a wonderful, joyful ride.