Negotiations Off Broadway and Beyond
Volume CVII, No. 4
April, 2007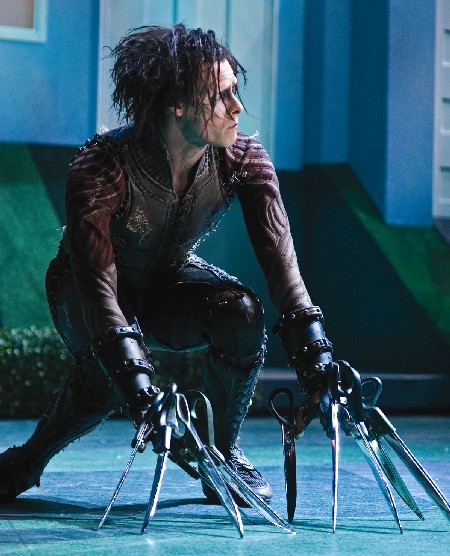 "Edward Scissorhands" was performed under an 802 contract at BAM. Photo by Bill Cooper.
Since the beginning of 2007, Local 802 has negotiated a number of new agreements in various venues, both Off Broadway and in an area that I term "Beyond Broadway" (see my article in the February issue). These new agreements are highlighted below.
"The Coast of Utopia-Salvage" — the third of a three-part series going into the 1,067-seat Vivian Beaumont Theatre at Lincoln Center — is employing one musician as music director. The music director earns $137.38 per performance. However, if fewer than six performances are performed per week, the per performance scale is $150. The rehearsal scale for a 40-hour, six-day week is $1,247.61 and the premium for music director is 50 percent on performances and rehearsals. The musician also earns an on-stage and in-costume premium of $117.48 per week. In addition the musician earns $58 in health benefits, 10 percent pension and 6 percent vacation.
"Edward Scissorhands" is being performed in the 2,075-seat Howard Gilman Opera House, a theatre that is part of the Brooklyn Academy of Music. Thirteen musicians are performing in this production, including the conductor. Four of the musicians are traveling with the show and nine are hired locally. All musicians are covered by a Local 802 agreement for performances and rehearsals. The musicians are being compensated according to the Broadway contract terms except that health benefits are being paid at a cap of $70 per week and the pension is paid at 9 percent. The production is scheduled for three weeks of performances. Initially, this production was slated to be performed with recorded music. We are very pleased that BAM was able to turn this into a live musical production.
"Xanadu" is scheduled to open at the 597-seat Helen Hayes Theatre in April. This agreement is based on the Broadway agreement at 85 percent of those contractual scales for rehearsals and performances. However, all premium percentages remain intact, except that the playing contractor and associate conductor earn a 15 percent premium. Music prep pays full Broadway scale and benefits.
"Bill W and Dr. Bob," the true story of the founding of Alcoholics Anonymous, is being produced at the 399-seat theatre at New World Stages, a five-theatre complex in Midtown. There is one musician in the production — the music director — who is paid according to the terms of Local 802's area standards/commercial Off Broadway terms (available on the 802 Web site). For any audience members reading this, take note: the producers are offering special $1 tickets for approximately 20 seats per performance.
"Gutenberg, The Musical" is being preformed in the 170-seat Actors' Playhouse in the Village. The last agreement that 802 negotiated at the Playhouse was for "Naked Boys Singing." "Gutenberg" provides a wage increase over "Naked" of 4 percent. Pension pays 5 percent and the health benefits — an increase of 20 percent over the previous agreement — are capped at $70 per week. The music director is the only musician in the production. The theatre is not considered to be an Off Broadway house.
"Leap of Faith," a pre-Broadway reading, will pay at the Broadway rehearsal scale with full health and pension benefits under the current terms of that agreement. "Rock of Ages," a developmental reading, is under a music services agreement. Musicians will earn $1,000 for a four-day rehearsal week; the music director will earn an additional premium of 50 percent. Health benefits are $8.75 per day per musician and pension is 8 percent.
"110 in the Shade" is currently in rehearsal and is due to go into previews on April 13. The production employs 16 musicians, including the conductor. The terms of the agreement were negotiated with Roundabout Theatre Company and are available on the 802 Web site.
"Lovemusik" begins previews at the Biltmore Theatre on April 2 and is under the Manhattan Theatre Club contract (again available on 802's Web site). The show employs 10 musicians plus conductor. There are rumors that this production may transfer to Broadway.
All productions mentioned in this article include identity of product rights for the musicians, except the two readings. (Readings, because of their early developmental stage, do not normally have that provision.)
SNEAK PREVIEW
"American Girls Review" and "Bitty Bear" negotiations have been concluded and will be ready for signature soon. "Fantasticks," "Altar Boyz," and "Naked Boys Singing" are all up for new agreements. "Evil Dead" continues to be troublesome and may end up with an unfair labor practice charge against the General Management Company.