New Faces at 802
Volume CVI, No. 4
April, 2006
A REP RETURNS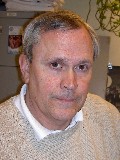 Joel LeFevre passed his six-month probation on March 20 and joins the Recording Department as a business rep and recording organizer. Joel returns to Local 802 after a 20-year absence during which he worked in various organizing and negotiating capacities in various Teamster locals in New York. His experience includes many years as a pension fund trustee, health plan administrator and local union officer. His union background includes negotiating over 150 contracts, handling grievances and arbitrations, and leading successful organizing drives involving hundreds of workers. He led the drive that resulted in Hank Lane becoming a signatory to the 802 club date agreement. He brings experience in training rank-and-file and staff in communication and organizing techniques and he is a consultant to numerous unions on training for organizing and political action. He is a founding member of the Working Families Party and is part of the activist leadership of the party in Westchester County, where he lives with his family.
---
MUSICIAN, MECHANIC AND MORE
Katrina Monta passed her six-month probation on March 4 and joins the Local 802 staff as a business rep and recording organizer in the Recording Department. Previously, she served as the Recording Department's administrative assistant for nearly two years. Thus far, Katrina has enjoyed her work at Local 802, finding the job of serving recording musicians to be rigorous and rewarding.
She studied sound recording and classical violin at Bennington College in Bennington, VT. She also plays the guitar, bass, piano and accordion. In addition to her love of music, Katrina is an amateur motorcycle mechanic and woodworker.