New Orleans Keeps the Beat Alive…
Jazz Appreciation Month
Volume CVIII, No. 4
April, 2008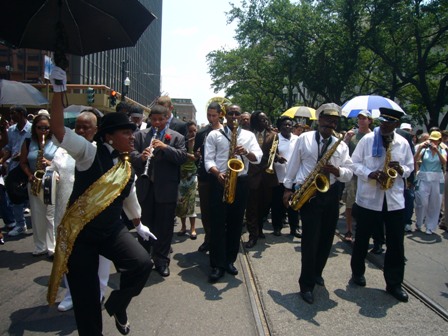 Jazz funeral procession for jazz clarinetist Alvin Batiste in May 2007. Batiste taught Branford Marsalis and others.
All photos by Matt Sakakeeny.
April is Jazz Appreciation Month, and, yes, there are still brass bands playing in the streets of New Orleans, marching in traditional jazz funerals and second line parades through the back-a-town neighborhoods and main thoroughfares of the city.
And yes, there are still younger musicians coming up through the tradition, learning the horn parts to "Liza Jane" and "Closer Walk with Thee," and beating the cymbal with a bent coat hanger or screwdriver.
But traditions in New Orleans never stand still: they are always moving, restless, marching through new territory and incorporating whatever they find.
In the beginning, it was blues, sanctified hymns, Latin rhythms, military marches, and light classical fare. In the 1930's, it was swing, and the 60's, R&B.
Today's brass bands are in dialogue with funk, hip-hop, and rap. The music is faster and funkier and the rhythm section has moved from the back row to center stage, now equal in stature to the front line of trumpet, trombone, and clarinet that has provided the thick texture of collective improvisation which we instantly recognize as "New Orleans."
This transformation — sometimes referred to as a brass band renaissance — was sparked by the Dirty Dozen Brass Band in the 1970's and has been taken in new directions by the bands that rule the streets today: Rebirth, Soul Rebels, Hot 8, and the Free Agents.
The role of the sousaphone in the revitalization of brass band music cannot be overstated.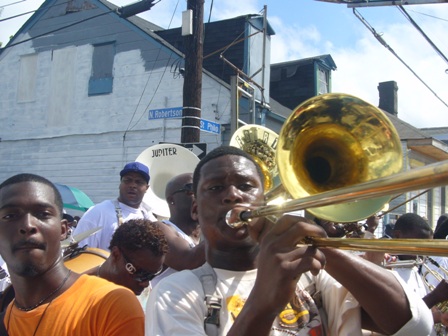 A youhg trombone player blows at the jazz funeral for tubist Kerwin James, who was a member of the New Birth Brass Band. James died in 2007 at the age of 35.
It is, after all, the sousaphone that differentiates the New Orleans brass band from other forms of jazz, and its rise in prominence follows the trend in funk and hip-hop to emphasize the bass frequencies above all others.
At a second line parade, sousaphone players call the next song simply by playing the bass line, which the other players instantly recognize, and virtually every song on every brass band CD begins with the sousaphone playing an ostinato figure that then repeats ad infinitum.
What else are today's brass bands up to? Telling it like it is.
Though vocals have always been a part of brass band repertoire, the hymns and popular tunes of yesterday have been augmented with original songs expressing the struggles that face African-American youth.
The first "message songs" came from Rebirth, beginning with the anti-crack plea "Leave That Pipe Alone" (1989) and most forcefully with "Freedom" (1991), an anthem of universal black suffering that remains required learning for up-and-coming musicians:
Whoa. Free my people. Let my people go.
No more teardrops. No more teardrops.
Whoa. Free my people. Let my people go.
It was the Soul Rebels who broke open the brass-band-message-song genre with "Let Your Mind be Free," a stunning collection of Calypso-inflected, hip-hop-raised original songs. The one-two punch of Tannon Williams' dancehall rhymes and Lumar LeBlanc's spoken-word raps pushed brass band music into unfamiliar territory, known fleetingly as "brass-hop." This hip-hop-brass-band hybrid no longer needs a distinct name because it has become the new standard. Still, no one following in Lumar's footsteps can match his conscious raps:
Free your mind with education.
Help to build a better nation.
Stop killing for recreation.
Let you mind be free.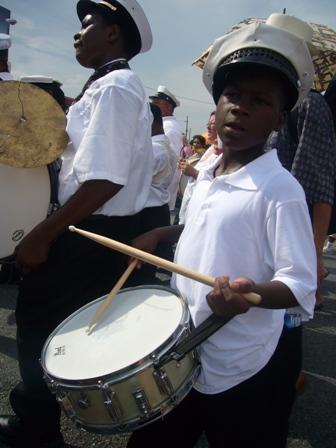 Young drummers performing in the Black Men of Labor Social Aid & Pleasure Club second line parade, September 2007.
More recently, the positive messages of uplift that were integral to the emergence of rap and hip-hop have become outmoded, replaced with unflinching depictions of street life and struggle.
Hot 8 trumpeter and rapper Big Al Huntley is light-tongued and fierce, and when he sings about the murder of his bandmate Joseph Williams by New Orleans police officers, the effect is overpowering:
You bang, we bang back
You bang, we bang back
You bang, we bang back
Why'd they have to kill little Joe?
They gone and killed Joe
[officers] Scruggs, Carroll, and Little
[mayor] Ray Nagin let 'em go
Why'd they have to kill little Joe?
In the wake of Katrina, brass bands have responded with new songs that express sentiments of abandonment, anger, and hope. At parades and parties, audiences enthusiastically sing along to "We Made It Through That Water" by the Free Agents, despite the fact that the song has never been recorded. The melody is based on the spiritual "Wade in the Water" but the words are new:
Please Mr. Officer, don't shoot.
'Cause I ain't in a rage, I was stuck up on that roof
They tryin' to make an excuse but they runnin' from the truth
We know they blew them levees, man, but we ain't got no proof
Though brass band music continues to build upon the sounds and styles of the past, the music has remained vital by continually reinventing itself to express the experiences of new generations of New Orleanians. The sousaphone keeps blowing, the drums keep rolling, but the game has changed.
Matt Sakakeeny is a Ph.D. candidate in ethnomusicology at Columbia University and is completing his dissertation, "Instruments of Power: New Orleans Brass Bands and the Politics of Performance." He lives in New Orleans and has accepted a position as assistant professor of music at Tulane University.