Now's the Time! Jazz Campaign Gets Cooking
Volume CIX, No. 9
September, 2009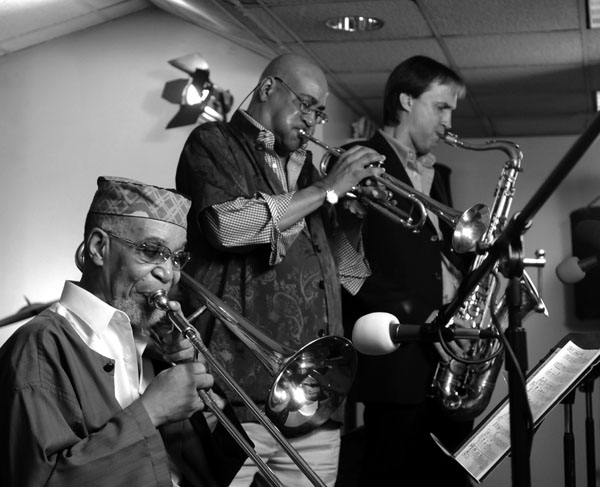 From left: Benny Powell, Jommy Owens and Sean Lyons. All photos by Walter Karling.
Are you ready for Sept. 29? Local 802's Justice for Jazz Campaign begins a major initiative on Sept. 29. It's time for New York City's jazz clubs to do the right thing! For all the details, see www.JusticeForJazzArtists.org.
Musicians and their supporters came together on Aug. 17 when Local 802's Justice for Jazz Artists campaign met up with the Jazz Foundation's Monday night jam session.
The outcome of the evening was not only great music but also a video to support the campaign's efforts to win benefits for jazz musicians.
Audience members were treated to the sounds of Billy Taylor, Randy Weston, Benny Powell, Jimmy Owens, Junior Mance, Danny Mixon, Keisha St. Joan, Vinnie Knight, Bernard Purdie, Thiago DeMello, Kenny Davis, and many others.
Bassist Bob Cranshaw, who served as emcee for the evening, made sure the program ran smoothly.
"This is a great evening for jazz," said Cranshaw. "We're on a campaign to improve the lives of jazz artists and we're not going to stop until we're successful."
Following a moving solo rendition of "Body and Soul" (with the first 16 bars played only with his left hand), Billy Taylor addressed the audience, which was composed mainly of fellow jazz musicians.
"We, the musicians, have to make the difference in this effort," Taylor said. "I've gone to too many benefit performances for musicians who did not have the security of a pension and health insurance."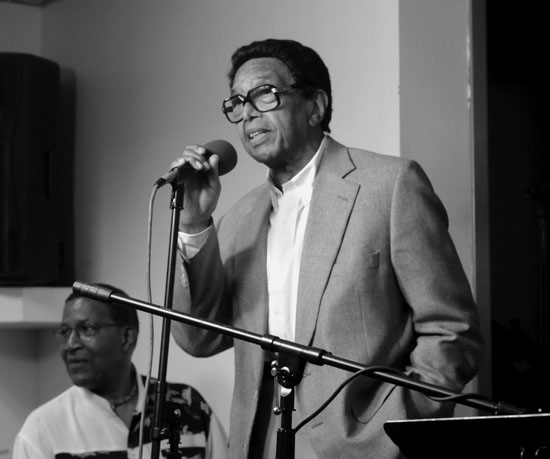 Dr. Billy Taylor speaking with Bob Cranshaw looking on.
Taylor added, "We can win if we put our body and soul into this effort."
Recording Vice President Bill Dennison told the audience, "Jazz performance makes our city unique. It's a jazz festival every night in New York. We know jazz is an important contributor to our city's economy and we also know that all of these wonderful musicians, who make it happen, deserve the right to health care and to retire in dignity."
Dennison, who supervises the union's jazz department, added, "We believe that our city's world-famous jazz clubs should make a fair contribution to these musicians' benefit funds."
The union's concept is straightforward.
Two years ago, Local 802 succeeded in repealing an 8.375 percent tax on music admission that jazz clubs and other venues had been required to pay to the state.
This money – which clubs no longer have to pay – could painlessly be paid into the musicians' pension plan at little or no cost to the club owners.
The 2006 repeal of the tax was achieved through an extensive lobbying effort by Local 802 with the sponsorship of Assemblyman Denny Farrell, chair of the Ways and Means Committee.
Trumpeter Jimmy Owens composed and performed two special songs for the evening, titled appropriately "Yes, Let's Make it Real" and "Justice for Jazz Artists."
Owens, with a rhythm section of Danny Mixon, Kenny Davis and Bernard Purdie and with Benny Powell on trombone, Sean Lyons on sax and a vocal group led by Fran McIntyre, had the crowd feeling the vibe for justice.
Owens told the audience, "It's time we had better treatment for jazz artists in America – and it's possible through the Local 802 and AFM health and pension funds."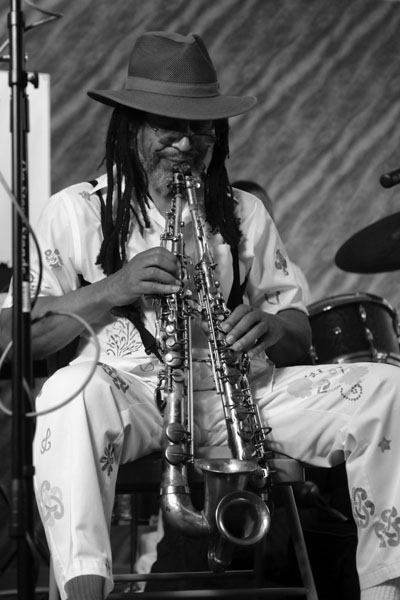 George Braith
Keisha St. Joan also composed and performed her own composition for the evening, "Justice for Jazz Musicians." She was accompanied by Rudy Lawless on drums, Hide Tanaka on bass, Steve Elmer on piano and Don Hanson on sax.
A special treat was the performance by a trio of young players led by Daryl Johns, a 13-year-old bassist and son of drummer and 802 member Steve Johns. They won a hearty round of applause.
The coalition supporting the Justice for Jazz Artists campaign includes the Jazz Foundation of America, St. Peter's Jazz Ministry and the New York Central Labor Council.
The campaign is also endorsed by political leaders including City Controller William Thompson and former Mayor David Dinkins.
Over 1,200 professional musicians have signed our online petition in support of the jazz campaign. You can help too by going to www.JusticeForJazzArtists.org.