Off Broadway Nonprofits Renew Contract
Negotiations Roundup
Volume CVII, No. 1
January, 2007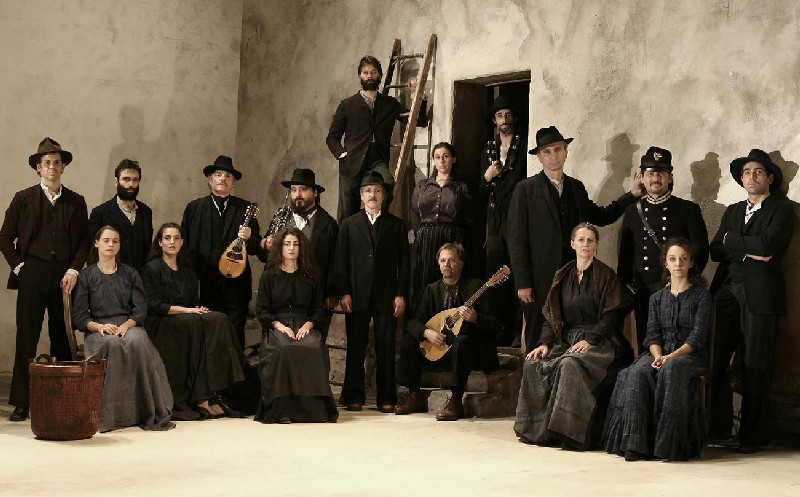 The New York Theatre Workshop, a signatory to 802's contract with Off Broadway nonprofits, recently produced "KAOS," featuring 802 musicians John T. LaBarbera (mandolin), Irving Grossman (trumpet), Richard Sosinksy (mandocello) and Music Director Jill Jaffe (not pictured).
In November, the Executive Board ratified a new four-year agreement with four major nonprofit theatrical companies: Second Stage, the Joseph Papp Public Theatre Company ("the Public"), Playwrights Horizons and New York Theatre Workshop. The companies own ten venues covered by the agreement.
All four companies have a reputation as very professional organizations producing many fine theatrical productions. Over the years these Off Broadway companies have moved many of their greatest successes onto the Broadway stage.
For instance, "Rent," "Grey Gardens," and "The 25th Annual Putnam County Spelling Bee" — all of which are on Broadway now — were originally produced at the nonprofit theatres. And one of the Public's early successes — "A Chorus Line" — is now being done as a Broadway revival.
The Public has moved a total of 49 productions to Broadway including, most recently, "Caroline, or Change."
Musicians who perform in these venues not only get the benefit of a union contract, but the "identity of product" clause gives them rights to the work if it moves to Broadway. (Sometimes this clause has been challenged, such as when "Caroline, or Change" moved to Broadway. But because the clause existed, Local 802 was able to negotiate a buy-out package with the permission of the member.)
The original industry agreement with the companies was negotiated in 2002 and did not contain language banning the virtual orchestra machine. The current agreement took over six months to negotiate mainly because there was a dispute about the ban.
The new agreement does contain language banning the V.O. machine — however the ban is contingent on Local 802 negotiating a similar ban in the Broadway agreement.
The companies finally agreed to take this step once the LORT theatres had agreed to the same language. (See article below.)
The main improvements in the terms are a 12 percent wage increase over the life of the agreement. Local 802 has made the contract available on our Web site in the "Wage & Contract Info" section.