An interview with Orin O'Brien
Volume 123, No. 3
March, 2023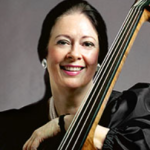 ORIN O'BRIEN
I studied piano from age six until I left L.A. for NY at age 19. (My first years of piano teachers were not very effective: since my parents were not musicians, they did not know where to look. And we moved a lot, due to WW II.) When I got to public high school, the first assembly had a performance by the school orchestra featuring the Rondo Capriccioso by Saint Saëns. I ran up to the conductor afterwards and asked if I could join the orchestra — he said they needed bassists and told me I could borrow a school bass: if I took lessons for six months, I could join the orchestra. I was absolutely hooked when I began to play with them.
My bass teacher in California was Milton Kestenbaum, who recommended that I go to NY to study. He let me play next to him in the Pasadena Symphony for two years, which showed me exactly how to play in an orchestra. But my most inspirational teacher was Frederick Zimmermann, then a member of the NY Philharmonic. It was he that insisted that I apply to audition for the Phil back when it did not have any women. So I did, and eventually Leonard Bernstein made the decision – it was solely his decision to make – and I was in.
When I came to Juilliard in 1954, I began ushering at Carnegie Hall (for $3.45 a night) and got to hear the NY Phil perform every week — it was a great education. Two years later, I was lucky to join the New York City Ballet Orchestra. There were many great musicians who found a home there after the NBC Symphony disbanded.
My wonderful teachers didn't treat me any differently from the men they taught, and all my terrific bass colleagues helped me succeed. I was very lucky in my teachers and in all the great musicians I worked with and I would just like to say a big "thank you" to all those musicians who inspired and encouraged me and were kind to a "newcomer" in their group….sharing music is a beautiful way to live.
---
BIOGRAPHY
New York Philharmonic bassist Orin O'Brien was born in Hollywood to parents in the film industry, George O'Brien and Marguerite Churchill, and received her early musical training in Los Angeles, where she studied with Milton Kestenbaum and Herman Reinshagen. She then studied in New York with Frederick Zimmermann and graduated from The Juilliard School. She is also an alumna of the Music Academy of the West. Since 1966, she has been a member of the New York Philharmonic, where she has played with the world's leading conductors. She has participated in numerous chamber music festivals, including Marlboro, and in first performances of the Gunther Schuller Quartet for Four Double Basses. She co-chaired the double bass department of The Juilliard School for ten years, and currently serves on the faculties of the Manhattan School of Music and Mannes College of Music. Her most recent chamber music performances were the quintets of Schubert and Dvorak with the Guarneri String Quartet.
---
This interview by Martha Hyde and Sara Cutler first appeared in the March 2023 issue of Allegro, the magazine of the NYC musicians' union Local 802 as part of a feature called "Women's Lives, Women's Stories"