Two Local 802 members hired for OSL Chamber Ensemble
Dana Kelley and Alex Fortes are the first new members since 2019
Volume 121, No. 7
July, 2021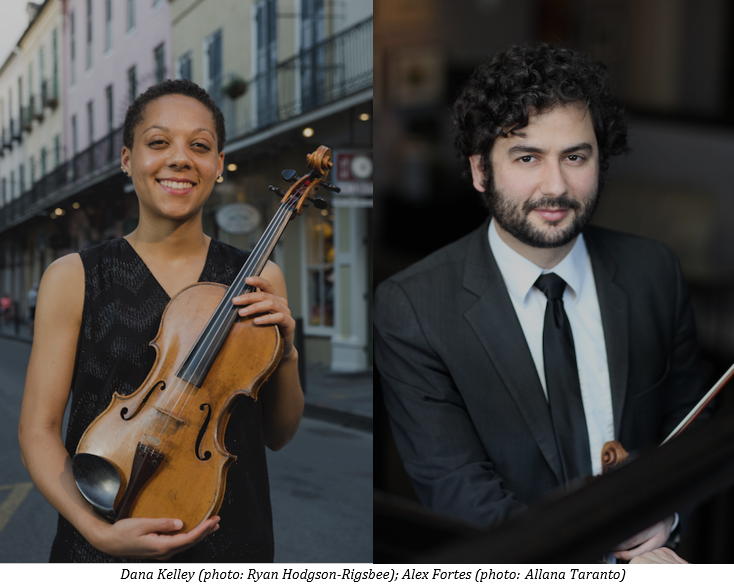 As NYC continues its re-opening, Orchestra of St. Luke's is delighted to announce the appointment of two new Local 802 members to St. Luke's Chamber Ensemble: violist Dana Kelley, a top prizewinner in the Sphinx Music Competition and an artistic director and member of Orpheus Chamber Orchestra, and violinist Alex Fortes, whose numerous distinguished chamber and orchestral collaborations include two Grammy-nominated recordings with "A Far Cry." Serving as the artistic core of Orchestra of St. Luke's — "a mainstay of New York's classical scene" (New Yorker) — the 24 musicians of St. Luke's Chamber Ensemble have performed regularly throughout the present season in OSL's celebrated livestreaming series, produced from its home at the DiMenna Center on West 37th Street.
Kelley and Fortes represent the ensemble's first new members since the appointment of violist Kaya Bryla-Weiss in 2019.
James Roe, OSL's President and Executive Director, said, "I'm so pleased to welcome Alex and Dana, two phenomenal New York City musicians who have performed with us many times in recent years. OSL's 50th-anniversary season will begin in 2023 and this expansion of our musical family will allow the orchestra's tradition of excellence to evolve by merging some of our original members with the next generation."
About Dana Kelley
Violist Dana Kelley, a member of Local 802 since 2016, is an artistic director and member of the Orpheus Chamber Orchestra. Praised for her rich and beautiful tone, she has been a top prizewinner in the Sphinx Music Competition, Irving M. Klein International String Competition, M-Prize Chamber Arts Competition and the Concert Artists Guild Victor Elmaleh Competition. She serves on the viola faculty of the Mannes School of Music at the New School.
Kelley has made many appearances at prestigious venues and festivals, including multiple recitals at Carnegie Hall, Lincoln Center's Alice Tully Hall, Merkin Recital Hall at New York's Kauffman Center for the Performing Arts, Chicago's Ravinia Festival and Colorado's Bravo! Vail. She has collaborated with such eminent artists as Miriam Fried, Nobuko Imai, Ralph Kirshbaum and pianists Misha Dichter, Leon Fleisher, Anne-Marie McDermott and Astrid Schween of the Juilliard String Quartet. As well as participating in Ravinia's Steans Musicians on Tour, Kelley frequently performs with A Far Cry, the Metropolitan Opera Orchestra, OSL's St. Luke's Chamber Ensemble, Saint Paul Chamber Orchestra and The Knights.
Kelley received an Artist Diploma in String Quartet Studies as a member of the Argus String Quartet, which was the 2017-19 Graduate Quartet-in-Residence at New York's Juilliard School. She was a 2014-16 fellow in Ensemble Connect, a performance and teaching program of Carnegie Hall, the Juilliard School and the Weill Music Institute. After receiving her Bachelor of Music degree from Vanderbilt University's Blair School of Music, where she studied violin with Cornelia Heard and viola with Kathryn Plummer, Kelley completed her Master of Music at the New England Conservatory as a student of Kim Kashkashian.
About Alex Fortes
Originally from San Diego, New York-based violinist Alex Fortes, a member of Local 802 since 2010, is recognized for his versatility and warmth. Highlights of recent seasons include orchestral and chamber concerts in Austria, Denmark, France, Germany and Indonesia, as well as throughout North and South America with the Amphion, Argus, Attacca, Dalí, Franklin, Henschel and Momenta Quartets, the Toomai Quintet, A Far Cry, Orchestra of St. Luke's, Quodlibet Ensemble and The Knights. His playing is featured on A Far Cry's Grammy-nominated albums, Dreams and Prayers and Visions and Variations, as well as on the same ensemble's Law of Mosaics, which the New Yorker's Alex Ross named one of the top ten releases of 2014. Fortes can also be heard on a forthcoming recording of music by Chris Theofanidis, made with the Henschel Quartet and pianist Donald Berman.
Fortes has a strong interest in finding new contexts in which to experience familiar music. His arrangements of Schubert lieder and chamber music have been called "uniformly resourceful and complementary, … smart [and] subtle" (Boston Globe), and in 2016, A Far Cry and pianist Simone Dinnerstein premiered his arrangement — with violinist Sarah Darling — of Bach's Goldberg Variations. His arrangements for the Aizuri Quartet of music by Hildegard von Bingen, Carlo Gesualdo and Barbara Strozzi have been widely acclaimed, and in June 2021, violinist Grace Park and the Prague Philharmonia are scheduled to record his arrangement of Dvo?ák's Four Romantic Pieces for Violin and Chamber Orchestra.
A strong advocate for the importance of social and civic engagement, Fortes spent a year working as an administrator and playing for the Longwood Symphony, an orchestra associated with Boston's medical community that uses its performances to raise funds and awareness for medical nonprofits. In 2018, he co-founded the non-partisan organization VOTESart, which promotes voter registration and civic engagement through musical performance, leading to activities across the country and collaborations with countertenor Reginald Mobley, the Aizuri and Aeolus Quartets, the Quodlibet Ensemble, Think!Chinatown, the Baryshnikov Arts Center and the Five Boroughs Music Festival.
Participating both in English and Spanish, Fortes has undertaken educational residencies relating to entrepreneurship, music performance and education, at colleges and public schools throughout the United States. He holds music degrees from Mannes College, where he studied violin with Mark Steinberg, and a B.A. in Government from Harvard College.
St. Luke's Chamber Ensemble was founded in 1974, when a group of virtuoso musicians began performing chamber concerts at Greenwich Village's Church of St. Luke in the Fields. Today, the 24 ensemble musicians make up the artistic core of Orchestra of St. Luke's, pairing beloved chamber works with lesser-known gems in OSL's Chamber Music Series and anchoring almost every program presented by the orchestra. Regular seasons also see OSL perform in diverse musical genres at New York's major concert venues, drawing on an expanded roster for large-scale works, and collaborating with artists ranging from Joshua Bell and Renée Fleming to Bono and Metallica. The orchestra has commissioned more than 50 new works and has given more than 175 world, U.S., and New York City premieres, as well as participating in 118 recordings, four of which have been recognized with Grammy Awards. Internationally celebrated for his expertise in 18th-century music, Bernard Labadie was appointed as OSL's Principal Conductor in 2018, continuing the orchestra's long tradition of working with proponents of historical performance practice. Built and operated by OSL, the DiMenna Center for Classical Music opened in 2011. New York City's only rehearsal, recording, education and performance space expressly dedicated to classical music, it serves more than 500 ensembles and 30,000 musicians each year. Musicians are covered under a Local 802 union contract.