Pioneers of Jazz Strings
African-American Violinists of the 1920's
Volume CVII, No. 2
February, 2007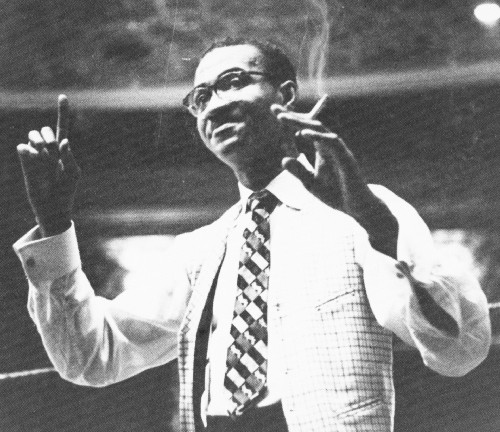 Violinist, arranger and bandleader Edgar Sampson featured on the cover of the album "Sampson Swings Again."
By the early 20th century, America had produced an extraordinary number of classically trained black violinists who studied at leading colleges and conservatories here and in Europe. Finding it impossible to earn a living in their chosen field, many carved out careers as composers, conductors, arrangers and educators. Those skilled on other instruments found employment in bands or black musical theatre.
These pioneers included Walter F. Craig (1854-1920), the first black musician admitted to the Musicians Protective Society of New York City, Will Marion Cook (1869-1944) a leading composer in black musical theatre, and James Reese Europe (1880-1919), who brought the first concerts of early jazz to Carnegie Hall in 1912, 1913, 1914 and 1919.
Several African-American violinists began their careers with the advent of recorded jazz, during the period from 1917 through the 1920's. While relatively few discs were issued during their lifetimes, many recordings by these outstanding musicians have since been recovered and released. Included in this overview are several musicians for whom violin became a secondary instrument, with particular attention given to Edgar Sampson (1907-1973) in this centennial year of his birth.
Recordings of swinging jazz strings begin with William Christopher Handy (1873-1958) and Handy's Orchestra of Memphis (1917), which have been re-released by Memphis Archives. Earlier, Handy had published the "Memphis Blues," with lyrics by George Norton (1912):
They got a fiddler there, who always slickens his hair,
And folks, he sure do pull some bow!
The quartet in Handy's Orchestra of Memphis (violinists Darnell Howard, Edward Alexander, William Tyler and cellist Henry Graves) sure did pull some bow on the "Snaky Blues." Darnell Howard (1895-1966), who hailed from Chicago, takes a fine improvised solo on "Sweet Child" and other numbers.
Howard began his musical studies on violin, but enjoyed a major career as a sax man. He performed with jazz legends King Oliver, Kid Ory, Erskine Tate, Fletcher Henderson, Coleman Hawkins and Earl Hines. Howard was also a mentor of the great Eddie South (1904-1962).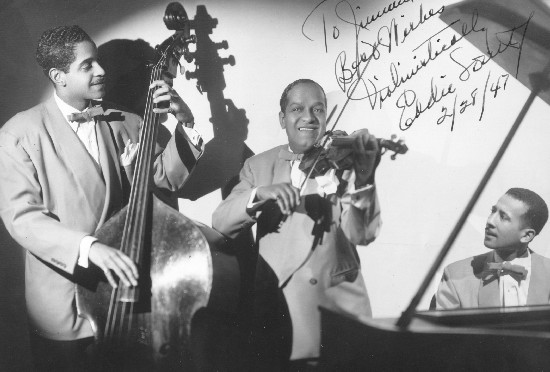 Leonard Gaskin (bass), Eddie South (violin) and Allen Tinney (piano) in a photo that South himself autographed in 1947.
Concert violinist Eddie South turned to jazz because there was no possibility of a classical career for him as an African-American violinist. In addition to the jazz repertoire, he played swinging versions of the European classics and gypsy airs he knew so well, peppering his performances with awesome flights of virtuoso technique. Highly esteemed in Europe, South never received the recognition he deserved in America. South first recorded with Jimmy Wade's Moulin Rouge Orchestra (Paramount, 1923).
To their credit, white musicians provided opportunities for their black counterparts when they could. Renowned jazz violinists Joe Venuti and Stephane Grappelly, who first recorded in 1924 and 1929 respectively, enjoyed deservedly lucrative careers. Upon leaving the Paul Whiteman Orchestra, Venuti recommended South as the only violinist who could replace him. Whiteman was able to hire South, but was forced to have him perform behind a screen. Stéphane Grappelli recorded with both Eddie South and Stuff Smith.
Pre-eminent jazz violinist "Stuff" Smith (Hezekiah Le Roy Gordon Smith, 1909-1967) first recorded with Alphonso Trent and His Orchestra (Gennett, 1928). The largely self-taught Smith developed a punctuated bowing style which allowed him to emulate the sound of a horn. Stuff left an indelible mark on the art form, setting a standard that is still the one to meet.
Robert "Juice" Wilson (1904-c. 1960's), who played clarinet and violin, recorded a few outstanding violin solos, most notably "Kansas City Kitty," with Noble Sissle and His Orchestra (Middlesex, England, 1929).
Edgar Sampson was born Aug. 31, 1907 in New York City, and died Jan. 16, 1973 in Englewood, N.J. His mother's name was Marie. Sampson began violin lessons at six years of age and studied alto sax in high school, recording with Duke Ellington's Kentucky Club Orchestra in 1924, when he was just 16 years old. Sampson built his reputation as a composer and arranger with the leading bands of the swing era, from Chick Webb to Benny Goodman and Artie Shaw.
Sampson graduated from Harlem's P.S. 89 in 1922. He then enrolled at DeWitt Clinton High School, a prestigious public school for boys in the Bronx, whose graduates include such noted African Americans as Sugar Ray Robinson, Gil Noble, and bassist George Duvivier and violinist Winston Collymore, both esteemed members of Local 802.
Upon Sampson's discharge from Clinton in June 1924 his records were forwarded to his new school, Textile H.S. Neither Sampson nor another famous Clinton student, the legendary Thomas "Fats" Waller, graduated from the school.
It is said that Sampson conducted a school orchestra in which the great Fats Waller played, and it is true that both attended P.S. 89 as well as Clinton HS. Fats was born on West 134th Street, just down the street from P.S. 89, but he was three years older than Sampson. Waller entered Clinton H.S. in 1918, but left the same semester, when he began playing organ at the Lincoln Theatre in Harlem.
Edgar Sampson played, conducted, composed and arranged for numerous albums by Chick Webb, Lionel Hampton, Fletcher Henderson and a host of others, but recorded only one album as a leader, "Swing Softly, Sweet Sampson" (1956, Coral). His important tunes include "Stompin' At the Savoy," "Don't Be That Way," "Blue Lou," "Lullaby in Rhythm," "If Dreams Come True" and "Blue Minor."
As a violinist, Sampson recorded with the Georgia Strutters (Harmony, 1927) and can be heard taking a fine improvised violin solo on "It's Right Here for You." He is also credited on Charlie Johnson's Paradise Orchestra (RCA Victor, 1928) on "Hear Hot-Tempered Blues" and "You Ain't the One."
NOTES
All violin solos mentioned in this article may be heard at www.RedHotJazz.com.
For discographies and other information visit the Pioneers of Jazz Violin pages at www.JazzBows.com.
I am indebted to "Desert Sands, Up Jumped the Devil: The Recordings and Performances of Stuff Smith" and "Black Gypsy: The Recordings of Eddie South," both by Anthony Barnett. These are biographies and discographies with companion recordings. Check out the publisher's Web site at www.abar.net for more information.
Two other helpful books were "A Life in Ragtime: A Biography of James Reese Europe," by Reid Badger and "Lost Sounds: Blacks and the Birth of the Recording Industry, 1890-1919," by Tim Brooks.
I also utilized "The Talking Violin," which is the now-famous 1990 recording of conversations with over 50 improvising violinists covering more than seven decades of music. It was hosted by Dr. Billy Taylor, the noted pianist and historian, who was also an accompanist for Eddie South.
I'd like to thank George Pelisson, the historian of the DeWitt Clinton H.S. Alumni Association, and Arnold Jay Smith.
Gayle Dixon is a violinist and member of Local 802. She can be reached at Gayle@JazzBows.com.