Playing With Authority
Al Carty is in the house
Volume 116, No. 2
February, 2016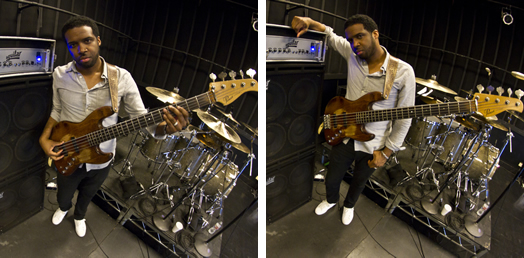 Al "Boogie" Carty is a bassist, composer, musical director and creative collaborator who works with some of the top names in the music business across different genres. The Bronx native, who first joined Local 802 in 1999, has recently been touring with Matchbox 20 frontman Rob Thomas as part of the release of his third solo album, "The Great Unknown." Prior to that, he served as bassist and musical director to Alicia Keys for her "Set the World on Fire" world tour. Al's performance and recording credits also include Ed Sheeran, J. Cole, Christina Aguilera, David Guetta, Queen Latifah, Meshell Ndegeocello, and many others. Local 802's Bob Pawlo recently caught up with Al to hear about his life in music.
Bob Pawlo: How did your journey in music begin?
Al Carty: I grew up in a fairly strict religious household with not a lot of secular music. The records that we did have were mostly Christian and some classical. In church as a kid, I was always fixated with music and I started tinkering with instruments. My dad eventually bought me a little guitar and got me some lessons. Before long I was good enough to play in the band in the church…at 8 years old! By the time I was at Adlai Stevenson High School in the Bronx, I had also taught myself drums and bass. I was one of those kids who could pretty much figure out any instrument I wanted to. I was actually supposed to play drums in the band, but somehow I just ended up playing bass on everything. As everyone says, it's hard to find a good bass player. I played in the concert band, jazz band and gospel choir. Before I knew it, I was playing bass at my friends' churches. Then I started listening to a lot of different things, especially a lot of funk, digging into Stanley Clarke, Marcus Miller and Louis Johnson. I started going to the music stores. I would read Bass Player magazine to find out about the players, since there wasn't a lot of secular music played in my house and I just didn't know the names of the musicians. I started hanging out with seasoned, older musicians in the Staten Island Mass Choir or other local gospel choirs around the city. I would go to places like Café Wha and hang out there on funk night and listen to people play bass. I started paying attention to certain guys who were playing on some of the R&B tours, like Mike Philips and Keith Miller, guys who were very funky. I just wanted to try to learn as much as I could.
Bob Pawlo: Wow…that was all during high school! After you graduated, where did you go next?
Al Carty: I went to Purchase College, which was a pivotal musical experience for me. The head of the music department was Doug Munro, and he put an emphasis on fusion. There were jazz majors and composition majors all sharing rooms, so we were sharing a lot of musical information organically because we were all in that same intimate space. I got some opportunities to go and do gigs, which I ended up turning down because my family really emphasized that I needed to finish school. And in the long run I'm glad I did that, because for me I ended up learning so much from that experience that benefited me down the road. At Purchase, you would have some professors who were more straight ahead, some who were more on the classical side or the experimental side…they wrote music that now typically turns up in movie scores. Purchase had the Harry Partch Ensemble there, and jazz and studio composition and classical departments. We all were intermingling. There were certain classes that we all took together, like music history and theory. And in some classes we had dance and art and acting majors. It was a great experience of being exposed to different types of music and different people and the different arts.
Bob Pawlo: What was your first gig after you graduated?
Al Carty: I got a recommendtion to audition for Jamie Hawkins, who is the son of music legends Walter and Tramaine Hawkins and who had been one of Lauryn Hill's music directors. Jamie loved me and we started doing shows opening up for Jill Scott just as she was blowing up. Soon after, I got the call to work with Rob Thomas, a gig that has lasted 10 years so far!
Bob Pawlo: When were you introduced to Alicia Keys?
Al Carty: My first gig with Alicia was when I subbed for her regular bass player Steve Mostyn. Later, Steve left the band and I got a call to audition. I had also known Alicia's drummer at the time, Paul John. I became Alicia's music director in 2013. My duties were to do arrangements, rehearse the band, run the sound checks efficiently, oversee the programming and just be able to communicate between Alicia and the band.
Bob Pawlo: What was going through your mind as the music director for a major artist like Alicia Keys a minute before the show started?
Al Carty: I think a big thing was to make sure that all the technology would work, like foot switches and everything. But we had a great time. I can't say I was nervous. I knew what my responsibilities were and everybody trusted me to get us through what we had to get through. Everything went really well. I recognized that Alicia was happy. That was all that really matters: make sure the artist is happy.
Bob Pawlo: Funny question: how did you memorize so much music in such a short time?
Al Carty: On a typical schedule for a tour of that size, we have a few weeks of rehearsal. We already knew the basic elements of all of the songs. Really, the musicians that we had were all incredible – everybody's at the top of their game.
Bob Pawlo: As you see it, what are the most important aspects of being a bassist?
Al Carty: I would say number one, just respect the music, be open and understand that different music requires different approaches. I've always been an admirer of certain types of bass players, like Pino Palladino, Randy Jackson, Tom Barney and Nathan East. Those kinds of musicians could play multiple styles in any situation that you put them in. They know how to play any style the right way, but they still have their own personal way of doing it. I think you should have a signature sound but also be able to be diverse. I've always had a tremendous respect for those kinds of musicians and always aspired to be that type of player myself.
Bob Pawlo: What makes a great bass line and a great bass groove?
Al Carty: I don't think you can define that. I think it depends on the song and the context. The different styles of music can be so different. I love funk and R&B but I also love jazz and reggae. What really makes a bass line good is how it makes a person feel when they listen to the music.
Bob Pawlo: There's a YouTube video of you playing an incredible solo, and one of the comments from a viewer is that you've "got that New York bass thing." What would that mean?
Al Carty: I think people used to say that the L.A. or West Coast musicians have a certain "gloss" or a "shade" to the way they played, and that NYC and Philly and East Coast musicians have a more of grit and aggressiveness to their sound. I just like to play with authority and make the song feel good, because it's the way I think at this point.
Bob Pawlo: How have you learned to keep up your energy on tour?
Al Carty: Don't party too hard. The truth of the matter is, I'm not the biggest health freak in the world but I try to eat well, and you have to stay hydrated. On this tour, we're a family. The Rob Thomas band has been together on and off for ten years and we're very blessed that we get to play music with each other the way we do.
Bob Pawlo:How do you approach playing in different size venues?
Al Carty: I love playing clubs, especially when I'm home. I love playing open mic at the Village Underground on Sunday nights, which I've done for the last three years. I love playing theatres. I like the rush of playing in front of a really huge audience. Each venue is great in its own way. As far as how I play depending on each setting, I don't really alter my sound too much. These days, the volume of the music isn't as exorbitant it used to be. The sound techs at each venue do the majority of the work.
Bob Pawlo: At this stage of your career, what do you practice? What do you work on?
Al Carty: I like keeping up with new sounds and new music, always trying to learn more. I try to expand my catalogue of music and the way I approach it. I try to stay current. I'm learning keys and writing more. Right now what I'm focused on is a side project with a couple of friends that should be pretty experimental, so I'm looking forward to that in between this tour. I'm excited to be doing more work as a music director for other artists and doing more music production. That's my focus: diversifying my palette.
Bob Pawlo: What message would you have to the younger players out there in today's music world?
Al Carty: Two things: listen to as much older music as you can, and listen to as much newer music as you can. That's the honest-to-God truth, because there are some younger guys who are all about their generation and what they're hearing now and they've kind of shut away the older music. And the opposite could be said for some of the older musicians: they kind of want to shut away some of the newer stuff. My personal opinion is we all have things that we really love and prefer to play, but if you're trying to do this for a living, it's best to be open minded and respect all the colors of music that are out there. Don't be afraid to do things that some of us would consider "old school." One unfortunate trend is that younger musicians may be losing the ability to really play through an entire song. Part of it is because technology has spoiled us because it's so easy to edit and make a chop. A lot of younger musicians don't really get to execute full-length songs. So just that attention to detail that is being lost. I really think that needs to be addressed.
Bob Pawlo: In closing, what is your message to Local 802 members and musicians around the world?
Al Carty: I would say that we can and should band together as a community more than ever. Given the ever-changing industry that we're in, everybody's livelihood is being affected. What's happening with streaming and digital distribution affects all the musicians down the road. Unfortunately, the session scene that used to exist is not the same, and we really need to be supportive of one another as a community to keep true musicianship alive and viable not just from a business standpoint but also from an artistic standpoint.