A direct attack on Broadway audiences — and live music
President's report
Volume 123, No. 6
June, 2023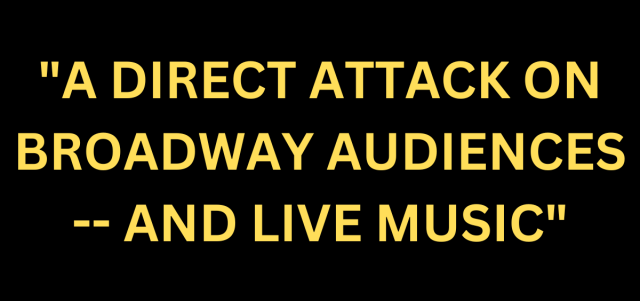 I'm sorry to begin my president's report this month with bad news, but we need to spread the word that David Byrne's upcoming show "Here Lies Love" at the Broadway Theatre has pulled the plug on live music and is ripping off Broadway audiences.
This is the first Broadway League musical to utilize ZERO live musicians. The last time anything like this was tried was in 2000 with the non-League show "Contact." That show caused so much controversy that the Tony Awards committee agreed that in the future pre-recorded shows would not be eligible for the category of Best Musical.
"Here Lies Love," which is co-produced by the Shubert Organization, relies entirely on a pre-recorded soundtrack. The show is single handedly undermining the 157-year history of live music on Broadway. And it's putting down the spirit of musical theatre, which has always been about live art.
As stipulated in the collective bargaining agreement between Local 802 and the Broadway League (Article 5, Section G), producers must defend any attempt to hire less than the required minimum to a "Special Situation" panel. The panel consists of representatives from Local 802, the League and includes neutrals, not affiliated with either party. The production is examined and the panel votes to determine whether to allow the orchestra reduction. If the parties don't accept the decision, it is submitted to arbitration.
But while we're waiting on this administrative process, we must inform the public that audience members will be paying full price for a Broadway musical, but will instead be getting a pre-recorded soundtrack instead of a live Broadway orchestra. Audiences are getting ripped off and our musicians are losing work. This is not good for anyone.
We are the guardians of live music on Broadway. Our firewall is being breached and we are treating this situation as a true crisis.
David Byrne claims that he needs pre-recorded music to provide the sound he wants. This is patently false. We don't understand why David won't partner with us and let us provide live music. Musicians and audiences are being left behind.
"Here Lies Love" is a direct attack on Broadway audiences, a direct attack on the professional musicians of NYC, and a direct attack on the long tradition of live music on Broadway.
Just as TV and film writers are on strike for respect and job security in the face of technology and corporate greed, David Byrne is likewise using technology to try to replace professional musicians.
Mr. Byrne has enjoyed a long career as a successful, groundbreaking artist. Now he's let his Local 802 membership lapse and is putting working musicians — his own colleagues — out of jobs.
Ironically, Mr. Byrne wrote a blog post and an article for Allegro in 2017 with the headline, "Investment in the arts doesn't cost us money — it makes us money." Now he is actually de-investing in the arts by using recorded music instead of professional live musicians.
What is Local 802 doing about this? We'll be in the streets protesting, but more importantly, we're going to be all over the media, telling the world that this show is ripping off the public. If any show tries this in the future, they'll see the consequences. Please spread the word, read our press coverage, and please sign our petition.
"Here Lies Love" starts previews on June 17 and opens on July 20. To see a full list of the shameful producers (including the Shubert Organization) who are financing this show, click here.
Read about the situation in the New York Times story here.
---
JUNE 7 MEMBERSHIP MEETING: WE NEED YOUR VOTE!
Our upcoming June 7 membership meeting is extremely important to attend. We're going to introduce a bylaw amendment that would allow us to make Local 802 a more "green" building. This is also the first time that we'll be attempting a hybrid format. You can attend and vote either in person or on Zoom, as long as you pre-register. Here's all the info.
---

SOLIDARITY WITH WRITERS
I attended the writers' "Rally at the Rock" at 30 Rockefeller Plaza in late May. Hundreds of supporters came out, and all of the major entertainment unions were there, including SAG-AFTRA, Equity and IATSE. We had a union band providing entertainment. Thanks, Kevin Blancq! Your band sounded great!) I'd like to share the remarks I made:
We are here in solidarity! The musicians of the New York City musicians' union Local 802 support the writers in their strike for a fair contract! Let's give a hand to our live union band, (the Kevin Blancq ensemble. Writers are fighting the same battle that musicians are fighting: the right to make sure that the creative arts remains a sustainable profession. All creative artists are facing disruptions caused by technology, streaming and A.I. We demand a seat at the table to fight back against corporate greed. Let me say it again: writers and musicians and all creative artists are fighting the same struggle! That's why every major creative union has come together today, standing strong with our political and community leaders. Look around you and see the support you have. We're simply asking for fairness. When the studios invest millions of dollars into producing a film or TV series, they can find it in their budgets to pay us for the value we create. The studios have shown that they are determined to undermine our working conditions. We have to fight back! That's why we're here today in solidarity. Right now it's the writers' turn to face off against the Alliance of Motion Picture and Television Producers. Our turn at the bargaining table is in the fall. Our struggle is your struggle. The power of the labor movement has always been solidarity. If all creative workers stick together, we have the best shot at achieving our collective goal: a stable career that adds beauty and culture to the world. Thank you, and together we will win the contracts we deserve! We'll be fighting together every step of the way.
WHAT CAN YOU DO TO HELP THE WRITERS?
---
DCINY ORCHESTRA MUSICIANS STILL NEED YOUR HELP
It's infuriating that the predatory company DCINY has still not offered a fair contract to its musicians, forcing us to stay on strike for over two months now. We're holding our next picket line and rally on Monday, June 5 between 5pm and 7pm at the stage door to Carnegie Hall (on West 56th street). Look for the rat and come and join us (please click here to RSVP). Carnegie Hall is not our target and not the employer, but if our standards fall there, they can fall anywhere. Moreover, if DCINY can afford to rent out Carnegie Hall, they shouldn't need to rely on exploitative practices like paying well below industry standards for performances at such iconic venues. As New York City continues its recovery from the pandemic, a true cultural revival is possible with professional opportunities and standards for our world-class artists, who are the backbone of the NYC tourism economy. I want our members to know that we've invested an unprecedented $15,000 purchase in digital ads to target DCINY's exploitative practices. We hope that this will let DCINY's clients and the general public know what kind of company it is, and we also hope this pressure will bring DCINY back to the negotiating table so together we can craft a fair contract. Learn more about our campaign at www.local802afm.org/dciny