Ray Mosca remembers Nabil Totah
Volume 112, No. 9
September, 2012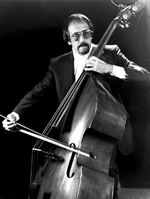 Nabil Totah (1930-2012)
In late 1955, I was working at the Saxony Hotel down in Miami and Nabil Totah was playing bass with Cy Coleman at the Eden Roc, a new hotel there. We met at a jam session and found that our playing meshed immediately. Cy Coleman had just fired his drummer, so Nabi got him to call me – our first gig together. Back in New York, I joined Coleman full-time at the Waldorf Hotel. We worked six nights a week with Coleman and then there were so many gigs I can't even remember.
Nabi and I became a team, and traveled together for three years. We played with pianist George Wallington, went on the road with pianist Hampton Hawes, played dates with guitarists Jim Raney and Jim Hall at the Village Vanguard, and did a series of Monday sessions at Birdland, where we played with pianists Sonny Clark and Eddie Costa, saxophonist Bobby Jaspar and many others.
Nabi recorded with tenor saxophonist Zoot Sims, an album with Gus Johnson on drums called "Zoot Goes to Jazzville" (1956), and we were Zoot's first rhythm section when he started a quartet to go on the road, with Dave McKenna as pianist.
When Al Cohn joined in 1957 in Chicago, it became "Zoot and Al." Zoot used to live in the same building as Nabi in New York, at 37th Street between Fifth and Sixth Avenues, and he was the house bassist for countless jam sessions in Sims's apartment. I made it to most of them.When the Half Note opened, they had Bill Evans, me, Warne Marsh, and it was supposed to be Nabi, but I guess he was busy so they got [English bassist] Peter Ind instead.
It came to an end around 1958. I quit Zoot and Al's band to go on the road with George Shearing. He left to go with Gene Krupa at the Metropole.
In 1965, I had been with Teddy Wilson for a couple of years and Nabi came to join the group for about a year. We did a TV show for CBS called "Dial M for Music" with the Teddy Wilson Trio for about six weeks. It was a very good stint for the two of us.
In the early 70s, Nabi led a group and we did concerts all over Connecticut, with pianists Don Friedman or Hod O'Brien and horn players like Carmen Leggio and Pepper Adams.
About 1973, I was playing with Hazel Scott at the Ali Baba on First Avenue and 59th Street, and when Major Holley left the group, Nabi came in and stayed for a couple of years. It was fun to be together again. We also played with Lee Konitz at different venues on our nights off.
Later, we were together again when Nabi recorded his own album with Mike Longo on piano. With additional tracks, it became the CD "More Double Bass."
Nabi was a character, an absent-minded professor. He'd be somewhere else in his head – I don't know where! I loved him. He was my best friend. I think he changed direction when he moved up to Bridgeport and played society music on the road with Lester Lanin – they played for the kings and queens, and inaugurals for several presidents including President Clinton and all. He got out of touch with the jazz scene in New York. But we talked on the phone all the time. I miss him.