Recording Musicians Move Forward
Volume CVII, No. 7/8
July, 2007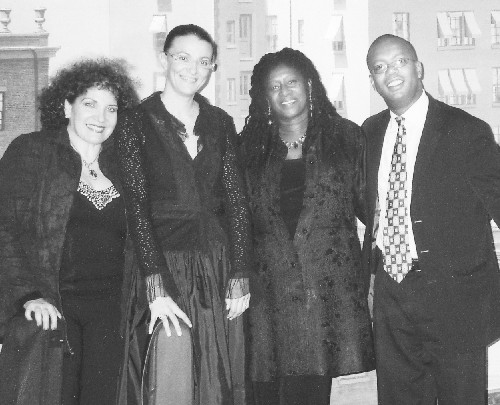 Above, from left: Rozanna Weinberger, Patrisa Tomassini, Akua dixon and Orlando Wells. The musicians posed in front of a historical photo of old New York City. Photos by Dave Sheldon.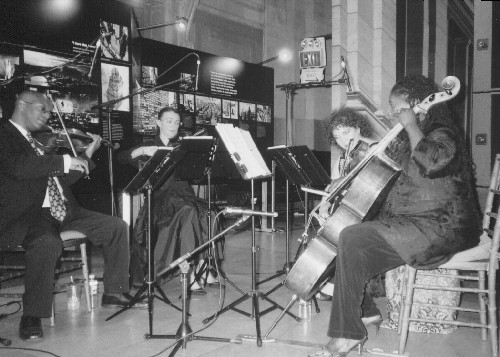 Local 802 musicians perfromed recently at the "Made in New York" awards ceremony at Grand Central Station. The ceremony recognized movies, TV shows and commercials shot in New York, all of which can benefit musicians.
The Local 802 Recording Musicians Committee continues to work on a number of initiatives to advance the interests of musicians doing recording work.
FILM MUSIC
Movie production companies under the New York state tax code can recover up to 5 percent of production costs through tax rebates for spending 75 percent of a movie's shooting budget in New York. But the score can then be recorded in Budapest, Tallinn or Bratislava, because post production costs – recording the score and film editing, for example – are not included in New York state's definition of a movie budget!
Recording Supervisor Jay Schaffner, Principal Recording Rep David Sheldon and Political Director Julia Smith are shepherding a legislative effort to remedy this disparity and to attain equal treatment under the tax code for post production work on film.
Recording Musicians Committee members are preparing to lobby Albany legislators for passage of the law. These efforts are aimed at bringing recording work back to New York from overseas.
Since last year, the city of New York includes scoring employment costs as eligible in is its portion of the tax rebate, though that is only a fraction of the total available. State legislation will make a bigger difference.
Also on our radar is co-development of promotional materials with the Mayor's Office for Film Theatre and Broadcasting where the 802 and AFM Web sites will be added to resources listed for filmmakers.
Finally, the Made in New York Awards took place June 11. The ceremony awarded all kinds of media – movies, T.V. shows, commercials – shot in New York. The backdrop, appropriately, was Vanderbilt Hall at Grand Central Station, which is currently showing an exhibit called "New York In the Movies." At the ceremony, a string quartet of Local 802 musicians played.
SOUND RECORDING
We are continuing the ongoing program of seminars for musicians: they're for anyone who needs to know how to file contracts and how the Sound Recording Labor Agreement operates. Information about how to file contracts is a continuous need for musicians unfamiliar with the process. The informational presentation is in C.D. form and also online, with voiceover by committee member John Conte. (Go to www.Local802afm.org, and scroll down the right-hand sidebar until you see "Seminars Online.") A shorter version formatted for smart devices explaining how Sound Recording Labor Agreement covered work pays is in the works.
GAME MUSIC
The committee sponsored and won approval for game and interactive media scales. Some contracts have been submitted, but many more are possible. Committee members spoke about the new agreement at a local seminar of the Film Music Network.
Viewed as controversial by some musicians, these promulgated agreements are the first video game contracts to be reported in New York in three years. Four years ago there were just two union-covered game sessions contracts. With 13 game sessions reported to the Recording Department in the first six months of the new agreement's existence, this shows evidence of the beginning of expanded opportunity for 802 members. The committee members will propose public relations plans to promote film scoring and recording game and interactive music in New York for the 802 Executive Board to review.
VIDEOTAPE
Videotape negotiation renewals are deferred as the industry and labor jockey for position in the new world of digital use and transmission. The 802 Recording Musicians Committee is planning an informational DVD to use as a way to reach out to the many musicians who appear on stages covered by the videotape contract but who know little about unions and less about the terms of the contract that apply to them. The idea is that an educated professional is a timely paid professional. Also in the works are plans for similar type of approaches to assist musicians doing ad music and commercials.
RECORD IN NEW YORK
A mini-site to be added to Local 802's Web site will contain contracts, rates and forms, and will provide a platform for elements of the planned Record in New York campaign. It will be an important resource with links and directions for musicians and employers, all designed to inform and expand employment opportunities for members. Development work is underway by 802 members.
The goal behind these efforts is to expand the knowledge base about AFM contracts among both musicians and industry.