Remembering Jennifer Brown
Reminiscences
Volume CVII, No. 3
March, 2007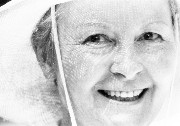 Photo courtesy of Lucy Shelton.
Jennifer Brown is most recently remembered as a polite and beautiful staff member at Local 802, where she worked from 1998 to 2003. But throughout her 75 years, Jennifer shared her ample skills and kind spirit in many creative areas. She died last Oct. 16, 2006 at the Actors' Fund Home in Englewood, New Jersey.
She was born Catherine Mary Brown but when she joined Local 802 in 1965 there were already members named Catherine Brown and Mary Brown, so she decided to change her name professionally to Jennifer Brown. (She was also known as Jennifer Brown Williams and Catherine Williams after she married the artist Jay Williams in 1968.)
Jennifer was born to professional violinists in London, lost her mother in the London Blitz, and with her older brother James — later a professional French hornist — was brought up by three aunts in Hawick, Scotland.
Her early British professional life was based in London where she sang and danced for BBC TV and radio shows, recorded Scottish folk songs and toured with a "Cinderella" ice show before accepting an offer from Harry Belafonte to join his tour to the U.S. in 1963. She also toured with the Robert De Cormier Folk Singers before settling in New York City.
Jennifer was a crackerjack musician. In 1968, she became a dedicated alto at the Central Presbyterian Church choir — which later became Musica Sacra — led by organist and conductor Richard Westenburg.
She was devoted to Musica Sacra and for over two decades offered more than her singing voice to the organization. She did research, copied and transposed parts and scores, drew illustrations for the program covers (including one Charles Ives program), and even addressed envelopes with her beautiful calligraphy.
She kept scrapbooks of all the programs, reviews and articles, which now serve as Musica Sacra's archives.
When Westenburg became organist at the Cathedral of St. John the Divine, Jennifer sang with his choir there.
She was also a stalwart member of the choir at Congregation Emanu-el of the City of New York for three decades.
Along with these steady jobs, Jennifer was a valued freelancer during the "Tommy Pyle era" — singing in choruses with the New York Philharmonic or freelance orchestras or Skitch Henderson. She would sing whatever and whenever voices were needed.
In addition to her freelance choral work Jennifer worked with Arnold Arnstein Copying Services until the 1990's when computer software replaced the art of copying manuscripts by hand.
Composers whose scores received her meticulous care include David Del Tredici (the "Alice" symphonies), Leonard Bernstein ("Age of Anxiety"), David Schiff ("Gimpel the Fool"), Paul Chihara ("Primavera"), Elliott Carter ("Night Fantasies") and Bruce Adolphe.
ASCAP also employed her to take dictation from radio broadcasts to determine composers' royalty fees. She also became an assistant at Eve Queler's Opera Orchestra of New York.
Local 802 hired her in 1998 to assist Tina Hafemeister in the Music Preparation Department. She was transferred to the Recording Checks Department in 1999, where she remained until she retired in 2003, due to declining health. She was also a member of AGMA.
A LIFE IN DUET
She met and married the artist Jay Arthur Williams in 1968. (Jay Arthur passed away 18 months before Jennifer, a fact she may never have grasped as her dementia had already begun).
They were a quietly devoted couple graciously sharing a very small apartment on West 82 Street which barely contained their combined creativities.
Jay Arthur painted in oils or watercolors on an easel in the living room while she copied manuscripts in the bedroom.
When not busy at work she kept busy with embroidery, darning, sewing, mending, reading, drawing, studying numerology, or offering solutions to all manner of household problems if anyone asked!
They lived very frugally, but were devoted to ballet and to celebrating the blessings of life with good caviar and champagne.
In the 80's and 90's they traveled often to the Caribbean island of St. Eustatius, one of the Netherlands Antilles, where they both painted and got to know every corner and person on the island.
(A three-year embroidery project of Jennifer's hangs in the museum there — a 4-feet by 9-feet colorful explosion of all the blossoms to be found on the island).
She traveled with her U.K. passport until 1998 when she became a U.S. citizen.
Jennifer walked everywhere, and Central Park became a personal backyard for her and Jay Arthur. (He was a champion boomerang thrower and could be observed and admired there every Sunday morning.)
A stroll with her through the park would always include special Jennifer observations and information about bird calls, nests, migrations and mating, or about seasonal changes in all the trees, bushes and flowers, or about locating the berries, fruits and watercress for harvest, or simply standing still and taking the beauty in without commentary.
She expanded my appreciation of the wonders of nature right here under our busy city noses, and I continue to marvel at the wonders of my dear friend, Jennifer.
Jennifer is survived by her half-brother William Brown, two niece, and a nephew. They all live in England.
There will be a memorial gathering in the Conservancy Garden of Central Park in May.
Soprano Lucy Shelton, an active solo singer, first met Jennifer Brown in 1970 through choral singing at Central Presbyterian Church and Musica Sacra.