Remembering Mary Whitaker
President's Report
Volume 114, No. 10
October, 2014
We lost a beautiful soul on Aug. 20, when violinist and Local 802 member Mary Whitaker was taken from us. We were shocked and saddened beyond belief when we learned that Mary was murdered by a pair of deranged thieves at her summer home near Lake Erie. It is unthinkable that I have to write about her in the past tense now. Mary, who was only 61 when she died, had been a Local 802 member since 1976.
Mary played with the Westchester Philharmonic for over 25 years and performed with the Chautauqua Orchestra in the summer. She performed everywhere: on Broadway, with most of the major freelance orchestras, and even with innovative groups like the STX Ensemble, String Fever and the SIRIUS String Quartet. She toured with the New York City Opera Touring Company and went on tour with Barbra Streisand in 2006-2007. A tireless advocate for musicians, Mary served on the Local 802 Executive Board as well as the Trial Board and had over 25 years' experience in helping us write and negotiate contracts. Those are just a few of the highlights from her resume; her contributions are too rich and deep to sum up in this small space.
What really stood out about Mary was her warmth, her presence and her smile. I have lost not only a dear friend but a counselor, a confidant and a sister. There was no gentler, kinder soul than Mary and she will live in my heart forever. I have been blessed with the opportunity to have shared my life with her both in making music together but also working with her as the tireless advocate for all musicians that she was. Whether it was a negotiation, Broadway or otherwise, the betterment of musicians always came first.
I recall serving on the Executive Board with her during probably the most tumultuous times our union had to ever endure. She was my rock. We would often exchange glances on the Board as things would get from bad to worse. I will always have in my ear that wonderfully incredulous laugh of hers whenever deceit or manipulation was afoot. Mary was indeed the kind of person who invited love in a way that made you open your heart so fully to her.
Mary was loved by all and will be sorely missed. We send our special condolences and sympathies to Mary's partner Suzanne Gilman and her family, Mary's sister Martha and her family, all of Mary's cousins, and all of Mary's other family, friends and colleagues. In this issue, please see our tributes to her.
INSIDE THIS ISSUE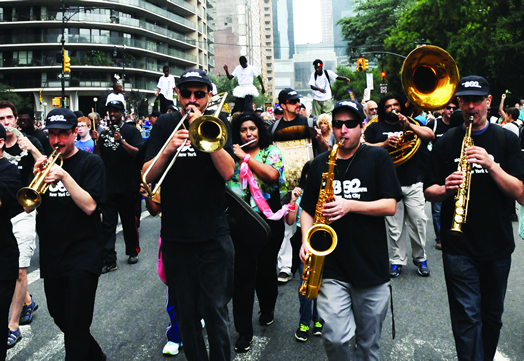 MET OPERA UPDATE
It's finally over: on Sept. 9, the musicians of the MET Orchestra ratified their new contract. We are proud to have helped craft an agreement that is unprecedented among arts institutions, one that allows for independent financial oversight and includes a mechanism for artists to collaborate in finding meaningful efficiencies. We are thankful to all those elected officials, fans, friends and colleagues who stood beside us during this process, and are eager to work on ensuring a sustainable future at the Met.
"No one is more concerned with the Met's future than the musicians, choristers and craftspeople whose livelihoods depend on the Met's survival and who are responsible for every aspect of the audience member's experience when they come to the Met," said Jessica Phillips Rieske, clarinetist and chair of the MET Orchestra committee. "We are thrilled that our season has been saved, and that we can get back to doing what we do best, which is to make the music come alive. We are dedicated to working collaboratively with management to find ways to achieve efficiencies that will result in real cost savings for the Met while maintaining the artistic excellence that we strive for and which our fans have come to expect from us. We are so grateful to everyone who supported us in our efforts these past months and we look forward to a rewarding season."
In the next issue of Allegro, we're going to present an analysis of the Met contract campaign from the musicians' point of view, with hopes that we can all learn and get inspired from their amazing efforts and collaborations.
Lastly, we have to correct a mistake. In my September column, I wrote that the Met Opera management had increased its budget by over $1 million over the last six or seven years. That was a typo: the actual figure was $100 million. In the online version of my article, this correction has already been made.
WHO WILL CONTROL CONGRESS?
Americans will determine who will control Congress on Nov. 4 in the midterm elections. All 435 seats in the House of Representatives will be contested, along with 33 seats in the Senate. Local 802 has endorsed Domenic Recchia in New York's 11th Congressional District. In addition, we are happy to report that here in New York, Local 802's State Senate and Assembly endorsees won their primary battles. Congratulations to Gustavo Rivera, Liz Krueger, Leroy Comrie and Rebecca Seawright. Let's support the candidates who will fight for us, and vote on Nov. 4. For more information on our endorsements or where to vote, please contact our political director Maya Kremen at MLkremen@Local802afm.org or (212) 245-4802, ext. 176.
BROADWAY SALUTES
Long live Broadway musicians! The Broadway League and the Coalition of Broadway Unions and Guilds recently honored musicians and other Broadway artists who have served on Broadway for at least 25 years.
Some of this year's honorees include the following Local 802 musicians: Kamau M. Adilifu; Henry Aronson; Neil Balm; Louis Bruno, III; Sarah Carter; Thomas A. Christensen; Melanie Feld; Paul H. Ford; Lindsey Horner; Birch Johnson; Anthony Kadleck; Adam Kolker; Robert C. Millikan; Kathy M. Sommer; David G. Weiss; Belinda Whitney; Chuck Wilson and Mineko Yajima.
I'm proud of our Broadway musicians, some of whom have spent 50 years of their career on Broadway. Keep up the good work! For more information, see www.BroadwaySalutes.com.
CALL AND RESPONSE
What's up with our pension fund? That was the question posed by Local 802 member Armen Donelian in a passionate letter to the union that we received last month. Armen was referring to the pension fund's apparent rate of return, which he perceived as too low compared to how the stock market has been doing recently. But the answer is much more complex than first meets the eye. Please see "The Musicians' Voice" for Armen's letter and our detailed response, written by myself and former Local 802 president Bill Moriarity. Both of us are trustees on the pension fund. Beyond the numbers, however, is a more basic question: why do we value our pension fund at all? Why is it better than a 401(k) or just playing the stock market with your own money? Recording Vice President John O'Connor tackles these important questions in his column. I urge all of you to read it carefully.
MEMBERSHIP DISCOUNT
If you or any of your musician friends haven't joined Local 802 yet, now is the time. We are waiving our initiation fee for new members who join between now and Dec. 31. To take advantage of this offer, call our Membership Department at (212) 245-4802. Please spread the word.
FREE CONCERT
Our Senior Concert Orchestra will present its annual concert on Nov. 16, and now they're back at Carnegie Hall. This is a terrific opportunity to hear a free concert of some of the city's top musicians, many of whom enjoyed full careers in the New York Philharmonic, on Broadway, and all over. Click here for details on how to get your free tickets.
MEMBERSHIP ALERTS
If you get called to play with the Miami Symphony Orchestra or the South Florida Symphony (formerly the Key West Symphony), please call AFM Local 655 (South Florida) at (954) 527-4458.
If you get called to play with recording artist Jackie Evancho, please contact Pat Varriale at the AFM, at (917) 229-0234, or pvarriale@afm.org.
GOOD LUCK, CLAUDIA
Theatre rep Claudia Copeland left Local 802 in late August to lend her talents to the service workers' union, 32BJ SEIU. We wish her the best. We're in the process of hiring a new theatre rep and will keep you posted.
---
SEE YOU NEXT SEASON!
We hope you enjoyed the photo spread of the Local 802 softball teams in the September issue of Allegro. For many years, Local 802 has sponsored a team in the Performing Arts Softball League. Four years ago, due to increased interest, a second Local 802 team was added. Both teams are graciously sponsored by Local 802's Executive Board. The 2014 season marked the first time both teams were represented in the playoffs but, unfortunately, both were eliminated in the early rounds.
Despite that loss, we did have something exciting happen this summer. Usually, in the course of the regular season, the Local 802 teams don't actually play against each other. But this year, we created a prize – the "Augustino Cup" – and set up a Local 802 vs. Local 802 game. For the first time ever, the teams competed in what turned out to be an extra-inning, nail-biting thriller for Local 802 bragging rights.
So it was the battle of the Local 802 "A.M." team vs. the Local 802 "P.M." team. The morning team outlasted the PMers, 2-1, in a pitching duel featuring hurlers Clint Sharman against Bennett Beckenstein. Outstanding defensive plays by Wayne Du Maine, Jack Mead, and Jason Covey of the A.M. team proved to be the difference. The P.M. team was held to few hits and only a single score.
See you next spring! To try out for the team, contact me at (917) 440-5566 or Clint@TromboneMan.com.
– Clint Sharman
Trombonist Clint Sharman is a member of the Local 802 Executive Board and the manager of the Local 802 A.M. team.