Remembering Vincent La Selva
Volume 117, No. 12
December, 2017
We lost a hero on Oct. 9. Conductors, singers, instrumentalists and music lovers all mourned the passing of Maestro Vincent La Selva, who died at the age of 88 just a day before the birthday of his muse, Giuseppe Verdi.
Maestro La Selva, who had been a member of Local 802 for 66 years, never wanted people to talk about his own interpretations of Verdi's operas. Instead, he wanted audiences to recognize the greatness of Verdi and the many other composers whose works he conducted. He knew that if the conductor, cast and orchestra all did as the composer instructed, the audience would be moved.
In fact, Maestro La Selva (or Vincent, as I eventually allowed myself to call him), did not interpret a score. Rather, he gave life to what was on the page. His life's work was about what the composer intended: the music itself.
"Don't interpret!" he would admonish his conducting students when they added a tempo alteration that Beethoven didn't write.
"Don't rhapsodize!" was the reproach that a singer would receive when he or she elongated a phrase in a Puccini aria.
And woe to any vocalist who "marked" during staged rehearsals.  ("Marking" refers to saving your voice by holding back somewhat.) The maestro worked hard…why shouldn't you?
For nearly 40 years, Maestro La Selva gave fully staged performances of operas with full orchestra in Central Park every summer. He democratized opera by making attendance free of charge to anyone who wanted to show up on a summer's eve to see what it was all about. And show up they did, by the thousands! Diehard opera fans who had subscriptions to the Met and New York City Opera sat side by side with those who couldn't afford a ticket at either of those venerable institutions. Operas were sung in their original languages without supertitles. People came out of the woodwork to be a part of something quintessentially New York.
One of Maestro La Selva's many achievements was the mounting of all of Giuseppe Verdi's operas in the order in which they were written. Think about it for a second. Over the course of seven years, starting in the summer of 1994, La Selva and his New York Grand Opera performed every operatic note Verdi ever wrote. He didn't do it because he would be recognized by the Guinness Book of World Records. He did it because, in his own words, "Verdi is great!" Can you imagine being a fly on the wall during a meeting with his marketing and artistic planning departments? Maestro La Selva didn't need a meeting. He was his own mission statement. For that seven-year project, Verdi himself was the marketing department.
I met the maestro when I took his conducting class at Juilliard in 1978. I remember being required to interview with him a few days before the first class. I was terrified. As I sat down he asked me a few questions about my training thus far. At the time, I was studying piano with Marienka Michna, a well-known opera coach. I had taken conducting lessons with Semyon Bychkov the previous summer. I also knew that La Selva had worked with my mother, mezzo contralto Antonia Kitsopoulos, in the early 1960s. "You're working with good people. You can take my class," Vincent told me. Our first assignment was Brahms Symphony No. 1. One by one we stood up to conduct the opening. After about four or five folks had stood in front of the master, he stood up and demonstrated. His arms unleashed the power of that opening 6/8 in C minor and made it visceral. Mind you, the only sound that one heard was the pianist assigned to accompany the class. Somehow, with La Selva standing there, you could hear the sound of Brahms' orchestra coming from a single piano. There was a determination and inevitability about it.
At the end of the semester I approached the maestro and told him that it would be an honor to play rehearsal piano for him. About a month later I heard my mother call me to the phone to take, as she put it, "a very important call. It's Maestro."
"It's La Selva." he said. "Can you make a 'Butterfly' rehearsal tomorrow morning at 10 a.m.?" There was only one correct answer: "Yes, of course, Maestro."
That summer he produced five performances within six weeks. "Madama Butterfly" was first. Then came "Don Pasquale," "La Traviata," "Nabucco," and Verdi's "Requiem." He did each performance on a single two-and-a-half-hour orchestra rehearsal. At the time the Met and New York City Opera were both off during the summer. Members of those orchestras – and many other professional musicians – gladly played in La Selva's orchestra, which was also a union gig. I remember attending all of those rehearsals at the old Carroll Studios on 41st Street. I also remember asking, "Maestro, could you please tell me when the orchestra rehearsal is for 'Traviata'?" His response, "What orchestra rehearsal? They know it. I know it." This young whippersnapper was stunned. He gave that performance for an audience of 15,000. It was the most exciting performance of "La Traviata" I've ever heard.
The Italian word maestro actually means teacher. As musicians, we talk about our teachers, mostly with reverence. Each one of us has a lineage that can usually be traced back at least a few generations. Oboists look back to Tabuteau. Flutists look to Moyse. For many violinists, it's Galamian. For those of us who studied conducting with Maestro La Selva, we think back to our time with him. As in the Japanese tradition of master and apprentice, we observed his every move, and we stole what we were able. I never heard him say, "This is how you do it." If you wanted to conduct something in two that you saw him do in four he would say something like, "Well, you could try it that way. But what does the composer tell you to do?"
Maestro La Selva's work as a teacher inspired many generations to delve into the details of music without succumbing to the paralysis of creating an "interpretation." Actors are taught to play the action, not the emotion or mood. La Selva was teaching musicians to play and sing the music as it was written. To him it was all common sense. His legacy will remain vast. He touched tens of thousands of people with his work. We can thank him and carry his legacy forward quite easily. It may seem overly simplistic, but he would want us all to be true to what's already there.
Musicians performed at St. Patrick's in honor of Vincent La Selva shortly after his passing. Photos by Tom Olcott.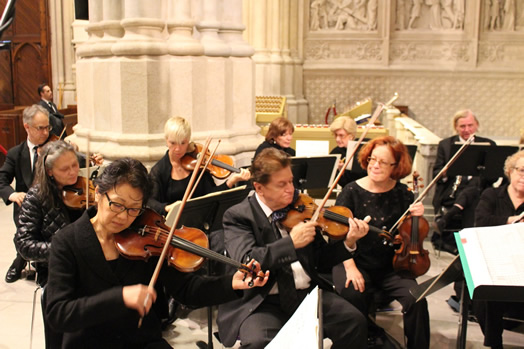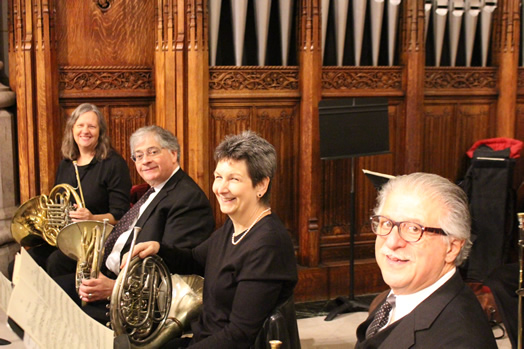 ---
MORE MEMORIES OF THE MAESTRO
Here's a story from the esteemed timpanist Paul Fein, who worked for Vincent La Selva for decades. Paul (who sadly passed away a couple of years ago) was an expert and subtle artist, always sensitive to the balance between his duties and the stage. Paul remembered that in one piece, the score called for fortissimo timpani. The piece ended and there was silence. Vincent shouted to Paul, "Fein, could you hear the singers?" Paul replied: "No, Maestro, I could not." La Selva's response: "You're lucky!"
– Karen Purpura
A colleague told me that he once "made the mistake" of calling Vincent "maestro." Vincent's response was, "There was only one maestro. The rest of us are just conductors." He was referring to the legendary Toscanini, whose disciple he was. But those of us who knew Vincent and played for him would never have agreed. Vincent was indeed a maestro, in the truest sense. He knew each score intimately – every word, every note, every dynamic, every gesture and expression of the singers. He became a legend in his own right. Playing for him was like inhabiting the musical imagination of Verdi or Puccini. In more than 30 years of playing under him, one of my strongest memories is the approximately 10 rehearsals and performances of Gian Carlo Menotti's "The Saint of Bleeker Street" in the early 1960s. Vincent's interpretation and direction of the entire production was so profoundly moving that I literally shed tears at every one of those ten concerts.
– Amy Camus
I first encountered Vincent La Selva in the late 1950s. A friend told me about an amazing little company that was giving free operas in the Xavier Church on 16th Street. I was so impressed that I joined the group. It was a totally voluntary gig, and yet there were many professional musicians who wanted to play for Vincent. He was a total revelation to me as a musician and conductor. His revival of "The Saint of Bleecker Street" drew rave revues from Time Magazine. Menotti himself came to one of the performances and was ecstatic. I later played in another of Vincent's ensembles called the Symphony of Musical Arts. We performed symphonic concerts but we also sent out chamber groups to Bellevue Hospital and Goldwater Memorial Hospital on Roosevelt Island. I also had the pleasure of playing with Vincent's New York Grand Opera for several seasons. Over those years, I got to know and appreciate Vincent as an extraordinary conductor, a very decent human being and someone committed to bringing music to all people at no cost, whenever possible. I recall once overhearing two musicians in the orchestra, one of whom I knew from the Metropolitan Opera. I heard him say to his friend about Vincent, "This is the best conductor for Italian opera I have ever played under." As one who has played much opera over my career, I would agree without hesitation. Vincent knew the scores extremely well and we in the orchestra felt very secure that we were playing under a master and one who likely got to the heart of the composers' intentions. His audiences knew this as well and applauded him intensely over his career. Vincent La Selva was one of a kind, an extraordinary musician and person who will be greatly missed.
– Myron Rosenblum
Vincent La Selva had a profound influence on my musical life. Because he believed in me, I learned to believe in myself. I met him when taking his orchestral conducting course at Juilliard in 2000. A few months into the course, he took me aside and told me he thought I had outstanding talent as a conductor and invited me to become an apprentice conductor with the New York Grand Opera. I soon advanced to become the assistant conductor, which meant I handled all the chorus rehearsals and backstage ensembles, checked music, dealt with conflicts, herded choristers, and more.  He inspired me to found the Gateway Classical Music Society and the Gateway Orchestra, and I dedicated my inaugural performance of Verdi's Aida to Vincent in 2004.
I will also add that Vincent was a rebel in the music world. He did exactly what he wanted to do and did not let others affect him. He was driven by what he knew he could do and what he felt passionate about, instead of going along with how others wanted to market him.
On a similar note, Vincent frequently complained about big artist management as being "corrupt." He described how they pushed the "star system" for their own economic benefit instead of supporting up-and-coming talent. He complained that big orchestras and opera companies relied way too much on big artist management because, according to him, "the boards of directors don't know any better and because it's convenient."
Vincent said that this whole system enabled what he described as "the in-crowd" phenomenon that allowed the same handful of soloists and conductors to acquire the vast majority of the important jobs all over the world. In fact, there were many other artists, he said, who were really more talented and would have gotten jobs if the system were not slanted to accommodate "names" and hyped-up "stars."
These beliefs, I think, drove Vincent to achieve a great deal and to provide opportunities for many talented singers who may never otherwise have been noticed.
Vincent also expressed the belief that music belongs to everyone, and this is what inspired him to actually bring to the masses what others only talked about doing. What he did single-handedly was amazing, in my opinion, and he will always hold a special place in my heart as a soldier for the cause and a passionate example of what it takes to persevere in this complex world of music.
– Ida Angland