Reminiscences
Bernie Greenbaum and Max Lucas
Volume CX, No. 6
June, 2010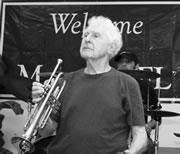 Photo ©2009 Mort Kuff
A style all his own: remembering Bernie Greebaum
Bernie Greenbaum, 83, a trumpeter and flugelhornist, died on April 27. He had been a member of Local 802 since 1959.
Mr. Greenbaum was a regular in Paul Cohen's rehearsal band in Margate, Florida. The band is made up of many former New Yorkers and Local 802 members. Artist and jazz historian Mort Kuff documents Cohen's band and recently collected some reminiscences of Mr. Greenbaum.
Paul Cohen said that he "had such respect for Bernie's talent that I always made certain he had several trumpet solos in my rehearsals. I wanted Bernie to be happy in my band; we were certainly happy to have him with us each week."
Jack Bragin recalled that Mr. Greenbaum played the Ed Sullivan show and was a first-call musician in both New York City and Florida. He played all styles and was always fully booked with all the work he could handle. "Bernie was a wonderful trumpet player," said Bragin.
Jim Sedlar knew Mr. Greenbaum just casually in New York. He was aware that Mr. Greenbaum was an outstanding player in the CBS Orchestra for years and was a busy club date player. Sedlar grew closer to him when they both lived and worked in Florida and sat in the trumpet section of Paul Cohen's band. Sedlar expressed enormous respect for Mr. Greenbaum's talent. He said that "Bernie had a highly specialized style all his own" including a special "sliding" style in his solos which Sedlar attributed to Mr. Greenbaum's klezmer influence. Sedlar also said that Mr. Greenbaum respected contemporary trumpet players and, in return, was universally loved by the other trumpet players in the section of Paul Cohen's band.
Mort Kuff says he can attest to that, having sat in the audience of Cohen's band for the past 11 years.
Kuff also had the following memories of Mr. Greenbaum:
"Bernie had a wicked sense of humor. Often after completing a solo, he would spin his trumpet up in the air. Sometimes, following his solo, he'd continue mugging and madly fingering his horn – silently, of course. This never failed to bring down the house. Bernie's handling of the flugelhorn was astonishing. He was somehow able to make that horn express raw emotion – he could tell a story with that flugelhorn. He was enormously talented. Anyone who knows anything about playing the trumpet knows that regardless of the hours and hours practiced, it is always venturing into the unknown when you pick up the horn for the first time each day. Bernie was the master. I think his trumpets and flugelhorn knew that, and gave him their best."
Mr. Greenbaum is survived by his wife Elaine; daughters Shelley and Lynn; grandchildren Jason, Lisa, Danielle and Michelle; and great-grandchildren Aidan, Lia, Tisania and Logan.
---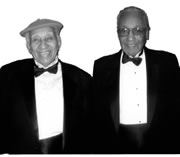 Max Lucas, left, passed away on May 15 at the age of 99. Fred Staton, right, is alive and well at age 95.
Max Lucas and Fred Staton strike it big in Philly
by Albert Vollmer
Don't let anyone ever tell you that you're too old to play. Recently, Local 802 members Fred Staton and Max Lucas tore down the house at a recent tribute to Bill Cosby in Philadelphia.
Here's the background. Earlier this spring, the famed comedian Bill Cosby was honored with the prestigious Marian Anderson Award.
Mr. Cosby wanted to organize a band that would play at his own awards ceremony. He called several senior Philadelphia jazz musicians, many of them his longtime friends. But he also wanted to include some New York City players.
Jimmy Heath, the tenor saxophonist and old friend of Mr. Cosby, knew about the Harlem Blues & Jazz Band, which I helped found in 1973. The band, made up of venerable jazz musicians, is still very active to this day.
So Jimmy put me in touch with Mr. Cosby. I ended up suggesting tenor saxophonists Fred Staton and Max Lucas.
Fred Staton, a Local 802 member since 1954, grew up in Pittsburgh and attended high school with Billy Strayhorn, later famous for his association with Duke Ellington. Many distinguished musicians have come from Pittsburgh, and Fred has performed with Erroll Garner, for one. He has also played with Billy Eckstine, Howard "Sticks" McGhee and Art Blakey, and has backed Mama Lou Parks and her Savoy Lindy Hoppers. As the older brother of the vocalist Dakota Staton, Fred has arranged and been a part of groups and tours backing his famous sister. He's been the senior member of the Harlem Blues & Jazz Band for many years and toured all over the world. Last October, he toured with the band at a major music festival in Macao in southern China.
Max Lucas, a member since 1939, came out of Nova Scotia, Canada. His long career included playing in one of Louis Armstrong's last big bands, which, unfortunately, did not record. In that band was the rhythm guitarist Lawrence "Larry" Lucie who had also graced the Harlem Blues & Jazz Band for several years until his recent passing at the age of 101. Max left Louis Armstrong to perform with the popular band of Buddy and Ella Johnson. He made several recordings with this orchestra. Later he was a member of the C&J Big Band that performed in and around New York City. He was a frequent addition to the Harlem Blues & Jazz Band. Until recently, he appeared on Wednesday nights at the venerable Lenox Lounge in Harlem. There, he performed in a group organized by his son, Nathan Lucas, who is a superb pianist and organist.
On the morning of April 6, we converged on the Kimmel Center for the Performing Arts for an afternoon rehearsal with the seasoned Philadelphia musicians.
Bill Cosby, in a T-shirt and maroon sweat pants with the Temple University logo stitched down the side of one leg, rehearsed and directed the band himself. He knew exactly what he wanted and with skill and humor demonstrated and conveyed his vision for the group's evening performance.
The single piece to be performed by this band, listed as Dizzy Gillespie's "Blue'n'Boogie" in the program, was an up-tempo blues in B-flat with stop-time backing by the rhythm section for the soloists.
The awards ceremony itself was extensive and impressive. The Philadelphia Orchestra performed under James DePriest (himself a nephew of Marian Anderson) and Thomas Wilkins. Chita Rivera was the host. Other performers included Denyce Graves, Lizz Wright, David Brenner, Boys II Men, Yang Bao, and, of course, the Marian Anderson Jazz Tribute Ensemble.
How did they sound? In a word: they swung!
Rest in peace
As Allegro went to press, we learned that Max Lucas had passed away on May 15 at the age of 99.